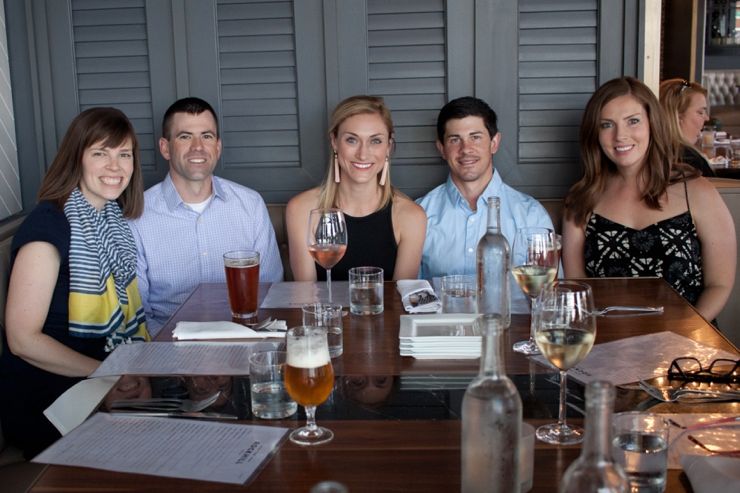 In the weeks leading up to Easter, I was so excited and could hardly wait for the weekend to arrive. My cousin Sasha and her husband Mike were coming from Derby for the weekend, staying at my mom's house with my aunt and uncle from Mankato. We planned a ton of fun for the time that they were all here!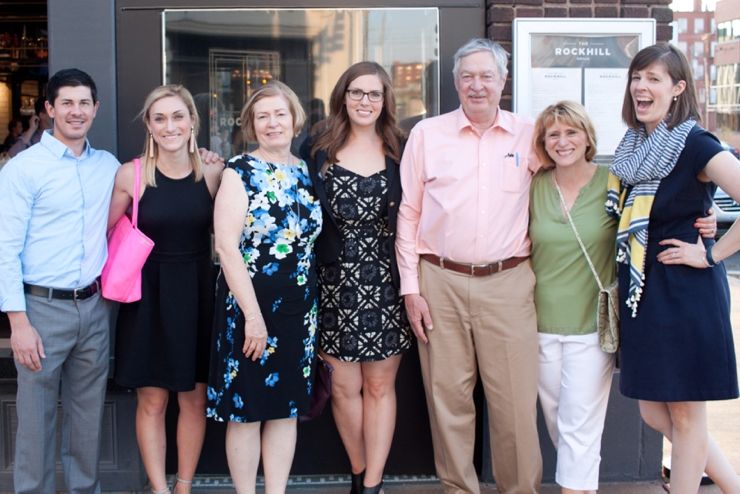 Saturday afternoon everybody else spent a little bit of time at the Nelson-Atkins Museum of Art, and then Kip and I had a babysitter come to put Rebecca to bed while we met everyone for dinner. We chose to eat at Rockhill Grille, the restaurant in the old Cashew. It's a little bit hip and swanky downtown, perfect for a meal before James Bond music with the Kansas City Symphony.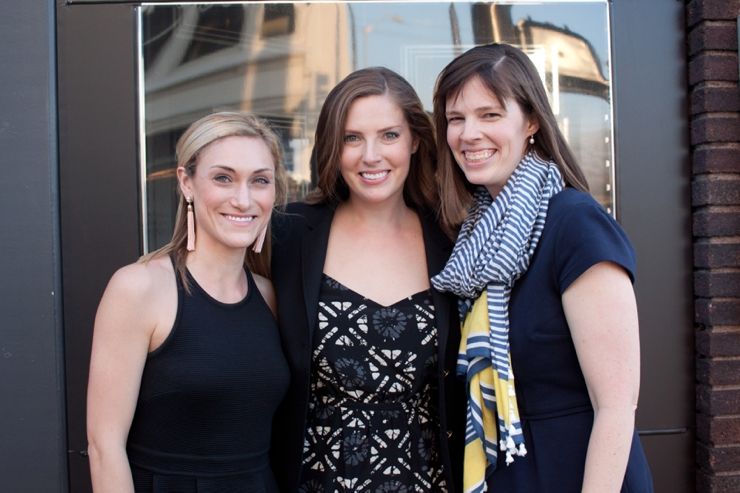 The drinks and the food were delicious, and I love the atmosphere, even if the booth sat a little low to the ground, and it's a little loud. Our one mistake was not running up to see the very fancy remodel on second floor. Next time! Kip and I didn't join in for the Symphony, but the next morning everyone raved about it.
My cousin and Mike
have been working their way through James Bond movies over the past year, so it was a perfect fit for them!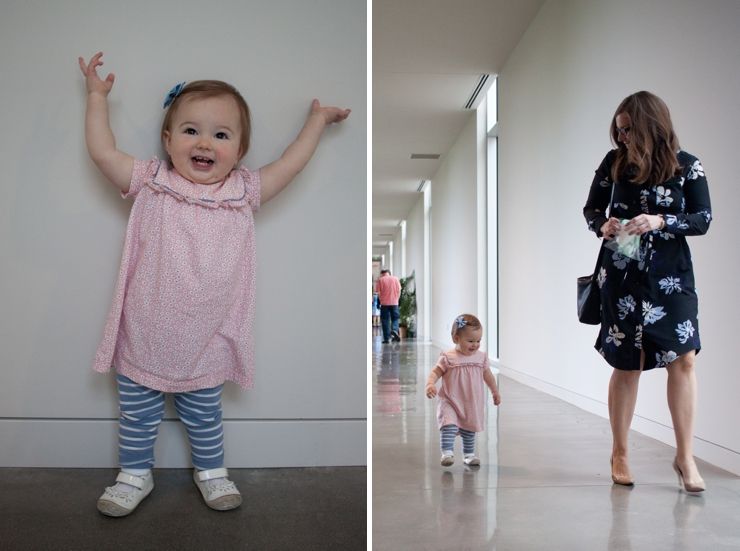 The good news was just as good on Sunday morning - He is risen! We went out to Leawood for church to worship in the new sanctuary at Church of the Resurrection. We didn't want to miss getting a seat in the sanctuary, so we were absurdly early. Becca, Lauren and I spent quite a bit of time walking up and down the halls. While she has fancier shoes, we went for practical on Easter. She's such a busy little walker!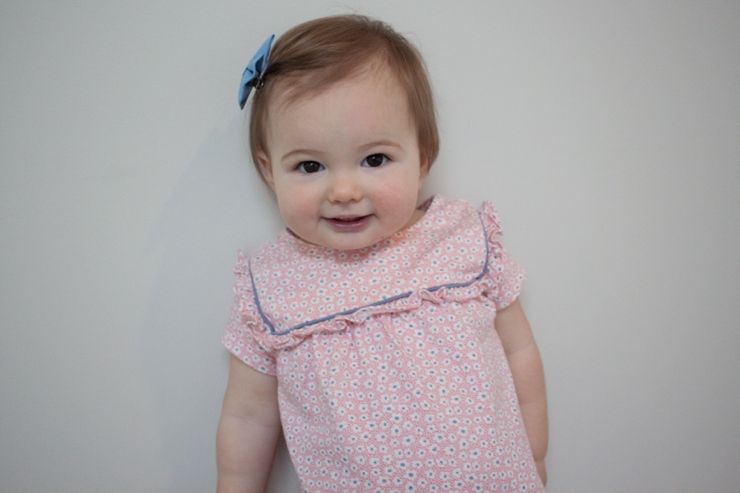 Becca's Easter dress was from Boden and will get plenty of wear. Her bow was from Etsy, and it stayed in for a few photos but not all of them. Her growing hair is a work in progress. Daycare can do the occasional little pigtail, but Mama has had no luck yet.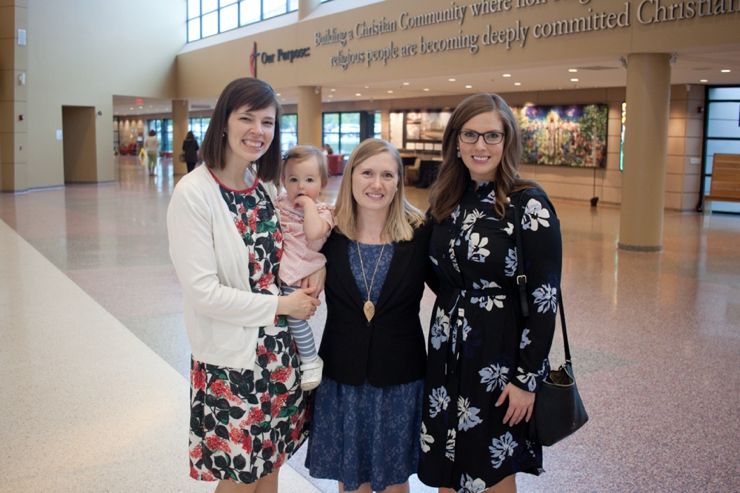 While we were walking, we ran into our friend Kelsey and her husband Chris! Even though we saw a few people that we knew, Kels and Chris were the most exciting as they live in Oklahoma now. Their little boy Brock is exactly one year older than Rebecca - they are birthday buddies!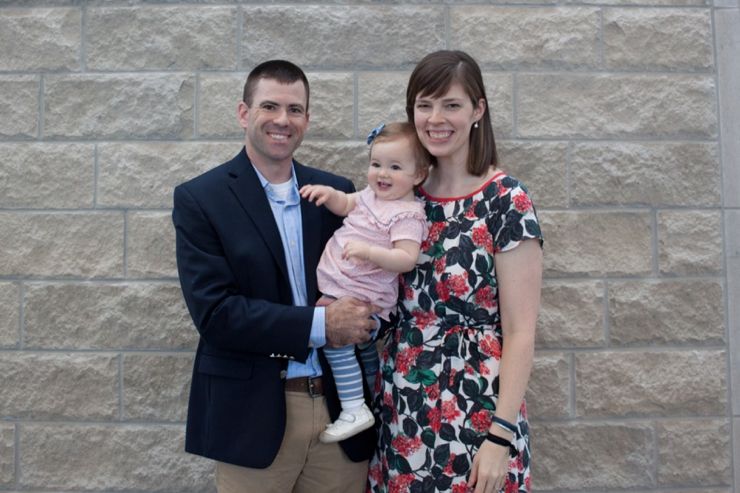 Rebecca did okay during church. She made it through part of the sermon before we escaped to the back. There are hidden carpeted stairs in the back of the sanctuary, so Rebecca could climb up and down, sit on the bottom step and kick her legs, and walk back and forth without anyone seeing her. I was able to hear the sermon too!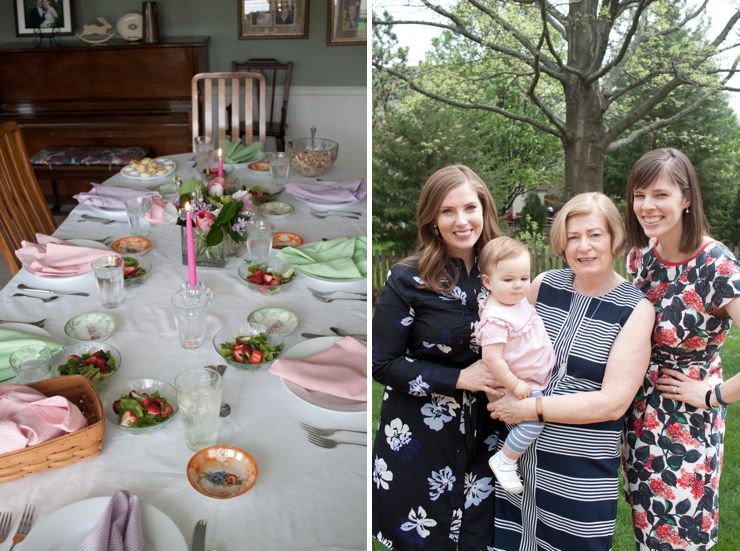 Mom prepared a delicious brunch and set a beautiful table. While we waited for the food to be ready, we toasted with mimosas and snacked on a family favorite, deviled eggs. We had fresh rolls, salad, potatoes and salmon before we tried to eat a few sweets (one of the best parts of Easter!). Everyone was so full that we packed up much of the sugary goodness to eat later.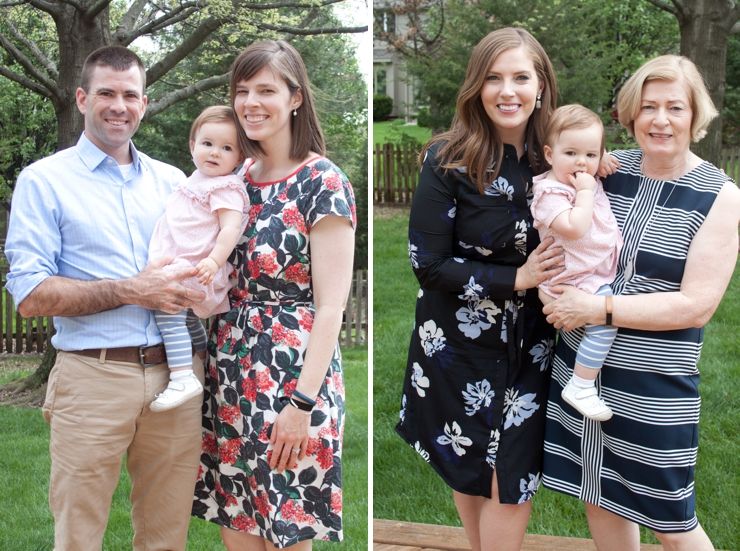 There were some quick photos after lunch before everyone headed separate ways. Rebecca was ready for a nap with her full belly, but she still sort of cooperated for some photos.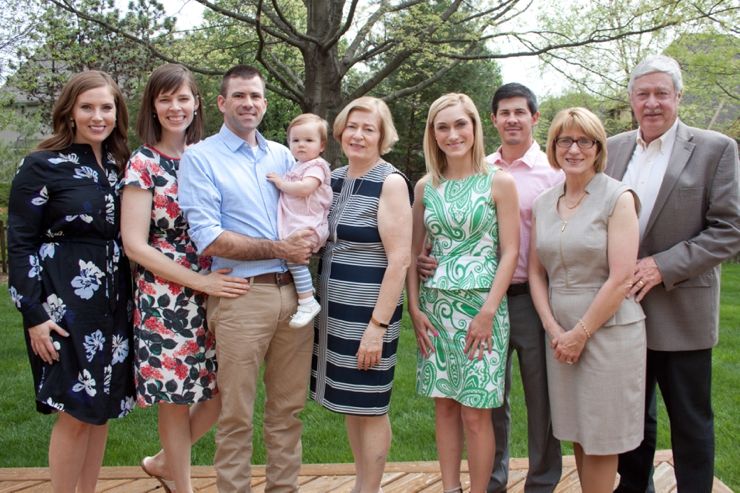 And I'm totally the photographer that shows up with a tripod at family gatherings. It's always worth it, and my family never seems to mind too much. So thankful to share the weekend with our family in Kansas City!