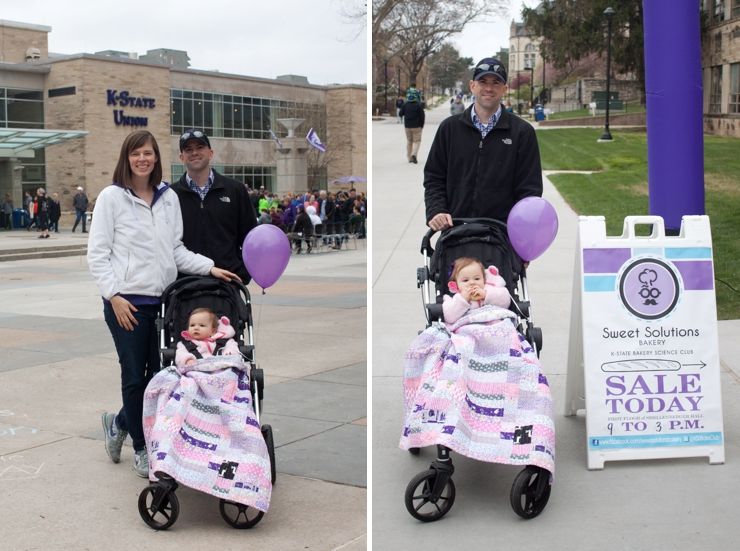 Alpha Chi Omega celebrated 70 years at K-State in March, and the chapter sent out invitations to come by an open house on April 1st. When I realized it was the same weekend as K-State Open House, I really wanted to go up for the day and walk around with Rebecca. They have redone the Union, and some other buildings on campus, and I really love Open House.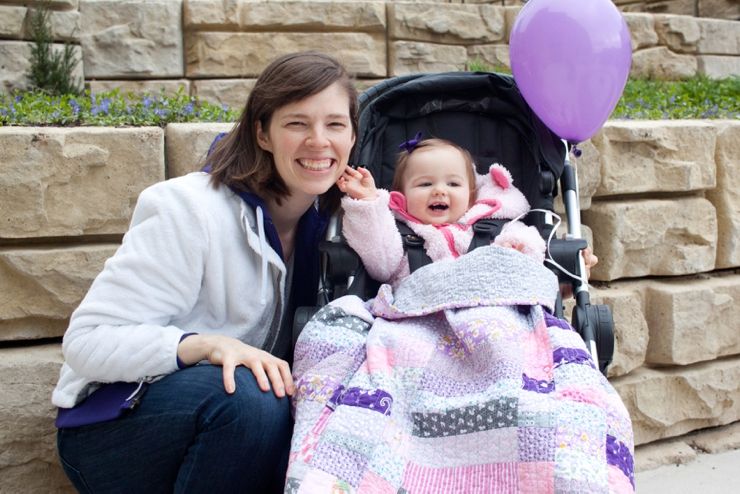 As usual, it didn't disappoint. Open House is great for kids, especially as they get a little bit bigger and can do more of the activities. Rebecca was surprisingly content to cruise around for an hour with her cozy blanket and a balloon. We parked in the garage by the Union (so fancy!), and we walked up to Shellenberger for the bake sale. There will be so many hands on things that she can do when she's a little bigger. We definitely shared our cookies with her - she was so happy crumbling up a little bit of that oatmeal chocolate chip cookie.
After walking around, we went to Kip's parents house for lunch. They were delighted to see Rebecca toddling all around. While she napped, Kip and I went to Alpha Chi. There wasn't much going on, and we didn't see anyone I knew. I was a little disappointed but at least Kip has toured the whole house now. I think it was a little hard for him to imagine what sorority life was like for me and all my pals! We stopped by the new Tallgrass Tap House before we went back and picked up Rebecca from her grandparents. It was just a short day trip, but we'll be back for turkey hunting in a couple of weeks.
And then onto Sunday. I teach upstairs at Kids COR on the first Sunday of the month which is usually good for more than a couple laughs. We met our friends Audrey and Mike at Brown & Loe in the River Market for brunch. It was great to see them, catch up, and hear about their new dog and ongoing house adventures! And of course, Kip and I drank some more coffee. The restaurant is gorgeous, and I kind of felt like we were in another city with the big wide windows.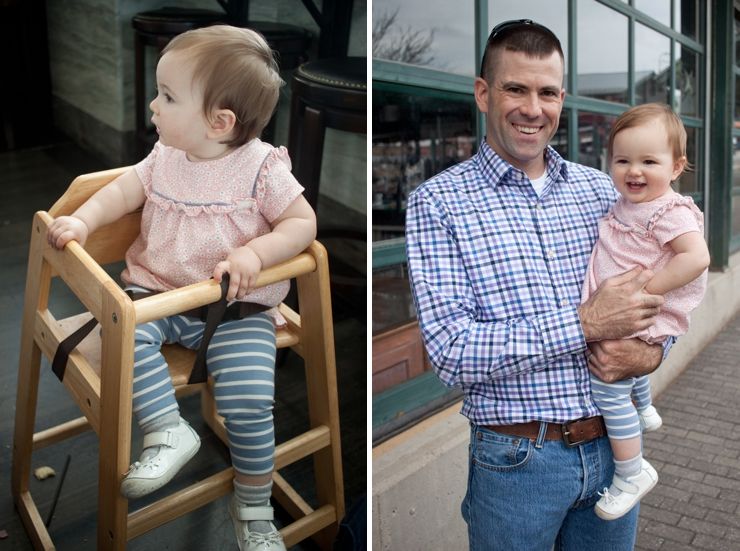 Brunch was yummy, though I made a poor ordering choice for Rebecca. Our waiter suggested the brown butter cornbread for Rebecca. She seemed to know what she was talking about with two nieces near Rebecca's age. It
was
really delicious. And really really messy. There was cornbread for about two feet in every direction around Becca's high chair. She did pretty well while we ate and was thrilled to walk around outside afterwards. It was a nice day for a little bit of exploring downtown with our favorite munchkin!