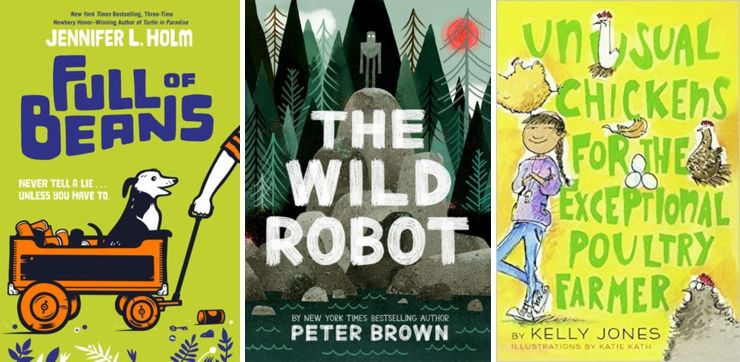 Some really fantastic books from the month of March. Also, I was inspired recently to start underlining the titles like a proper human being. When I started writing about what I read in 2011, I didn't like how it looked or something. But just this weekend I received an email about a couple books from an ELA teacher at school with the titles underlined, and I thought, "WOW. Underlining in an informal email. I should probably underline on the blog." I imagine there are a few readers who will appreciate this adjustment.
Full of Beans
is an adorable title about Key West during the Great Depression. I've never been, but my dad and stepmom love it. It had great history, some spunk, and was an easy read for upper elementary school students. I'm going to propose pairing it with the classic
Out of the Dust
.
I'm really considering
The Wild Robot
for a future community read at our school. My mom read it first and told me she was still thinking about it for a few days after she finished it, for good reason. It's amazing. With an unconventional plot about a robot who ends up deserted on an island, the story line is endearing and full of discussion points. I think kids would love it, and there are life lessons everywhere.
Unusual Chickens for the Exceptional Poultry Farmer
was on lots of lists because it features a biracial main character, and #weneeddiversebooks is very much a thing. It's cute, and you can learn plenty of things about raising chickens. I didn't love it like I hoped I would, and I'm not sure I have many kids who would be motivated to pick it up or finish it.

The One-in-a-Million Boy
was a recommendation from Modern Mrs. Darcy, and I grabbed it as a daily deal special on the Kindle. It's inspiring and a good read if you enjoy books like
A Man Called Ove
. Fair warning: it is considerably sadder than I thought it would be as I didn't know it was about a little boy that dies and how his parents cope.
I'd been waiting a while to read
Today Will Be Different
, the latest book from Maria Semple (
Where'd You Go Bernadette
). The reviews were mixed at first, though it did make several "best of 2016" lists. While Bernadette remains my favorite, this was good too. It was stressful because the protagonist is neurotic, but the ending works so well. I read it on a weekend car trip to Jewell County (as did my mom), and we enjoyed chatting about it!
Notroius RBG
was a fantastic Kindle deal and excellent read. I should have known more about this pioneering attorney and Supreme Court Justice, but this easy-to-read biography got me up to speed. It's full of wonderful images and illustrations throughout the book too!
I've had a few complaints about Liane Moriarty's books because after a while they start to seem formulaic. Her newest one,
Truly Madly Deeply
, was kind of a bummer. But in March we read one of Moriarty's older books,
What Alice Forgot
for book club and absolutely loved it. Discussion was rich, and it was enough different from her other books to make me really happy. And this isn't a spoiler, but those of you who have read it will be glad to know that we ate lemon meringue pie at book club.