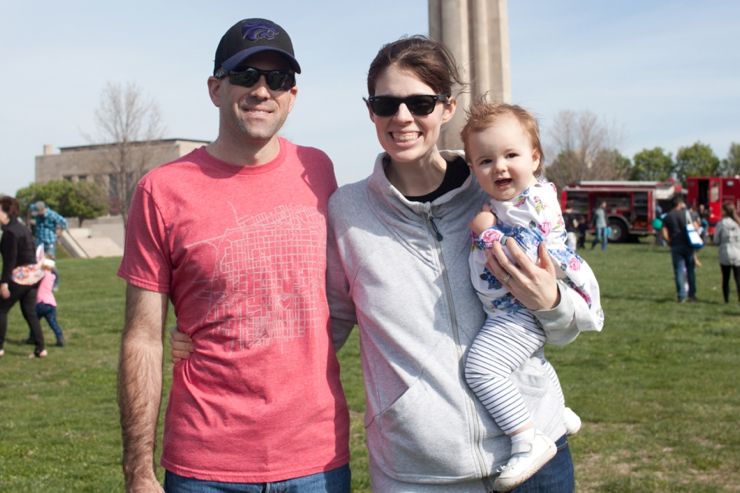 Our church,
Rez DT
, hosted their annual Easter Egg Hunt on the lawn of the Liberty Memorial last weekend. They call the event "citywide," and they reported at church on Sunday that they had about 500 kiddos register. It was a breezy, gorgeous day with blue skies. Kansas City was really showing off, and we were so happy to be outside enjoying spring.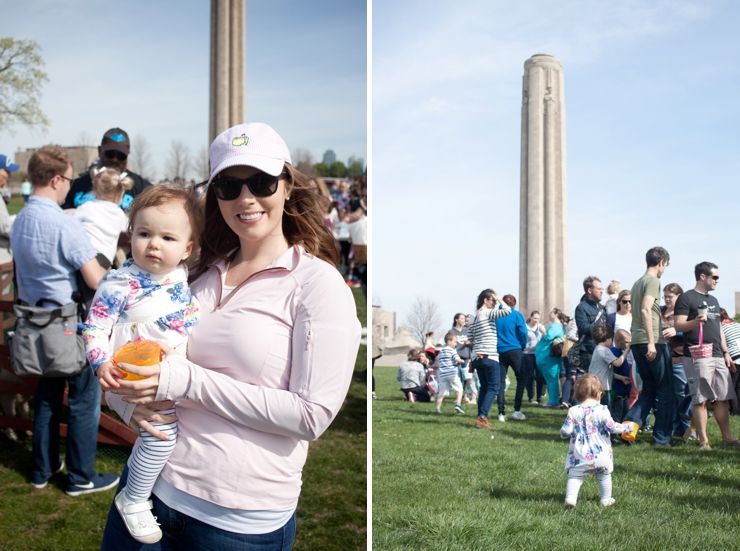 I signed up to volunteer and was assigned to the inflatables, but they didn't end up needing me. Aunt Lu came out to join the fun and hang out with Becca and Kip, just in case I was really busy with volunteering. Rebecca was so adorably active! She was either happy to ride around in the stroller or walk around holding her basket or snack trap. There were lines for some of the activities, but it didn't matter because Becca was really too young for most of the inflatables, crafts, face painting, etc.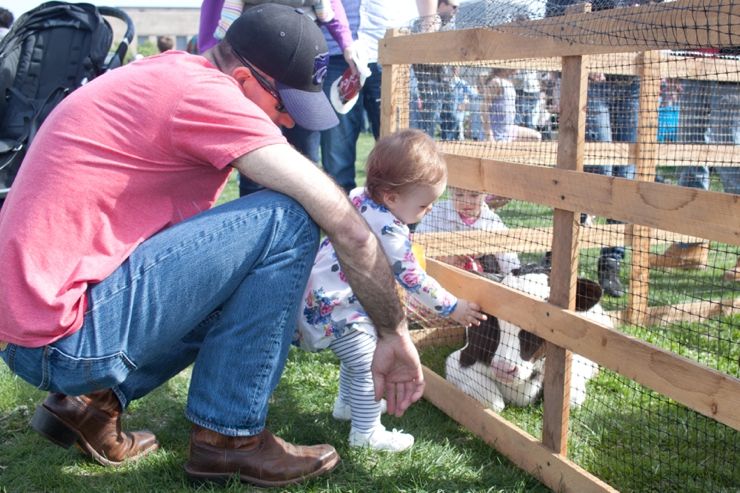 She did love the animals from
Johnson Farm
(they are church members!), though we had to watch her very closely so she didn't squeeze too hard on the little baby chicks head. "Gentle" isn't in Rebecca's vocabulary yet.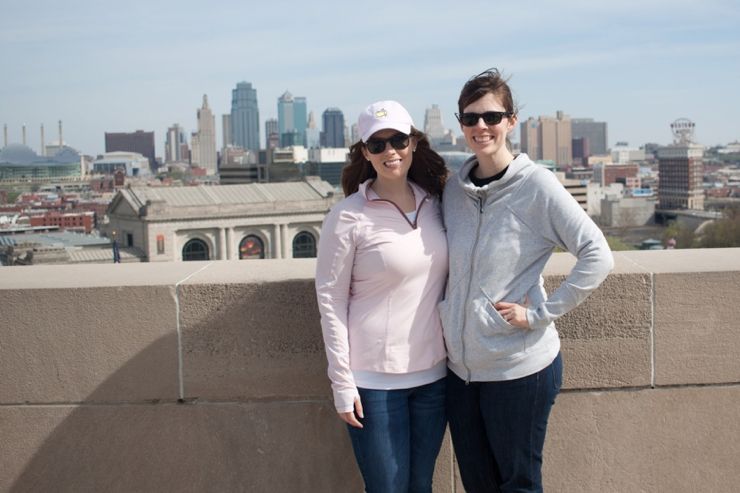 We walked around and checked out the great views while we waited for the egg hunt to begin. It was definitely windy!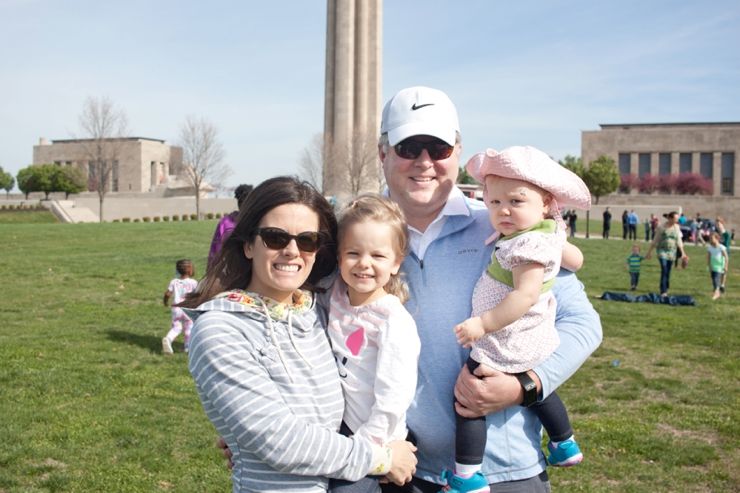 Our pals were there that we see every week, plus other church friends that attend other services. It was super fun to see everyone's little kids before the hunt and while they ran for their eggs.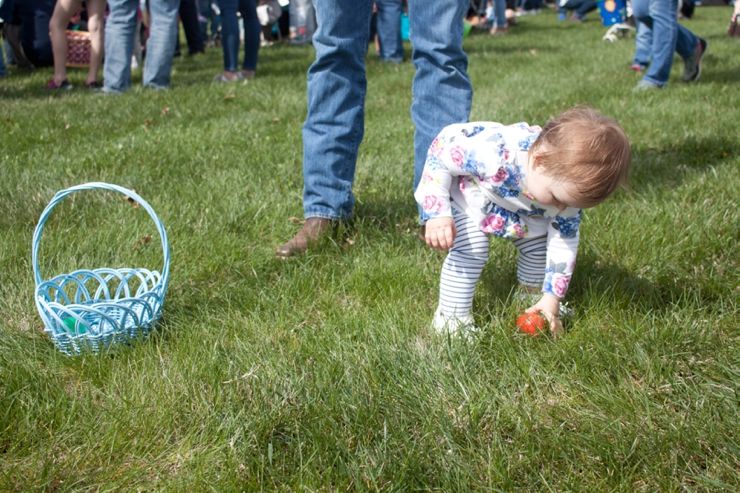 Rebecca was way too little to understand the urgency during the egg hunt. The kids were put into groups, and Rebecca was in the 0-3 "hunt." She got four eggs for her basket because I picked them up and handed them to her to put in the basket. We gave away two eggs to a little boy who didn't get any in the mad rush. Becca was thrilled with her two eggs, and she's been putting them in her basket over and over again since. She had no idea there were prizes inside, so we'll see what happens this weekend when the Easter Bunny leaves some eggs that are full of toddler friendly snacks.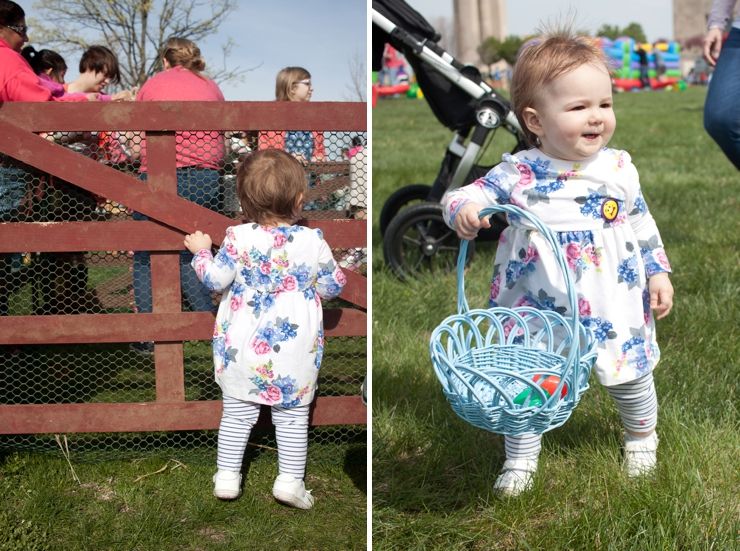 Do you see her little tiptoes as she tries to look at the baby sheep? The sweetest, right? The simple, blue basket was the perfect size for her to carry around. These photos are an excellent look into her life at home and school at fourteen months - she loves to carry things around and put things inside of other things. I like to say that Rebecca's biggest challenge in life is how she's going to carry more than two things at once. It's adorable.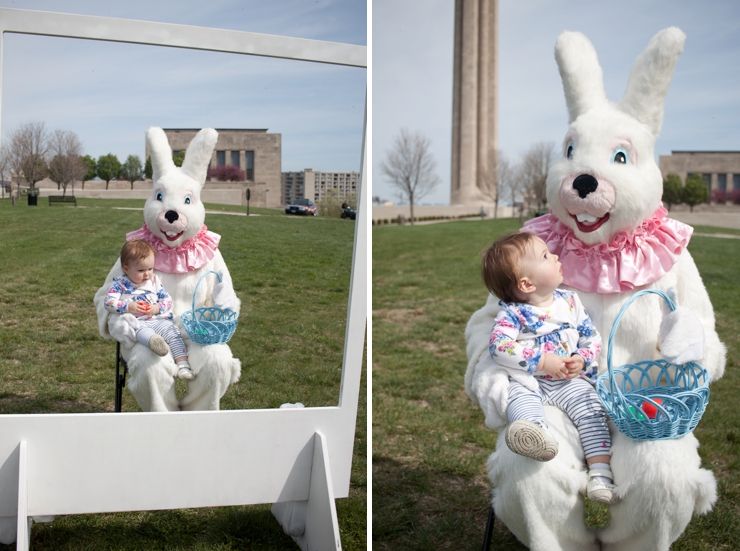 The line for the bunny was short during the egg hunt for the bigger kids. We didn't know what she would do, but Rebecca was totally fine. She didn't think he was scary, and she gazed up just as we were snapping some photos. Kip said she fell asleep on the way home from all the excitement, and she took a great long nap after some lunch. We're looking forward to more Easter celebration in the coming days!