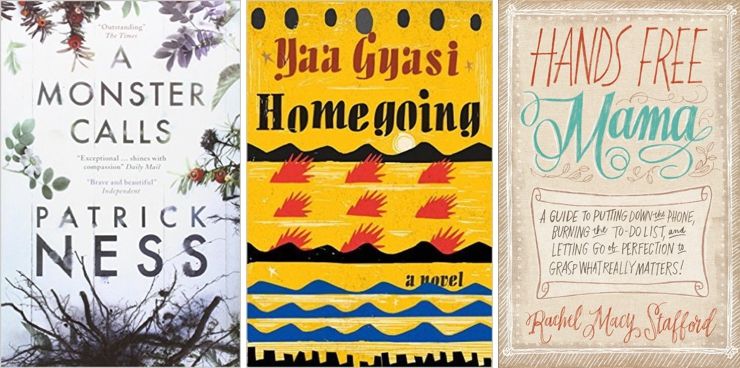 We're sleeping through the night now and nursing much much less, which means I'm reading a bit less. That's ok - it makes writing these summaries much faster!
A Monster Calls
recently was released as a movie that I didn't hear much about besides a few sponsored spots on NPR. I snagged it from the library after the recommendation of a teacher who said he never reads books and couldn't put this one down. It's YA and the topic is heavy - the young boy's mother is dying for the entire book. I definitely had to make myself finish this one. While it is really well done, it was also just really sad. I'm not planning to add the movie to our queue.
Homegoing
was our February book club choice. It came highly recommended by several of our bookish friends with a few people declaring it their favorite book of 2016. Our reaction at book club was definitely split. The story follows two half-sisters and their descendants, starting in Ghana and also in the United States. It is heartbreaking over and over again, but the writing is powerful. It's heartbreaking because it's based on our history and the very real suffering of many generations. I referenced the family tree over and over again throughout the book and recommend reading one chapter in each sitting. This makes it easier to track the characters and the families over the years.
Hands Free Mama
author Rachel Macy Stafford is also a blogger that writes about how to escape never ending to-do lists and really enjoy your kiddos. I don't read her blog so I can't compare to what she covers online, but I did really enjoy this book. Erica gave it to me early last year, and it's meant to be read a chapter at a time over the course of a year. I've been picking it up off and on since Rebecca was born. Her writing is full of good reminders to slow down - something I need! With Rebecca's early bedtime, it feels too often like a race between when I leave school at 3:30 and when she goes "night night" at 6 pm. She has a new book that came out this week,
Only Love Today
. I would love to read this one too, probably a little bit at a time just like Hands Free Mama. I enjoy a well written personal development book!