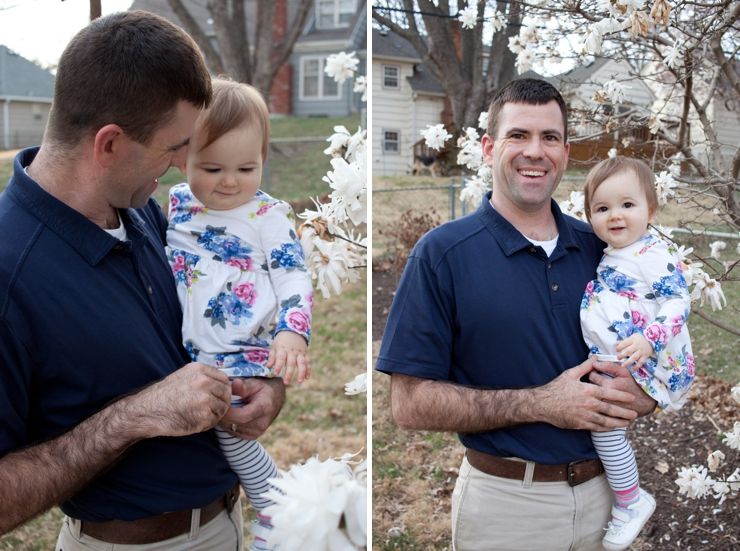 Tracking the arrival of spring with our star magnolia tree in the backyard is officially a tradition (
2015
,
2016
). The blooms were early this year after our joke of a winter. We had one ice day that was a total bust (though I loved having a random Friday off!). We like to joke that we're going to have to take Rebecca to Colorado just to SEE snow!
I have written about it before, but it is worth mentioning again that Rebecca is so happy outside! She loves to toddle around on the patio, and she's also happy walking around the backyard in Kip's arms. They look at the trees and inspect all around the yard to see what is blooming.
Using our allergies as indicators, plenty of stuff has been in bloom. Kip has seasonal allergies in the spring, and they managed to line up with another round of flu for him. Last week was a doozy! People ask all the time how his knee is holding up, and it's really impressive how well he has rebounded. Kip still has months and months of physical therapy ahead of him, and it will be fall before he is cleared to climb trees again. But he's doing really well with what he is allowed to do!
Rebecca is finishing up the antibiotics required for her double ear infection that was diagnosed over spring break, but thankfully we have had limited sick days this year. I retested my allergies over spring break, just to check and see if there were any changes. After almost nine years of allergy shots, it's all the same. That's not the news I was hoping for, but I'm not surprised. So I'm happy for the signs of new growth, leaves returning to trees, and pretty spring flowers. I'll just be enjoying the changing of seasons with a box of tissues at my side.