After attending many first birthday parties, I decided that they serve two purposes. One, let everyone from baby's fan club (Becca's grandparents, aunt and uncles) see their darling kiddo and two, for the parents (Kip and me) to say thank you to everyone who helped us along the way in her first year. You'll notice that neither purpose has much to do with the baby. Rebecca could have cared less about a theme or the guest list! I imagine she'll have opinions soon enough - she is my daughter after all.
I decided to have an open house birthday party for a few reasons. Our house isn't that big so everyone at once would be pretty overwhelming. I also wanted to invite book club and a couple of Kip's buddies in addition to our family, and I thought a staggered arrival/departure might help. Becca didn't care how long anyone stayed or who was there when we sang "Happy Birthday," so with the open house people could stay as long as they wanted. There were so many friends that I wanted to invite that I didn't because I was worried about space. I always want to invite more people to celebrate fun things!
Dad, Tracy and Spencer came from Indianapolis on Friday, plus my dad flew out to western Nebraska to pick up Grandma Mary. We had dinner at our house on Friday night and played a quick game of BS. Spencer was so cute as he was explaining the rules of the card game BS, "You know what it means, right?" Yep, we totally do. It was good for a few laughs, and then Grandma won!
Three of Rebecca's uncles came to the party, including Uncle Spencer. He's the youngest (11-years-old last November), and he's certainly not afraid to crawl around on the floor with Becca. It's a safe bet that he enjoyed the ball pit just as much as Becca. I love these photos of the two of them because it looks like Becca is afraid Uncle Spencer might eat her cake!
Grandma Karen and Grandpa Keith came to spend the day with us along with Uncle Kenny. They were so impressed with all of Rebecca's teeth and her new walking skills.
Uncle Kevin came too! We are lucky that Rebecca has one aunt and one uncle in town to get to stop by and see Rebecca growing. Kevin waited till Becca was a bit bigger before her started holding her, but now she's so sturdy and so fun that it is impossible for anyone to resist her!
Three of the four of us look fantastic in this photo. Olivia's shirt could not be any more perfect for her buddy Becca's birthday party. And Rebecca? Well, she's giving fantastic side eye to someone just out of the frame.
This photo of Becca and her daddy is too cute! They have a special bond, and she's becoming more of a daddy's girl all the time. We have both noticed that if she is just with one of us, she asks about the other person. Which means I never hear her say mama, but Kip does! She's also calmer for Kip with some of the annoying tasks like cleaning up after meals. Maybe she thinks I'm a pushover.
My godson Robert came wandering into the kitchen from the front room where he was eating with his parents and brother. When he asked for a donut and pointed to the giant LaMar's donuts, how could I resist his adorable face? His mother appeared soon after to clarify that he was supposed to choose a little donut. Whoops! In the other photo, little miss Reese! Rebecca and Reese share a birthday, exactly five years apart.
Here are more little friends hard at work on the donut masterpiece! This spot was a central hub of activity during the party.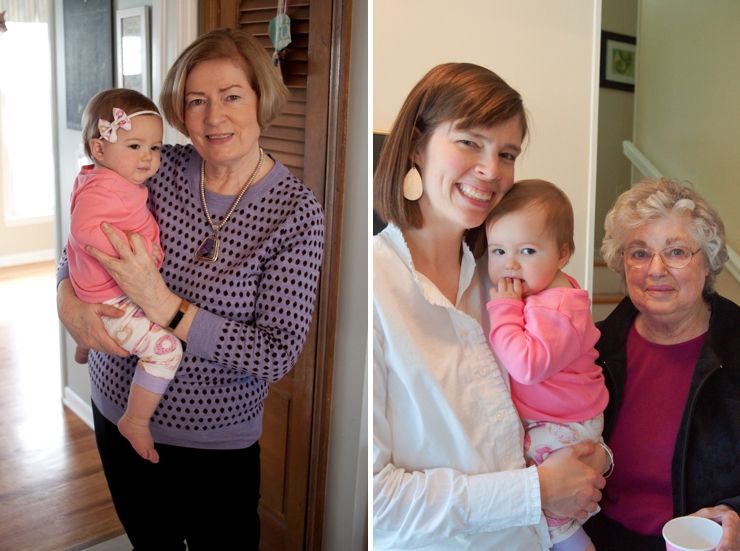 Rebecca had five grandparents and one great-grandma at her party. My grandma Mary remains a faithful blog reader so she recognized many of my friends and their children from the blog. Bless my mother for frying bacon and cooking sausage during so much of the party. She also picked up balloons, Becca's new pink shirt, donuts and the cake from McLain's Market. We were so thankful for all her help.
Rebecca's initial reaction to the cake was pretty lukewarm. The frosting kept sticking to her fingers! I have no idea why we didn't grab a bib for her, but luckily she didn't make too much of a mess with the cake. Later in the party I gave her some fruit, quiche and a donut. She didn't leave any of that chocolate donut behind and had chocolate all over her face and hands.
After the party was over, my dad returned with Rebecca's big birthday present - a new wagon! We ate some Goodcents subs, and then my dad, Keith and Kip started working on putting together the wagon. It took an assorted set of tools and about a half hour, but Rebecca was ready to try it out when they were done. She gave everyone more snuggles and then headed upstairs for a long nap to recover from all the excitement.
All of the cliches about a baby's first birthday are totally true. It seems like just yesterday she was born. And yet, learning how to be a mama to a new baby was tricky. I still call her "baby" often even though she wants everyone to know she's a big girl that sleeps well, explores everything, and makes us smile every single day. We love you Rebecca Claire and loved sharing your first birthday with so many dear ones!