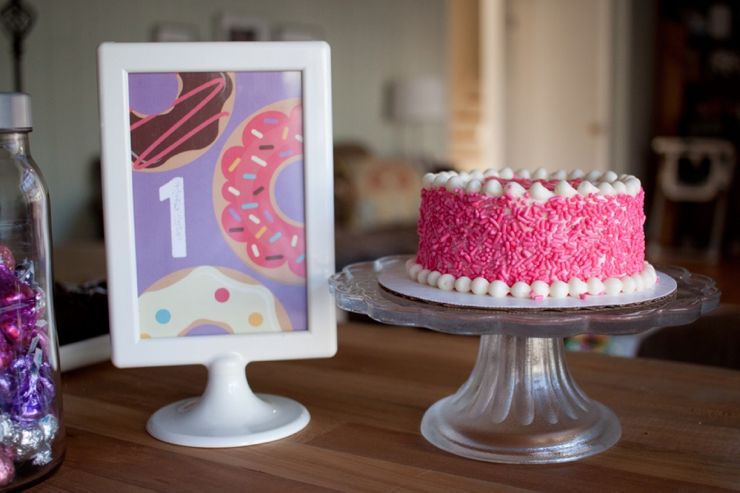 Rebecca's first birthday party was donut themed, obviously. We love donuts in our house! I used donuts to ask my besties to be bridesmaids, and we served Lamar's originals donuts at our wedding. Rachel did the cutest donut party for
Braden's fourth birthday party
. She sent me all the files, and I set out to make them as pink, purple, and girly as I could.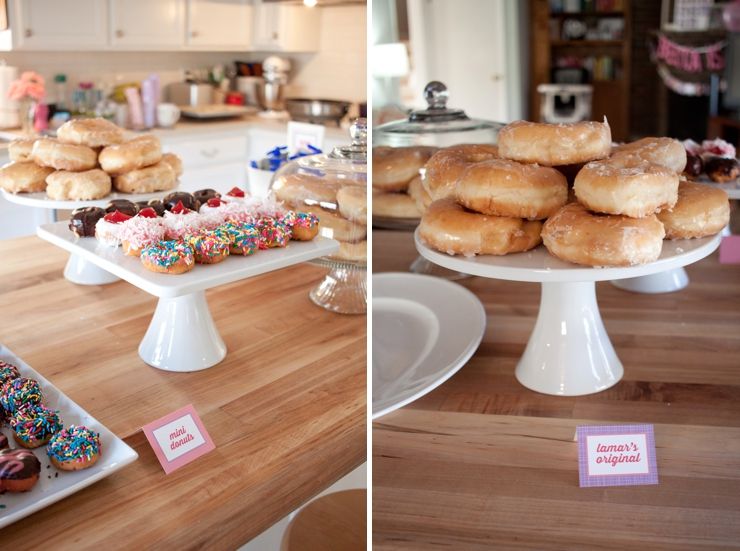 A "sweet" bonus to a donut theme was the availability of great new donuts in town. Donutology in Westport makes up mini donuts on location.* It seems like it would be a fun activity for kids - go in, choose your toppings for three mini donuts, and watch them get made fresh! We preordered two large assorted boxes with all the pink, chocolate and sprinkles possible. The mini donut flavor of the month was strawberry, a perfect fit for Rebecca's party. We also served Lamar's Originals because they can't be beat.
*We have tried both Doughnut Lounge and Donutology and much prefer Donutology. It's run by Daylight Donuts, so their donuts have a more classic taste that appeals to Kip, and I love the novelty of the mini donuts. We have yet to go to Doughnut Lounge for a donut and a cocktail or beer, and I know that's the main draw for many folks!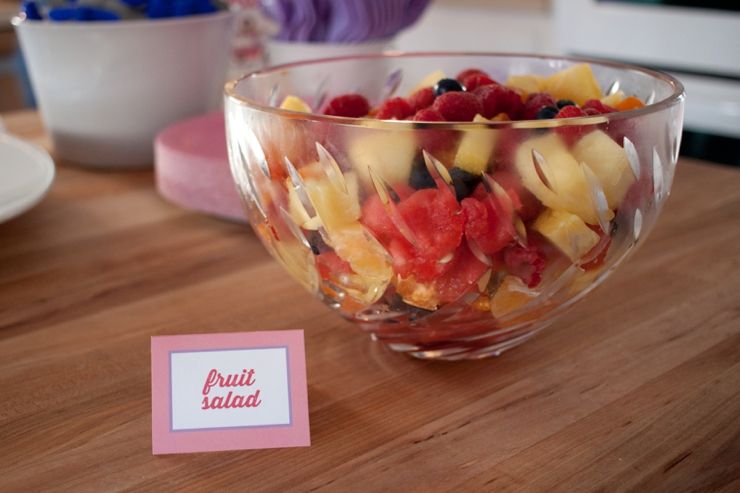 Mom brought some fruit salad that was perfect for kids and adults. I was worried there wouldn't be enough, but she rightly knew that people don't take that much on a breakfast buffet. In fact there were leftevers, even after serving 29 adults and 15 kids under 7-years-old!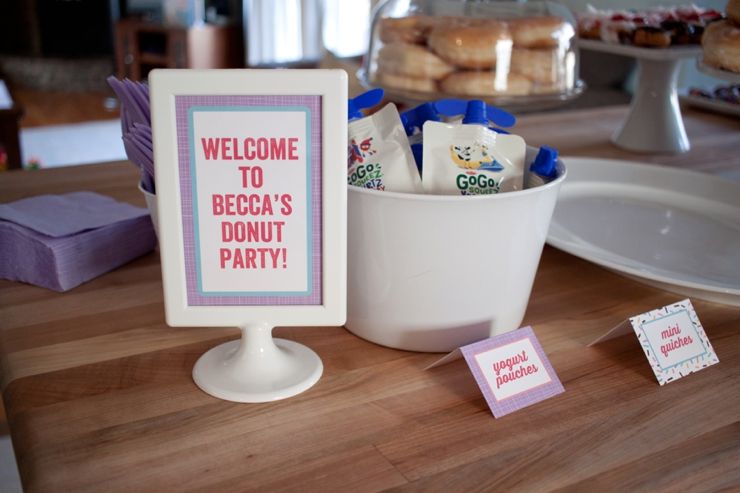 The island came to the rescue yet again. It was the perfect place to serve all the food, and it looked lovely all put together. The food was kid-friendly and easy to grab, especially the yogurt pouches. I read a long article about mini quiches on the internet with the gist of saying, "Sure, you COULD make mini quiches. But why would you when the prepared ones are so delicious, and you have other more fun ways to spend your time?" So I felt great about serving the Nancy's brand mini quiches that were easy to pop in your mouth in one bite. I fueled that quiche making energy into decorations instead.
Also missing from the buffet photos - bacon and sausage. Bless my mom for cooking POUNDS of sausage links and bacon during the party. We went through so much breakfast meat!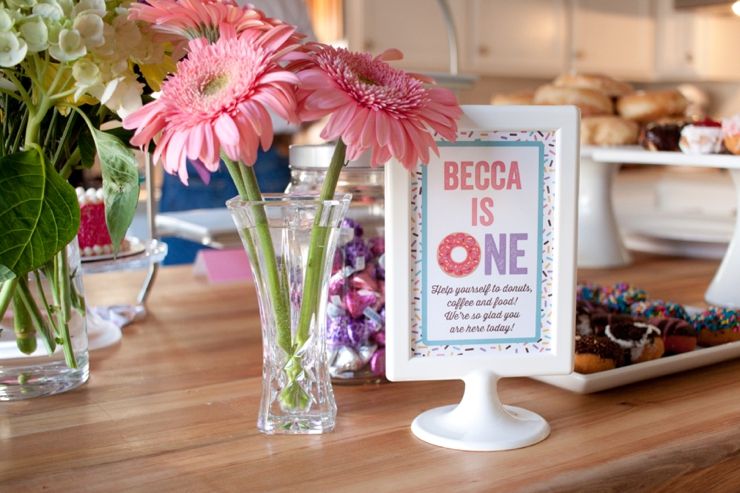 I started working on party prep so early that it didn't seem like that much the week of the party. I had most things printed at a local UPS store well in advance, so for the last few days I just had to put together the final little details, hang banners, etc. It helped that Rebecca started sleeping through the night right as I was kicking party planning into high gear. More rested Victoria = more efficient Victoria.
Rachel had designed a coloring wall for Braden's party that I updated for Becca. I printed it to put on the coffee table with washi tape, right in the middle of everything. Aunt Lu colored a couple of letters to give everyone a clue that it was okay to color!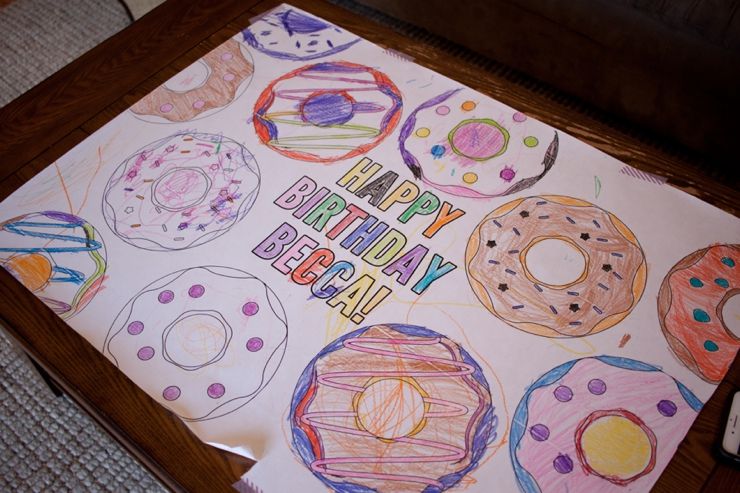 While the only thing Becca wanted to do at the coloring station was put the crayons in her mouth, the bigger kids were super into coloring the donuts. They did a lovely job!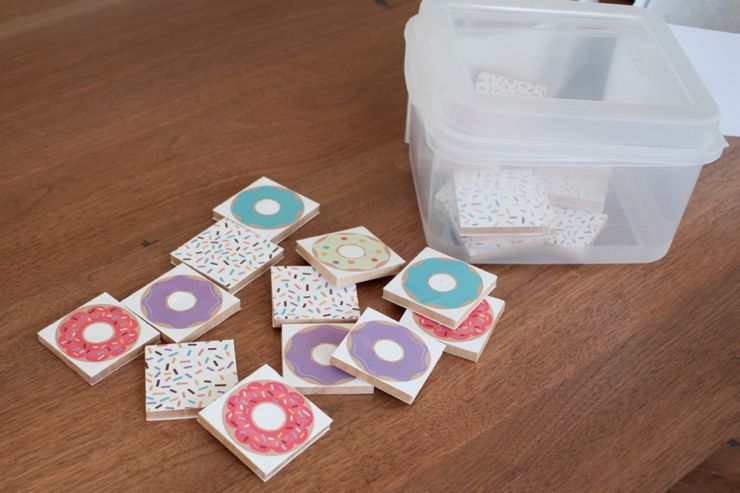 One of the files that Rachel sent me was for a donut matching game. I assumed she made it for the party, but she told me later it was a party favor! I took it to the next level with 2" wood squares from
Woodworks
, and I assume Becca will be into it when she is bigger. A few kids played with the game on the dining room table, so it was a sprinkle success. (Kip laughed and laughed when I told him I was worried people might memorize the patterns of the sprinkles and keep track of the squares.)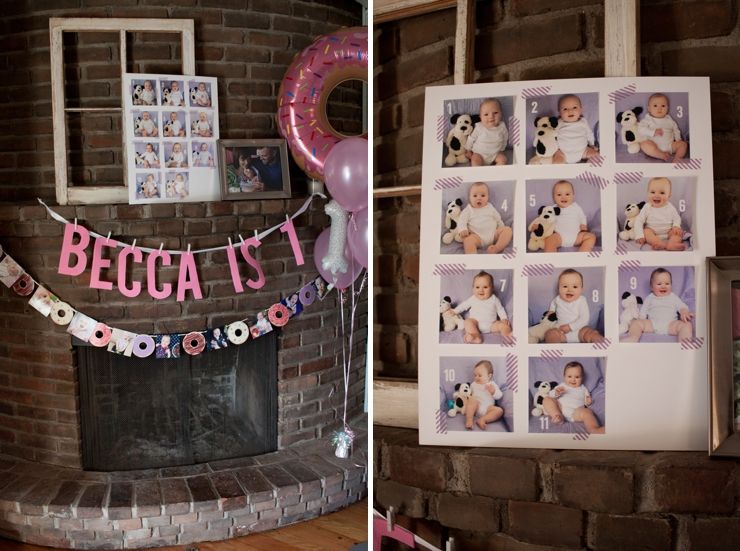 While we didn't have a fancy backdrop with an elaborate dessert bar, I did put together quite a few photos and balloons on the fireplace. I printed her monthly instagrams at MPix, and I made a banner with donuts and more photos from each month. I love looking at the photos and seeing how she has grown!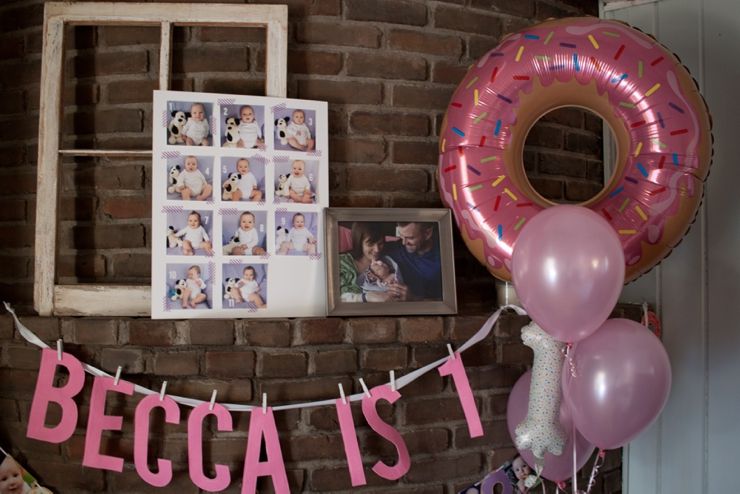 I found extra felt in the basement and quickly sewed another banner for the
fireplace
. It's much easier because I have the letter files saved to my computer, so they were quick to update. And I could make a new number next year and reuse the rest of the banner!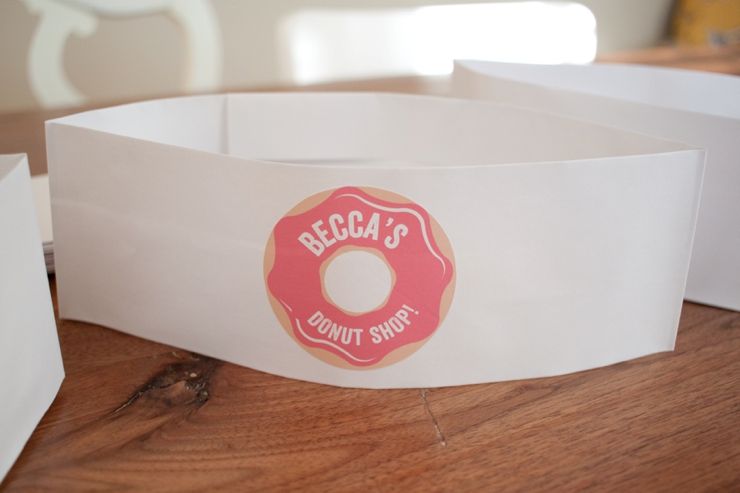 Rachel found these adorable paper hats on the internet, and I added some stickers that I printed at home. I should have said people could take them with them because we definitely had lots left at the end of the party. They will eventually be perfect for dressing up!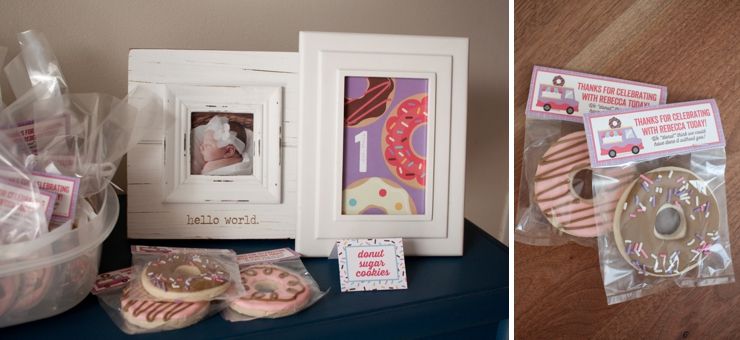 At the front door, donut cookies! I found a donut cookie cutter this year made by Sweet Sugar Belle, and it made them so easy to make. They are easily some of my favorite sugar cookie designs - so simple and so sweet. I tried to make sure everyone took one with them as they left!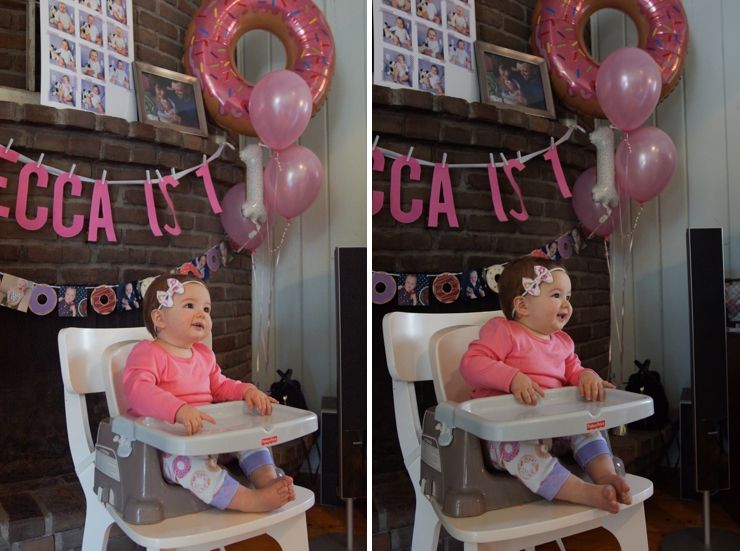 The donut balloon came from Etsy (so did the 1 with sprinkles on it) and the rest of the balloons from Hy-Vee because they open so early on Saturday morning. I found Becca's donut headband and donut pants on Etsy too...really searching for party supplies on Etsy is a rabbit hole! She never did notice the decorations, but she did look really adorable. Just like always.