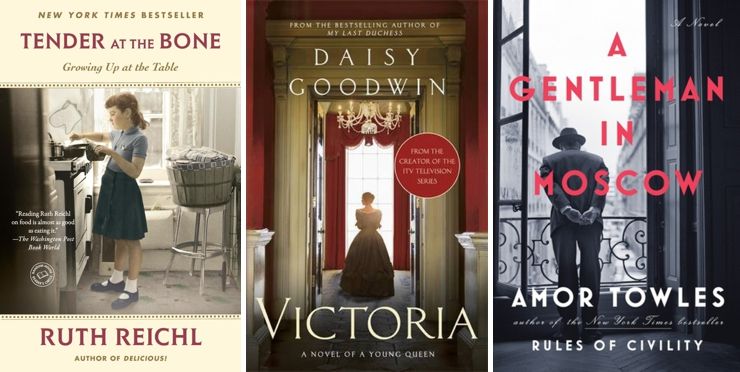 Ruth Reichl's book about her secret life as a restaurant critic (
Garlic and Sapphires
) is one of my favorite food related memoirs. I'm a little shocked that is has been over five years since I read her book - it really has stuck with me!I snatched
Tender at the Bone
when it was on sale, and I enjoyed Reichl's stories about growing up and learning to cook. It's a little difficult to relate to in many places because I can't really imagine what it would be like to have your mom send you to school in Canada with no notice or living in a commune during the 70s. Some of these stories from Ruth's life are a little underdeveloped. While I often read food memoirs, I rarely cook from them. Am I alone in this? Maybe it's because I read them on my Kindle, and it is a little tricky to page back through.
Victoria
was our book club pick for January and also recently debuted on Masterpiece Theatre on PBS. I read it very quickly and the miniseries follows the book pretty closely - they have the same writer! Much of the dialogue is even in the same. I've only watched the first two hours, but much like the book, Victoria is pretty insufferable. My friend Kate points out that this could be historical underestimation of a woman monarch, which could totally be true. I also think that becoming queen at the age of 18 is a lot for anybody. It's a quick read but left me wanting a little bit more at the end. Conveniently, the miniseries goes further into Victoria's life than the book.
A Gentleman in Moscow
was recommended to us by Kate's mom, a blogger I follow, and NPR's
book concierge
from 2016. It felt like a safe pick for Kate and me to read as we took not one but TWO upper level Russian history courses at K-State with our favorite professor. We'd read Amor Towles first book, Rules of Civility, back in 2012, and I liked this book better. It took a little while for me to get the rhythm of the story, and I definitely found myself trying to remember details from our late night Russian history studies at Hale Library. The main character is "sentenced" to life in a grand hotel in Moscow, but the characters that fill the story and the hotel are wonderful. It's actually one of the lighter books I've read lately even though it's almost 500 pages and set in communist Russia. The prose is really beautiful.