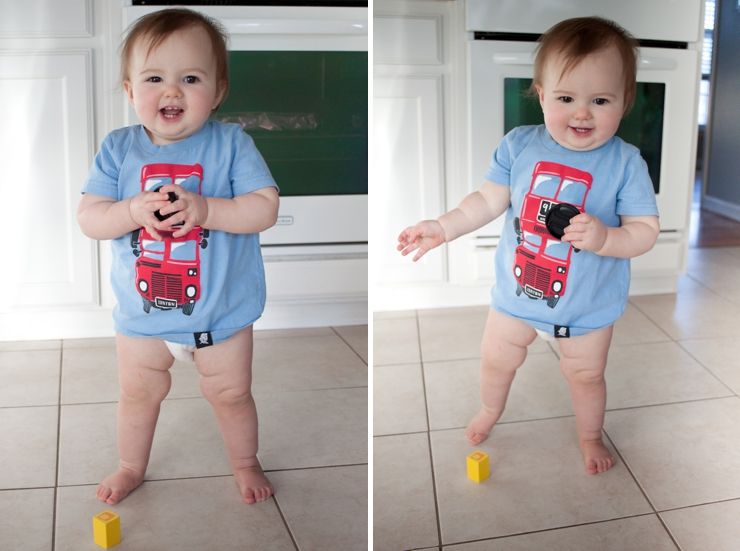 Last week Rebecca came home from school smelling a little stinky, so I changed her outfit into just a clean t-shirt. It's been so warm that it seemed appropriate for February! She's been wearing her Stately Type tees (size 2T) for months, and they get more like t-shirts and less like a dress all the time. I like them because they show off her sweet arms and legs.
While our dinner cooked in the oven, I convinced Becca to practice her walking in the kitchen. Kip predicted a couple of weeks ago that she would be walking by her first birthday, and he was totally right! She does a lot of cool stuff at daycare, but she waited to string some steps together when we were all together at home. Kip and I were delighted watching her figure out the first little baby steps.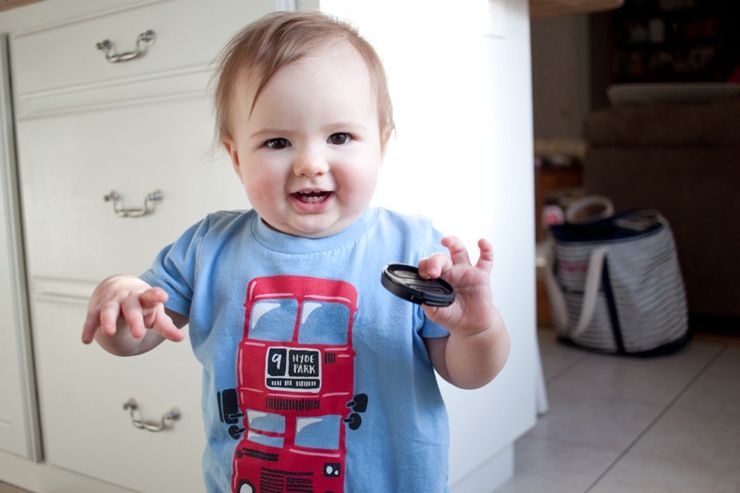 If she wants to get somewhere fast, Rebecca still chooses to drop to the floor and crawl. But if she wants to carry some toys somewhere, she might choose to walk! I think she's discovered that walking while holding a dolly, block, or even a lens cap is much easier. A sweet bonus to the walking is that it is so much easier to go outside. Rebecca can get around without tearing up her pants!
Her hair is a little crazy, but not thick enough for a barrette to stay in...yet! While so much more than when she was born, she's still got a ways to catch up with the bowl cut her mama rocked for several years.