I talked about it after I read
The Year of Living Danishly
, and my mom saved an article from the KC Star recently about "hygge." It's even been in the
NY Times
lately. Hunkering down at home and practicing the art of hygge like the Danish has made for some excellent nights of reading, movie watching, and plenty of football and basketball watching. Here are books that kept me company during the cold short days of December.
Commonwealth
by Ann Patchett is a quiet novel with the right amount of family drama that is exceptionally well done. I loved watching how she developed the characters, and the start is a little bit tricky, but she ties it together nicely about half way through the book and makes it impossible to put it down. Highly highly recommend.
Helping Children Succeed
is a quick read and follow-up to Paul Tough's last book
How Children Succeed.
It's actually available online
here
and is often on sale for only $1.99 on the Kindle app. While I felt like my friends who are parents enjoyed the last one, this book seems to speak more specifically to educators. We're actually reading it as a staff this semester, and the first half of the book is heavy. He really dives into environmental effects on young brains, and it's a tough read. The second half of the book we will read much slower and really study it together at school because there are some really big ideas about how to help our students be successful.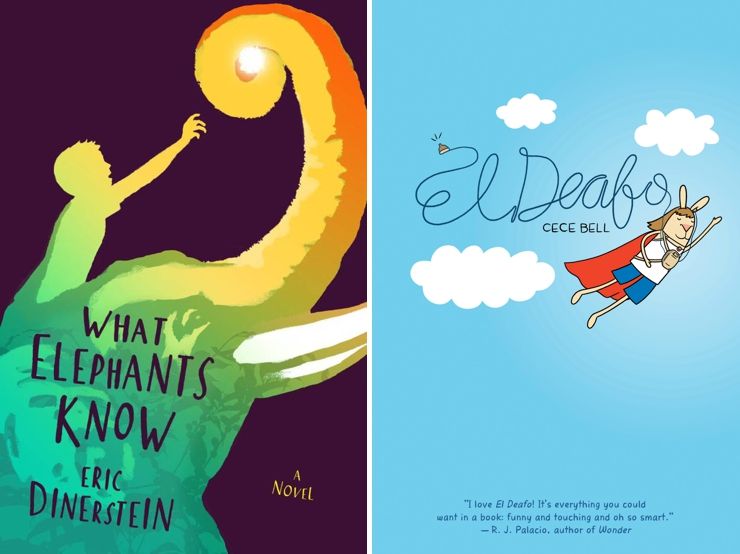 Mom and I were reading a few books off a "mock Newbery list," and she highly recommended
What Elephants Know
. It's set in the Borderlands of Nepal, and I learned plenty about elephants, life in the jungle, and a corner of the world I don't know much about at all! It was really well done and good for fourth through sixth graders.
El Deafo
is an easy to read graphic novel that tells the author Cece Bell's story of losing her hearing as a young child and growing up deaf. I cried when she can't hear anymore at four-years-old, and I appreciated this really accessible story about what it is like to be different and also the same as your classmates. And the bunnies are wonderfully drawn.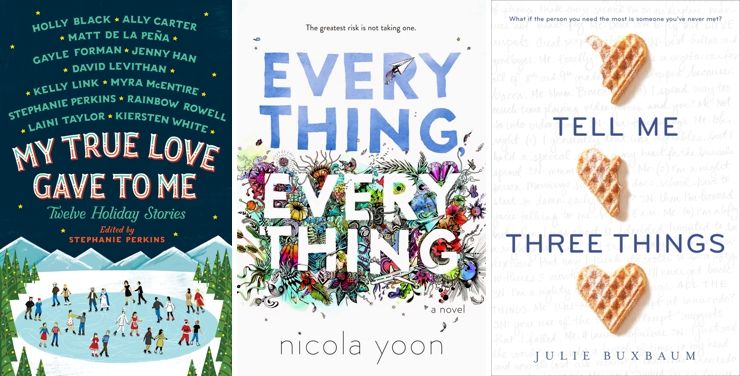 Sometimes we try to pick a Christmas story for December book club and find it to be overly cheesy. We got very lucky this year with
My True Love Gave to Me
, and we would highly recommend it. Kate declared it the best Christmas book we've
read in our ten years of book club
. While we didn't love all twelve holiday stories equally, we had some real favorites. The collection of young adult authors is top-notch including Rainbow Rowell, Jenny Han and Devid Levithan, all authors I read regularly. Highly highly recommend for your December enjoyment in 2017.
Everything Everything
was on sale because Nicola Yoon has a new book that recently came out. She regularly appears on lists of authors to read in connection with the "
We Need Diverse Books
" movement. Kate and I also really enjoyed this YA story about a teenager who has a serious illness and cannot leave her house, a problem further complicated by the cute boy who moves in next door. BONUS: read it now and
see the movie in May
!
Tell Me Three Things
is another YA novel I snagged on sale and enjoyed. It's a story about grief, fitting in and falling in love with someone you've never met. It's like You've Got Mail for young readers. I really liked it, but I might have liked Everything Everything more. I've had fun chatting with friends who also picked up this one to read.
2016 was a banner year for reading with 59 books completed. I sat around a lot last year feeding a baby. I think I spent more hours in my rocking chair than at my computer screen at home, and I will miss the extra excuses to read books in 2017 as Rebecca gets bigger! Though I suspect I will not miss reading in the middle of the night.