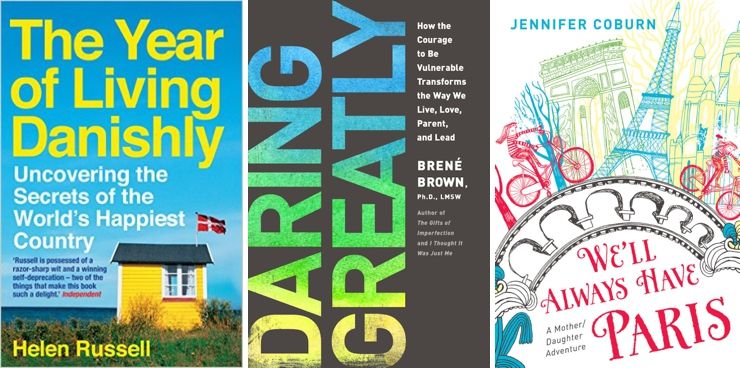 I can't remember exactly where I found
The Year of Living Danishly
(I think the
What Should I Read Next Podcast
), but I snagged it from the public library to read on my phone. This has been a happiness hack lately because I'm often feeding Rebecca with just my phone, and it gives me more time to read! Plus after I deleted Facebook and Twitter from my phone as part of my election recovery plan, I have more time to read books. I thought this one was going to be similar to the Gretchen Rubin books I've been reading, but actually this one was more of a memoir with a few happiness tips learned from the Danish mixed in. If it interests you at all, read it right now! It's super fun to read about "
hygge
." With winter settling in and Kip's surgery on Monday, we are hunkering down and enjoying the cozy in our house. The Christmas lights don't hurt either.
Daring Greatly
was our November book club book. Recently Anne Bogel (see the podcast above!) had a guest who described these books as "personal development" instead of self-help. At the library or on Amazon online, they are totally described as self-help, but I prefer personal development. This is the first book that we have read for book club that I also purchased as a paperback to transfer all my notes. There are plenty of implications for the work that I do as an instructional coach working with teachers. Some of her definitions are terms take a little bit to get used to, but it was a very thought provoking read that led to some great book club conversation.
For my final plug for What Should I Read Next and Anne Bogel (
Modern Mrs. Darcy
),
We'll Always Have Paris
. Honestly, I thought this was a different mother/daughter memoir but snagged it because it was a good deal with Whispersync. This was my first time using it, and I was totally hooked. I could read the book and switch to the Audible verison as I wanted to or as was convenient. And it always kept my place. This book was another memoir about a few different trips the mother and daughter took together to Europe but also a reflection on the author's relationship with her father. It was okay. Really Whispersync was the star here.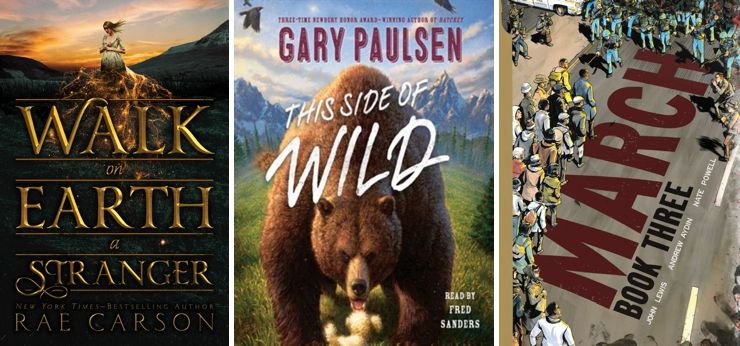 Now for three young adult titles...
I booktalked
Walk on Earth a Stranger
without a ton of success this fall. It's historical fiction set during the California Gold Rush, and while good, our kids aren't that interested in historical fiction. It has a neat twist as the main character has a supernatural sense about where gold can be found. However, it reads like it was written by a history teacher who wanted to include all of her favorite moments in American history. It's the start of the series, and I won't be following up with the next book even though I would love to hear how she escapes from her uncle!
This Side of Wild
is Gary Paulsen's newest book, and a book I read entirely aloud to Kip on road trips. I wish someone would have given him more Paulsen to read when he was growing up as he loves survivor type TV shows as a grown-up. In this one, Paulsen tells several short stories about animal escapades, and we laughed at the first half of the book quite a bit. It's a reasonable 120 pages or so, and I finished reading it aloud it coming home from Thanksgiving.
March Book Three
wraps up this graphic novel series I've been
telling you about
for
several years
. John Lewis and his co-authors
won a well deserved National Book Award
for this volume, and it's extremely powerful. In this volume they detail the Selma to Montgomery March, and I can get students to read this one because many have seen the movie
Selma
. You really need to start with book one, but it is worth your time. This is the first graphic novel to win a National Book Award.