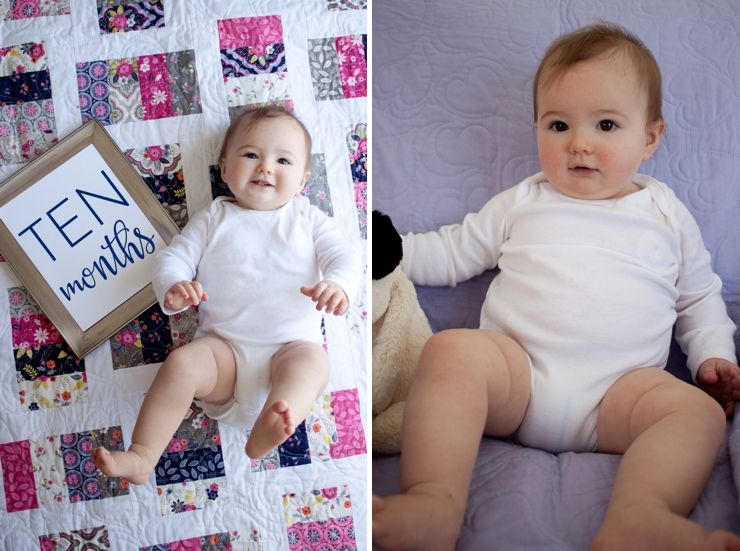 Rebecca has been changing rapidly week after week, and yet in the ten days since I took these photos, it feels like there have been even more changes. She's truly found her voice with lots of things to say all day every day!
At ten months old, Rebecca was diagnosed with her first double ear infection. I took her in because she had a pretty uncomfortable cough and the doctor said, oh the cough is fine but she's got a double ear infection. She didn't have the tell-tale symptoms, but after ten days of amoxicilin she seems much more herself. Basically, her appetite is back.
Becca weighed about 21 lbs. 11 oz. at ten months and wears pretty much all 12-18 month clothes and size 4 diapers. Her sleep is pretty much the same, though she takes delightful naps for Mom and Dad on the weekend. Daycare naps are hard. Regardless of the quality/quantity of her naps, she still likes to get up twice a night. A good night is once and a terrible night is three times. It's hard for Mama to get enough sleep even going to bed really early if Becca gets up three times, but one of these days, she'll figure it out.
As evidenced by these photos, Rebecca is on the go. She does not want to sit in her chair for photos, quickly arching her back to begin her escape out of the chair. Becca's favorite toys include the cups that she's holding above, her stacking rings, lids from around the house, and lately, things she can push a little bit. Becca still does pretty well with books, and she likes ones with flaps which means we've read the Halloween book from my cousin Sasha straight through all the other holidays.
She also LOVES anything that's on the coffee table, and she is learning what the word "no" means. We've been doing some baby proofing during break so we don't have to say no quite as much!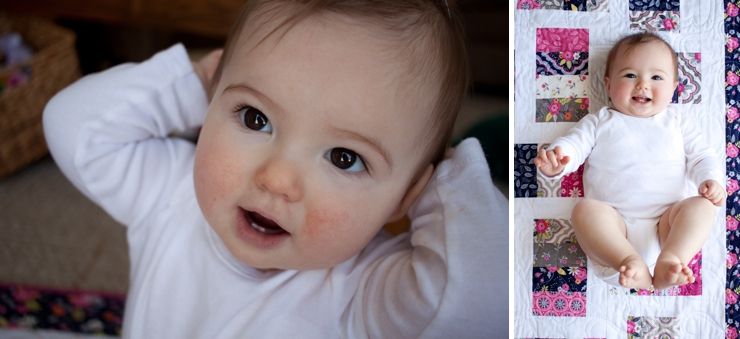 Becca's got lots to say, and sometimes we think the da and ma signs correspond with Daddy and Mama. She loves to stand up and shriek with excitement - she thinks she is pretty big stuff with her new views around the house. We've seen a few claps and a little waving and can't wait to see what she's up to next!