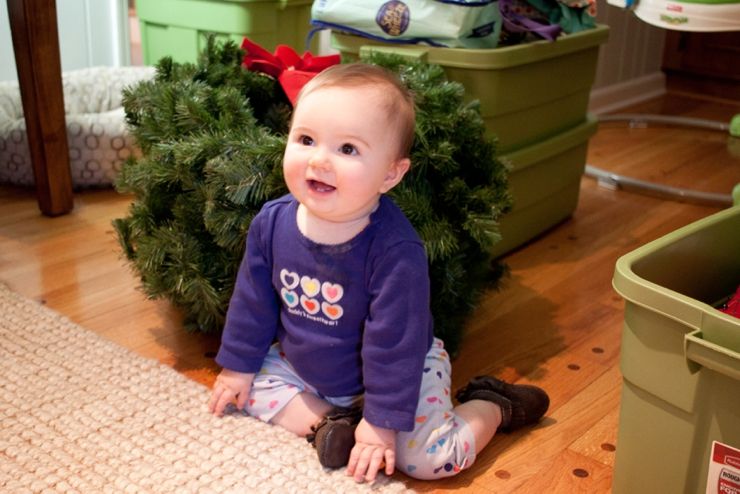 Rebecca's first Christmas is in just a week, and we've been enjoying having an extra reason to feel the love around the house. She has not found the Christmas trees yet nor noticed the presents on the fireplace while she is crawling around, thank goodness! Kip's surgery last Monday was successful, but it has pretty much left him permanently on the couch. The angle of his brace locks his leg in extension, and it's not comfortable anywhere but on the couch. Becca's ignored the Christmas decorations but has been interested in Kip's crutches and stuff on the coffee table!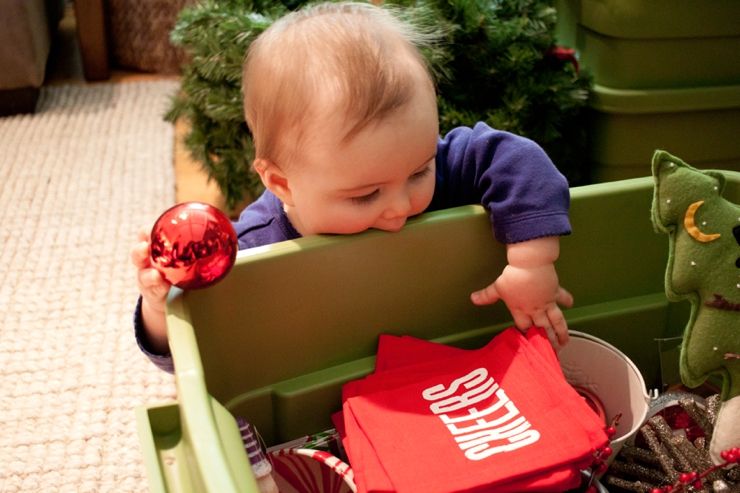 While we knew Kip would need a new ACL, we didn't know when until a couple of days before the surgery. Luckily we had most of the Christmas decorations put up in the week following Thanksgiving. Rebecca "helped" a little and even climbed up on the green boxes once! We opted to pull out the fake trees from the basement this year to save a few pennies and make life a little easier. I miss the smell of the real tree from last year, but I've been extra busy post surgery, and I'm glad watering the tree isn't on my to-do list every day.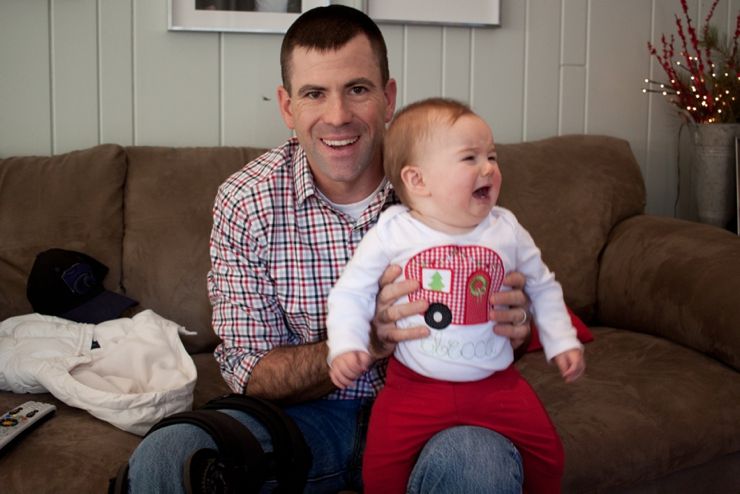 A question that is often asked on Instagram is "Does Becca ever not smile?" Yes, yes indeed. Sometimes she does NOT want her photo taken in a cute Christmas shirt after church even though her daddy was wearing his festive shirt too. This is actually her real cry - the fake one has been getting some practice lately too. We're on to you, Rebecca Claire, and we're not going to fall for your tricks!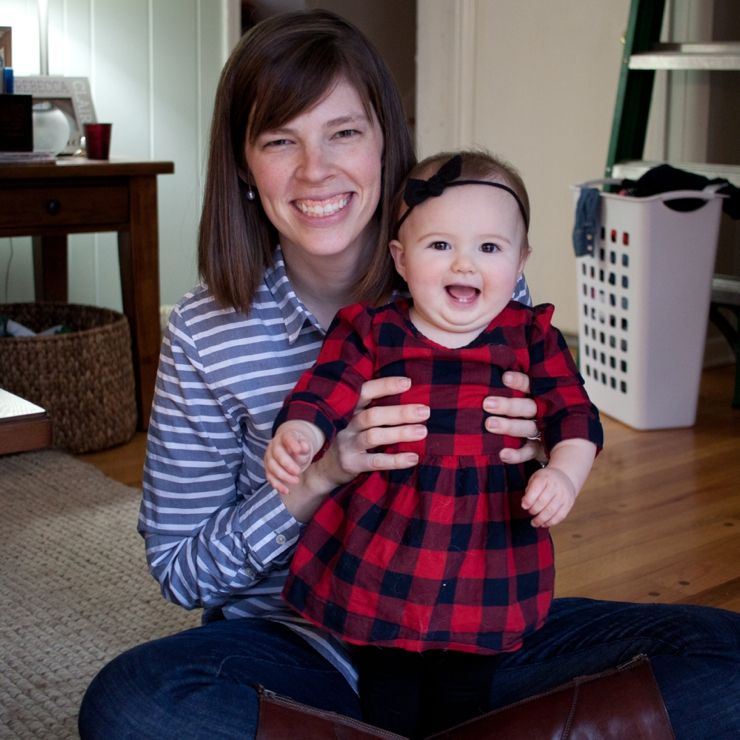 The next week after church she was totally ready to ham it up for the camera. Love this shot, even with the laundry basket and ladder in the background. Post the ordinary, I say.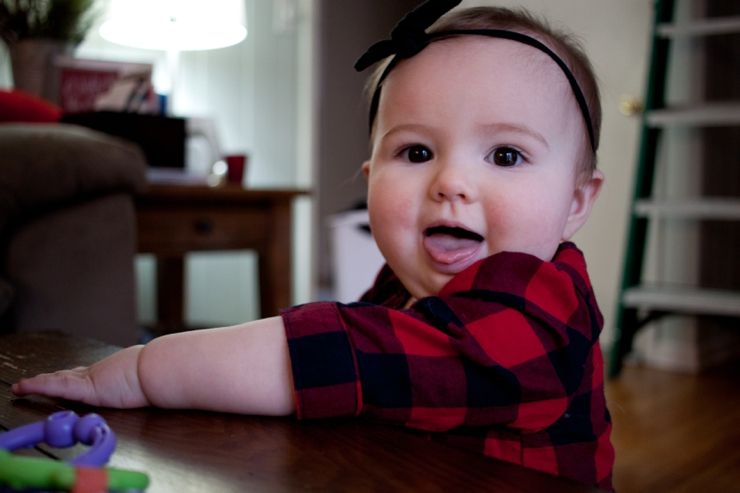 She's got quite the holiday wardrobe and has been wearing it to church and school all month long. We're going to continue pretending that this dress is red and black and not navy because that's easier to match for a baby's wardrobe.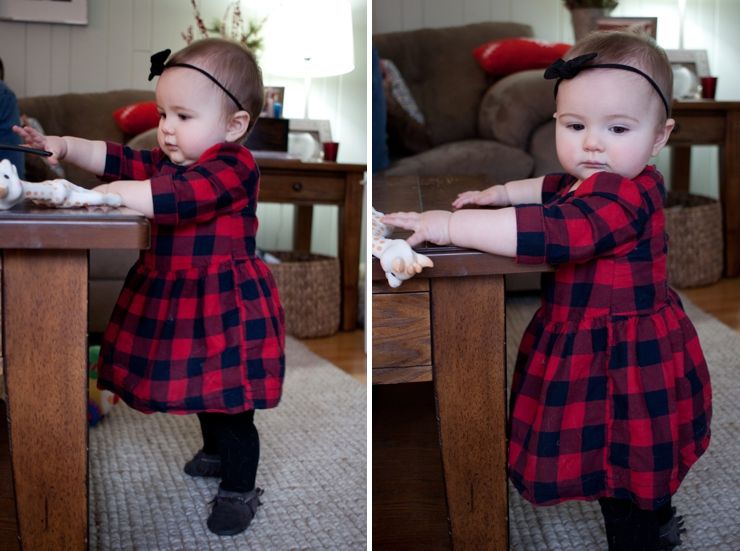 Rebecca can cruise along the sides of the coffee table but not around the corners yet. She has figured out how to stand up and sit down again without falling down, and she's pretty entertained taking her toys from the ground to the top of the coffee table and back to the ground again. She hasn't tried to crawl through the coffee table yet, but I'm sure that will occur to her one of these days.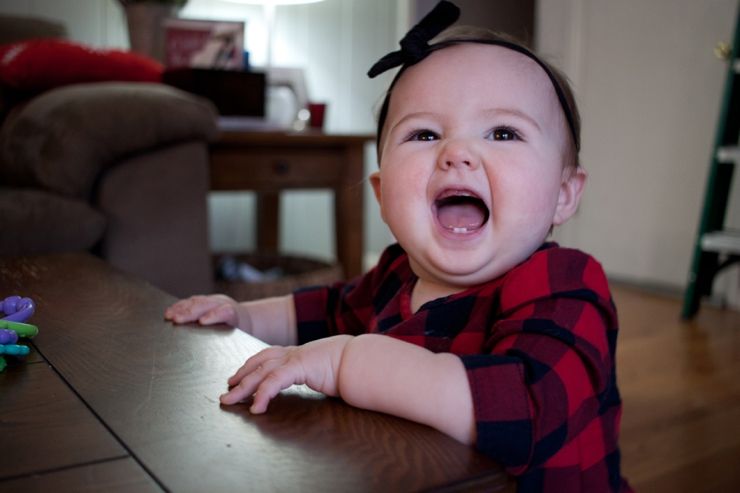 We finally have two little Christmas books that are the right length for a ten-month-old. We've been reading them on repeat because they are short and sweet -
Hello, Christmas
and
The Santa Shimmy
. Kip said she even started to shake like instructed on one page in the shimmy book. She cracks us up!
Rebecca is too little for a lot of the other KC Christmas experiences, so we'll wait a year for the Christmas train at Crown Center, Santa, the lights at Deanna Rose, etc. This year we're enjoying bunkering down at home while she explores everything. I'm pretty sure she is on Santa's "nice list" and will have some new toys for playing at home soon too!