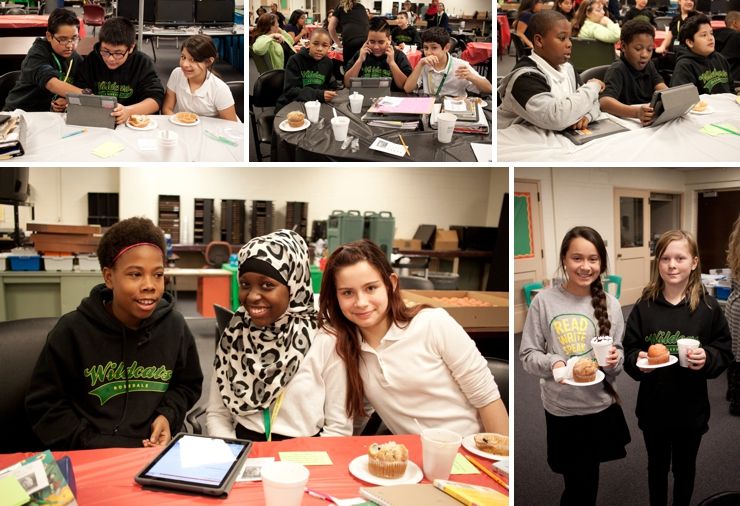 We tried a "common read" at Rosedale this fall with the book
The Tiger Rising
by Kate DiCamillo. We ordered several hundred copies of the book and tried to sell them for $2 to students. Sales weren't that great so we ended up giving away a lot of copies later through some raffles. (We didn't really need to sell the books, we just thought that might increase buy-in from students if they purchased their own copy.) Teachers bought the book for their advocacy groups and themselves, so we had many adults around the building reading it as well!
In the end, we had over 115 students sign-up to attend the special event we planned during the school day. The room outside my office was transformed into "Cafe 19," complete with a hot chocolate bar and large muffins from Hy-Vee. Kids came in groups of about 30-40, discussed the book, enjoyed hot chocolate, and competed in a short team competition at the end. I think everyone that came had a lot of fun!
Here are some of the things that went really well and made it so fun:
I had so many adults helping! We planned it so teachers could come on their plan, plus I had a few friends from across the district join in. Teachers manned the hot chocolate bar or sat with groups of kids and led discussion. They seemed to do better with adults asking the questions. We'll be practicing book discussion across the building much more next year!
The hot chocolate bar was totally made possible by the nice folks at nutritional services. I had definitely stressed about how to make that much hot chocolate. Our cafeteria manager got the water super hot on the stove and filled five gallon containers for me, even loaning me a big whisk for mixing in the hot chocolate. Kids loved whipped cream, marshmallows, sprinkles and little candy canes for topping their hot chocolate. And the jumbo muffins from Hy-Vee were totally perfect, delivered first thing in the morning by their catering department.
The book was the right length. At just about 115 pages, it's pretty accessible for most students and has some themes that are great for discussion.
Students totally read the book! For the most part, we think everyone who signed up and attended had totally read the book. It was cool to see about 20% of students participating in this event.
A few notes on what I would do differently:
Seventh and eighth graders that are not serious readers or kind of nerdy were not into the book. While it has plenty of grade level appropriate themes, these teens thought the book was a bit babyish because some of them read it in elementary school or read other Kate DiCamillo books when they were younger. I might do a different book for 7th/8th graders next year.
I will not offer the movie option next year! Kids who attended Cafe 19 could sign up to stay after school and watch a movie on Thursday. Only about 30 ended up staying, and we had a few behavior problems and just general after-school silliness.