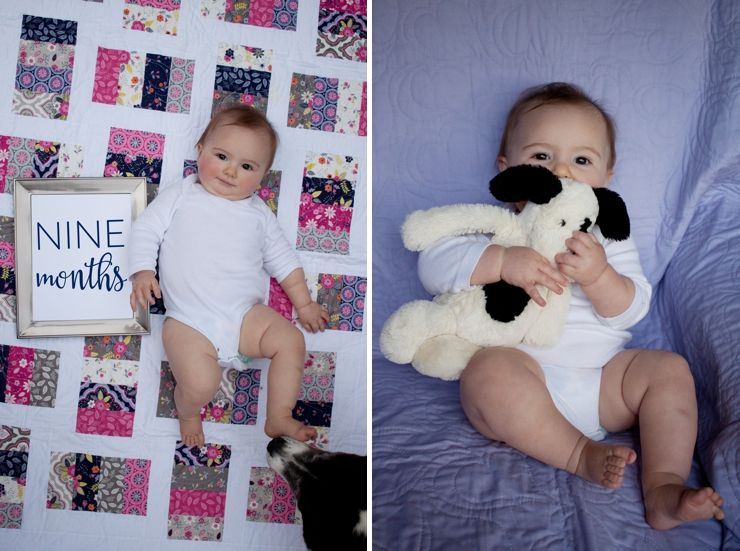 On the 17th of November we celebrated nine months of Rebecca! This little nugget goes for a check-up later this week, so while we don't know her stats just yet, we do know that she's scrumptious. Becca has a lot more hair, and it's starting to swoop over to the right nicely. It's also the same color that mine was when I was a baby, a little lighter than my hair currently is now.
Rebecca is busy! She crawls slowly around and still crawls after her toys instead of getting into trouble. She has discovered that when I leave the kitchen and living room and go into the office that she can follow me! She was pretty proud of herself.
Belle and Becca interact a little bit when Becca is laying on a quilt, but they mostly just co-exist. You can see proof of it in the photo above as Belle walked by and licked Rebecca's toes just as I snapped the photo. Besides mama and daddy, we're pretty sure Rebecca has a good concept of puppy and knows where to look for Belle around the house.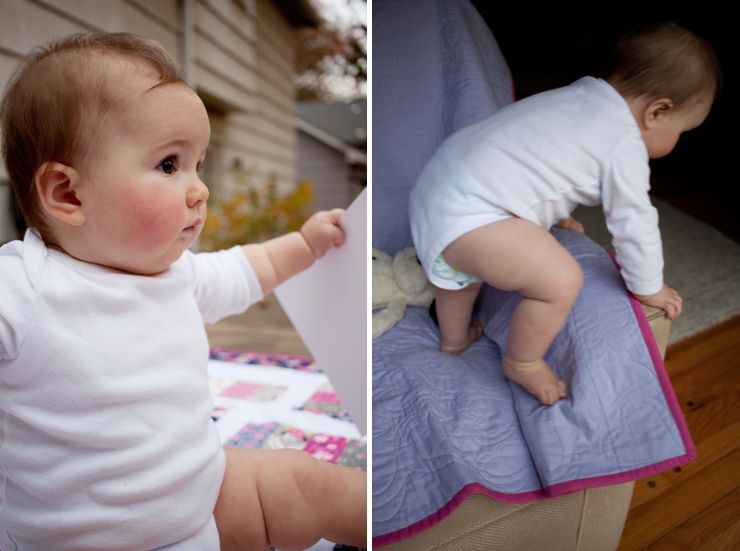 The photos get ever more challenging, and we chatted at book club about how much easier we could make them for ourselves. Next kid I will know better. I wanted her to lay down on the quilt, and she wanted to sit up and look around. And I wanted her to sit on the chair, and she wanted to dive head first off of it.
We made some big transitions in sleep this month, graduating from the Magic Merlin to a Halo sleep blanket. She doesn't use a pacifier except sometimes as a trick to help her fall asleep, and while she sleeps with her black and white puppy in her crib, she doesn't tend to cuddle with it. Rebecca had some rough nights when she realized that she could SIT UP in the middle of the night. It was like she didn't realize that once she sat up she could lay back down. That's gotten a little bit better in the last couple weeks.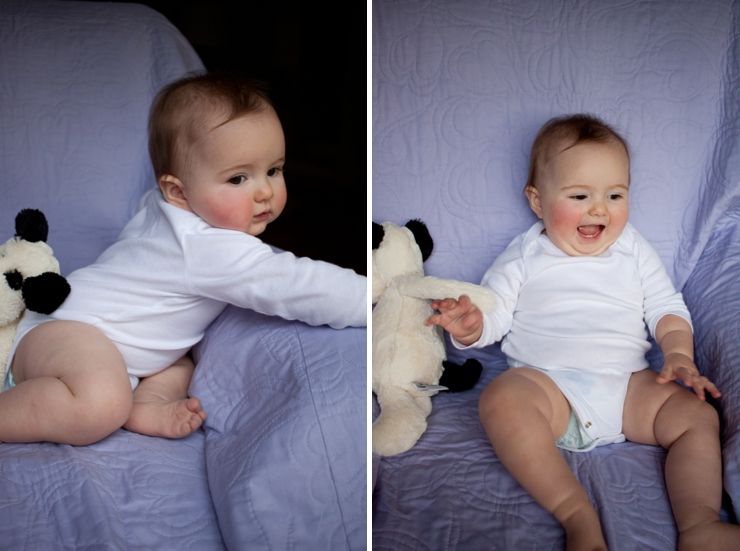 Rebecca is wearing mostly 12-18 month clothes from Gap and the like, but we squeezed in one more photo shoot in her 6-12 month white onesie. We've transitioned totally to size 4 diapers as well. She has almost outgrown her size 2 moccasins, but we've got backups ready to go in the next two sizes because they are so easy to put on and go!
With her two little teeth, Becca is still willing to eat all the food we give her, starting to figure out food pouches on her own, and getting much better at using her cups with a straw. I think she eats everything daycare gives her too, and we're thankful for our hungry little bear. Rebecca takes three bottles at daycare and nurses right after school and at bedtime consistently. She's still up one or two times a night, but I go to bed hopeful every night that she will surprise me and just sleep through the night.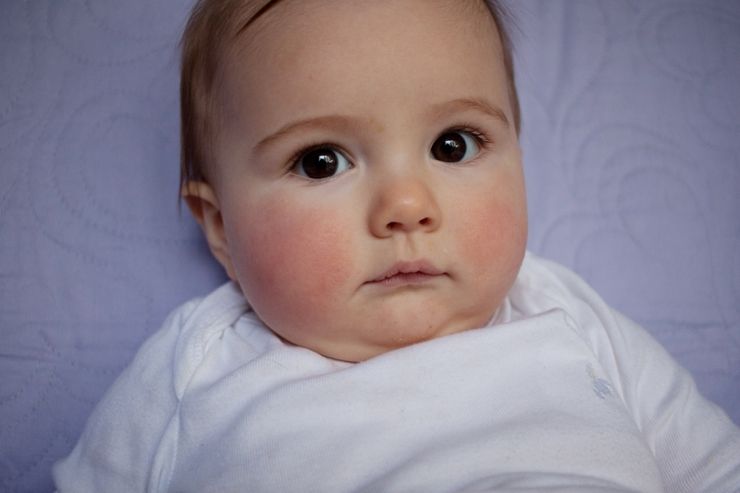 And she's still got those sweet dark eyes like her daddy with the kissable cheeks.