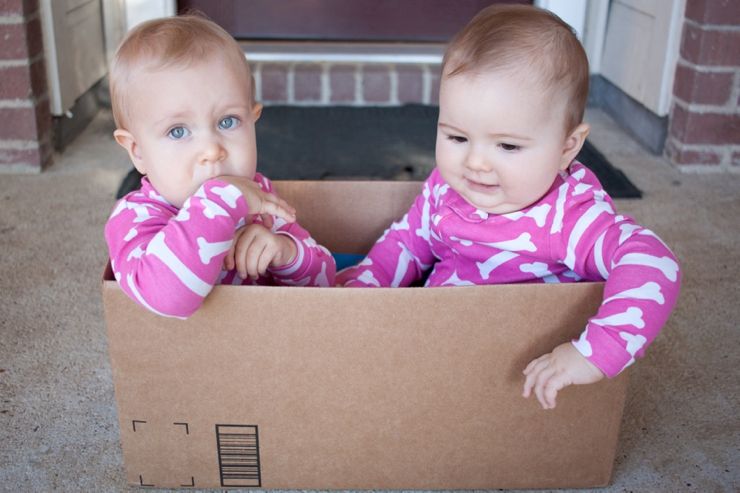 The sweetest bonus from our trip to Texas was time for Merritt and Rebecca to play. We went back through and hashtagged Instagram photos of these two little girls with #merandbex, which is sure to stay a unique hashtag for the ages.
Much like when we visited in July, I found some cute matching seasonal outfits for the girls. Halloween pajamas may seem like a silly choice, but not to me. For many of the years I've known Rachel, she has worn Halloween pajama shorts year round! I thought our baby girls could stretch the seasons in similar fashion. Rebecca wore hers again this week! They are super cute and cozy from Gap.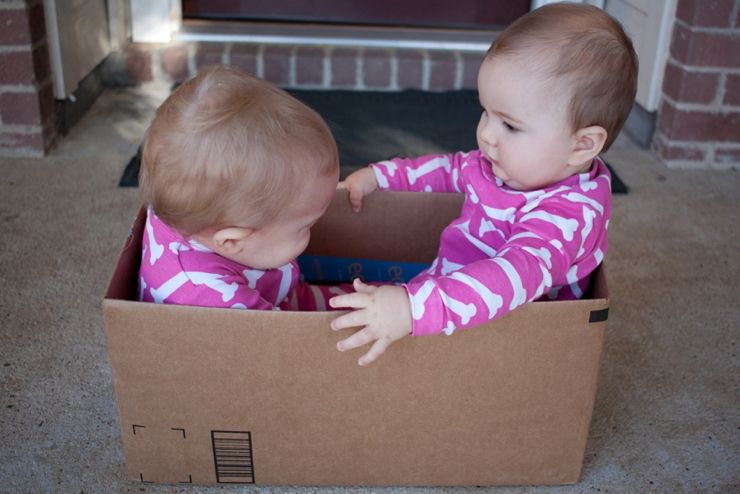 I wanted to take some photos of the girls together in their pjs, but Merritt kept trying to crawl away so I corralled them in this Amazon box. Cutest delivery that every arrived!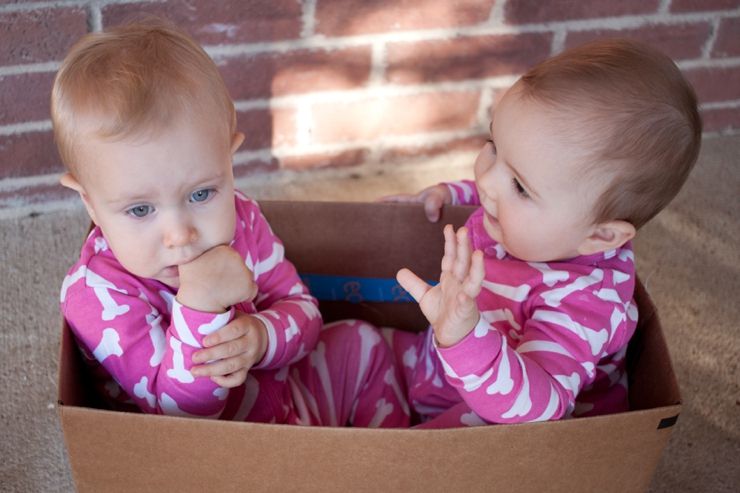 Rebecca weighs more than Merritt, so Mer was a little fussy when I put Rebecca in the box on top of her little legs. Merritt twisted around, got herself comfortable, and started to suck her thumb to make it all better. It looks like Rebecca is trying to get her attention in this one - I think Becca was super interested in what Merritt was doing all the time they were together.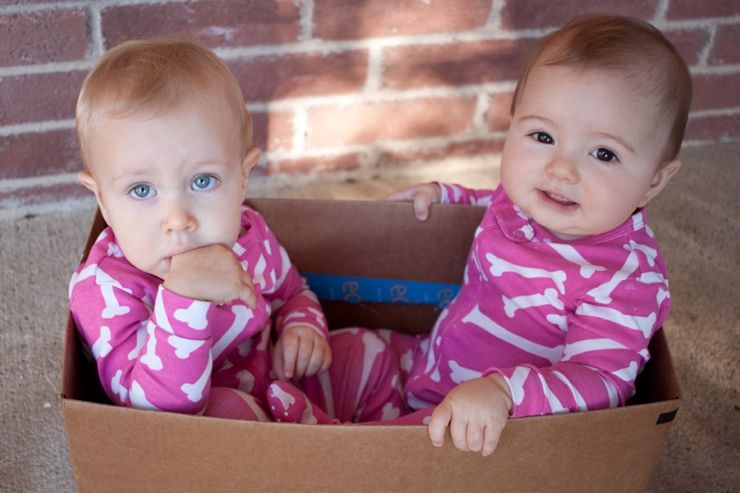 They are a darling study in contrast with pretty light eyes and super dark eyes! Merritt is much easier to hold because she is five months older and better at grabbing on. She also talks much more. When she says "please," it's about the cutest thing in the world.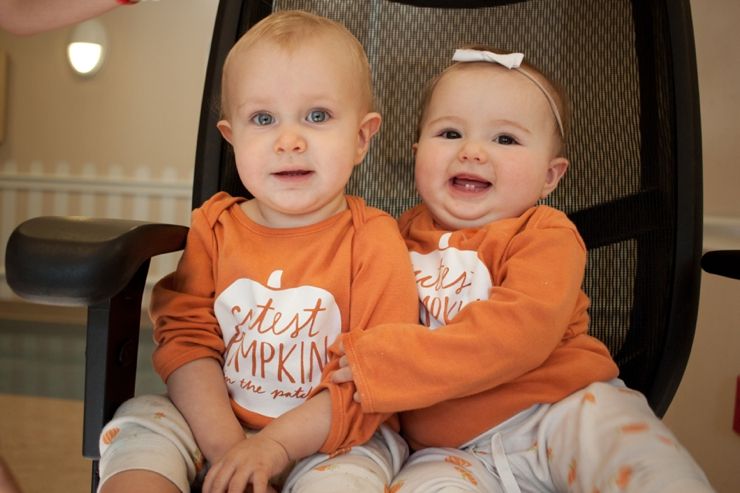 After Halloween pajamas, we put the girls in their "Cutest Pumpkin in the Patch" matching outfits from Old Navy for our time with Braden. It's a tie really for cutest pumpkin with these two. The little pumpkins on their pants were our favorite parts!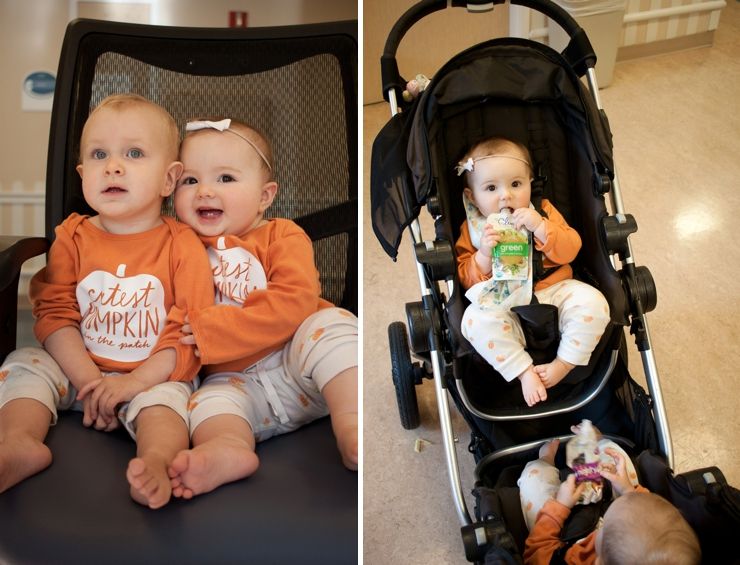 No idea how we got them to look so cuddly in this photo, but it's killing me with cuteness. Merritt has lots of teeth - Rebecca just manages to smile in a way that her two teeth always show!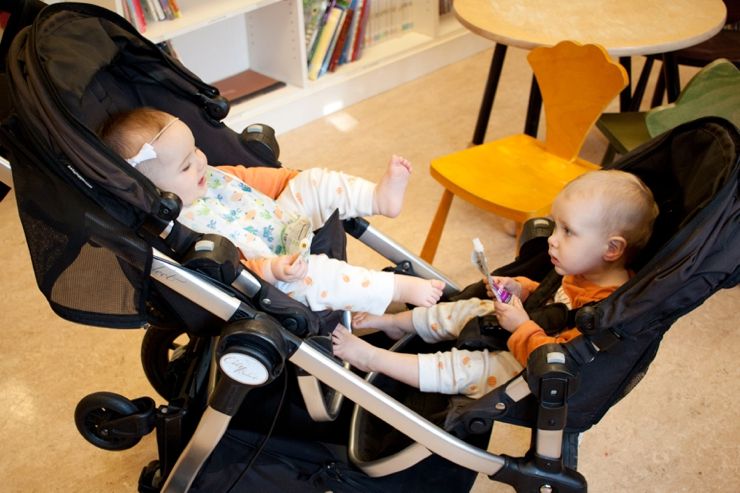 We put the girls facing each other in the City Select stroller, and it was like having two little high chairs. Merritt is much more skilled at feeding herself using the pouches, but Becca will catch up soon. Merritt looks unimpressed with Rebecca's feet or whatever Becca is saying. I wish these two could tell us what they are talking about with each other!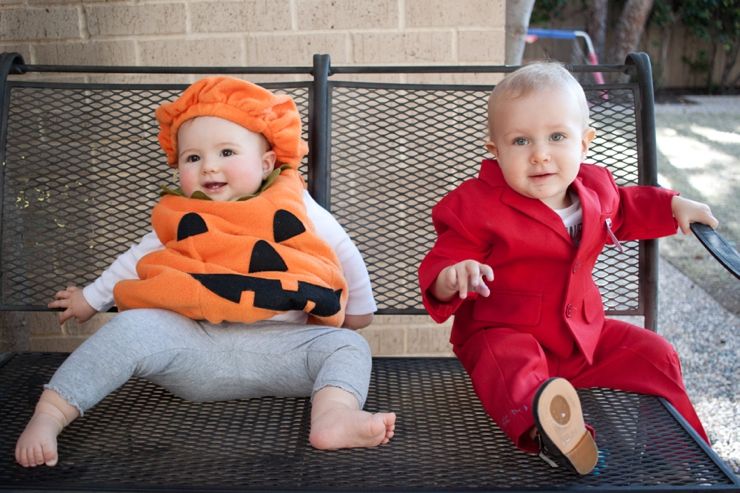 And finally, Halloween costumes - Madam Secretary and her friend the French Pumpkin. Both girls were overdressed for the October Texas weather but beyond adorable. And totally happy to leave their crazy outfits on which surprised me! It's fun to see Becca grow up alongside all of my best friends' baby girls.