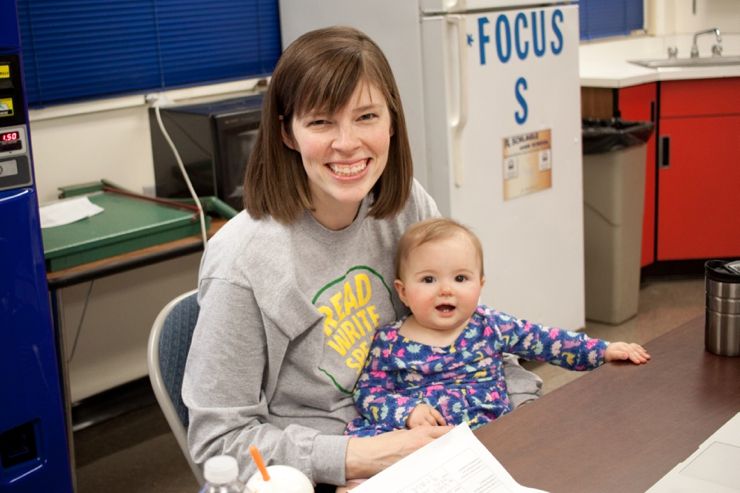 When I taught in Virginia, I coached a Battle of the Books team and fell in love with the competition around books. I
wrote about the background
of bringing it to KCK back in 2012, and the event has grown since then in really neat ways. Our book lists reflect our diverse population and questions were written by district staff including yours truly! Last summer I read all of the six middle school books and created questions for the competition. Mom read all the books too because she's a fan of the book battle and young adult literature too. While I did a few other various tasks to start, Mom has always done the score room and I joined in the past couple years. This year we brought along the junior member of the team, Rebecca, to supervise while Mom and I entered the scores.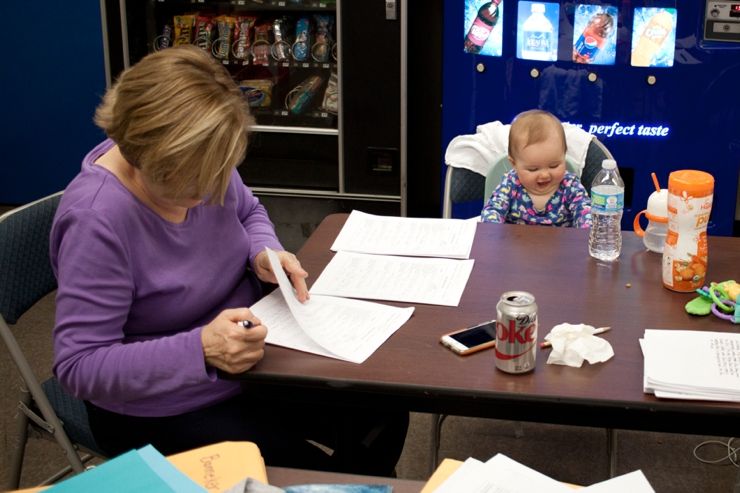 We were over prepared for Rebecca, carrying along a little high chair that straps to a chair, tons of snacks, a stroller, and even the Ergo. As my friend Tara and Bill Snyder like to say, "Proper planning prevents poor performance!" Becca did awesome. We arrived just in time for her breakfast, and she happily snacked on bite size snacks and then played with toys for over an hour in her chair. She did a little crawling around, took a short nap in the stroller, and greeted everyone who came in before finishing out the day with more food in the high chair. In the photo above you can see how delighted she is with whatever is on her high chair tray! She had fun while we worked, but next year she would be way too active for lots of sitting with Mom and Grandma.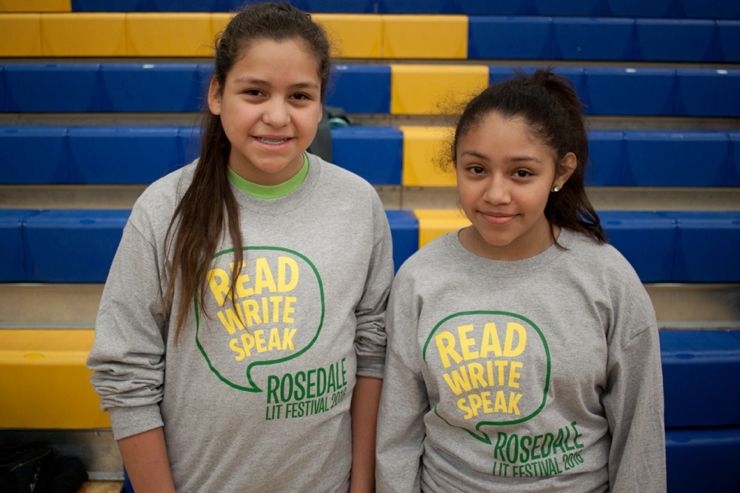 Battle of the Books has expanded in KCK to include storytelling, poetry slam and debate, a true literary festival and the t-shirts for our students reflect that. Our sweet students just barely missed placing, but I've been enjoying chatting with them about the books including my favorite YA title of the year,
Echo
.
My mom always says that teaching skipped her generation, but besides my mom, I definitely come from a long line of teachers. I have fond memories of visiting my grandma Virginia at school when we had days off to see her little reading classroom. And my mom taught me school was important in other ways by not missing an event when I was growing up. She is still busy supporting our students regularly with whatever they need (and they need a lot).
As someone who always loved school, I hope that Becca also thinks it is cool to visit Mama at school. I don't have a classroom of my own, but because I am a site based instructional coach, I get to know teachers and kids extremely well. I want Rebecca to know that school is a very special place to be whether it is her school around the corner from our house or the place where Mama works.