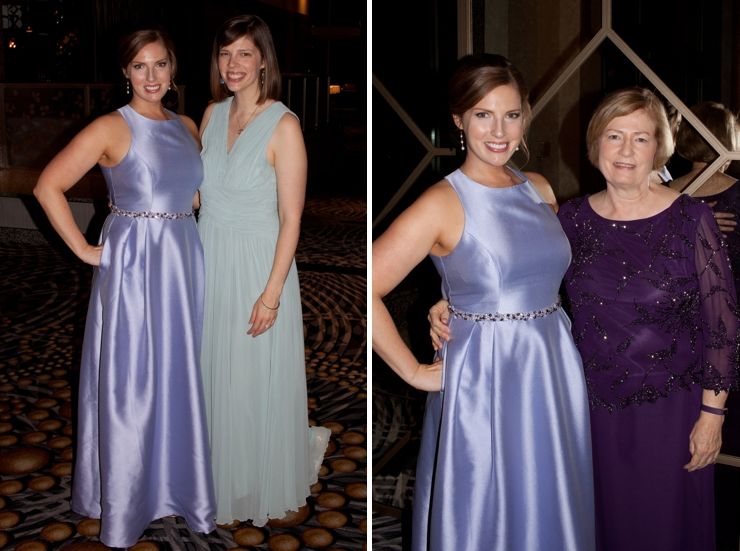 This was another busy weekend in Kansas City. On Friday evening I worked a shift at the Junior League of Kansas City, Missouri's biggest fundraiser, Holiday Mart. I'm hoping next year the schedule works out so I get a little bit more time to shop. The crowd on Friday night was super fun with a huge turnout for Ladies Night Out.
And then Saturday was another big day! It's hard to believe that it has been two years already since our fall was super busy with BOTAR events and getting married in November. Lauren served on BOTAR exec this year as the treasurer, a much more difficult job than my job as recording secretary. So many more details to keep track of and definitely twelve months of work! Mom wore her beautiful dress from my wedding, and I rented a dress from Rent the Runway and loved the color when it arrived. Lauren's dress was purchased from a Rent the Runway sale, and she had it altered to fit her perfectly.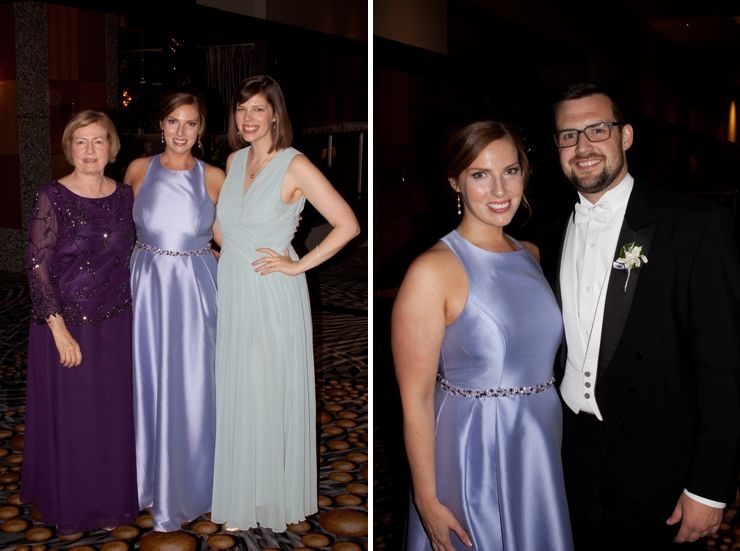 Mom and I were thrilled to join the fun at the Ball, while Kip stayed home with Becca Bear. It was a tough call but the cost won out (babysitter, tux and another ball ticket for Kip). I definitely missed having him there during the night! Lauren's escort Jesse was a tremendously good sport - the Luhrs Ladies are not short on energy, personality or opinions about getting the perfect photo, Instagram and snapchat. He did a great job presenting Lauren during the formal session of the night - they looked like a million bucks on stage!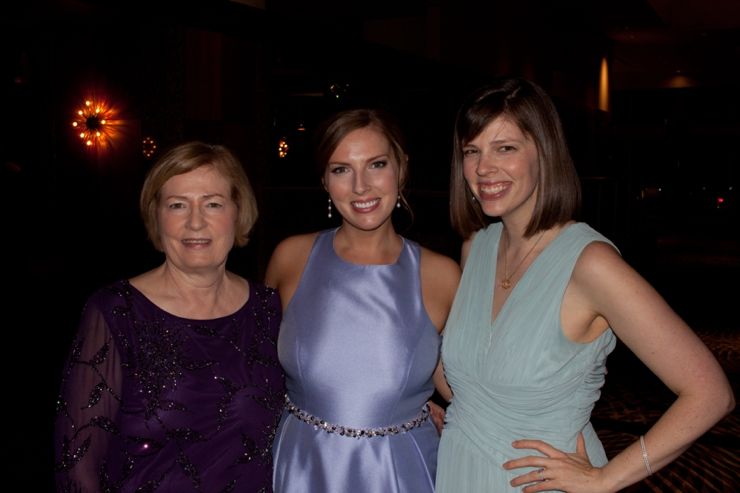 Dinner is always really late by the time the presentation and the waltz are done, but it was delicious. I ate until I was stuffed! Mom and I enjoyed our table mates, and we spent a lot of time catching up with other people we knew at the ball and loving the band that was new this year. The energy was great, and I wished Kip had been there to drag on the dance floor! I was wired by the end of the night from seeing so many friends and enjoying the music (and maybe the coffee wasn't actually decaffeinated) so I definitely didn't fall asleep until two am. By the time I drug myself out of bed on Sunday morning, Kip and Becca had already been up a while, and she was back down for a nap. I love them both.
As a sweet bonus surprise to the weekend, Dad called right before the ball on Saturday night and said that he was in Lincoln with Spencer for the Nebraska game. He offered to fly down for lunch on Sunday, and we gladly said yes! Kip, Rebecca and I picked them up from the airport downtown and met Lauren and Jesse at BRGR downtown. It was delicious, and my mouth is watering just thinking about the onion straws, cheese dip and my amazing burger. That place is always fantastic.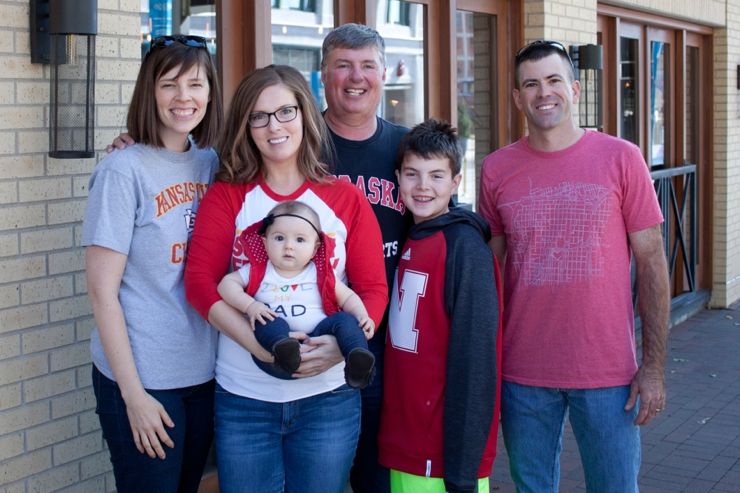 And all of us managed to wear red - though not all because of Nebraska! Kip's shirt is the new volunteer shirt from our church, and Lauren and I are rocking our Chiefs gear. Rebecca's "I Love My Dad" shirt was appropriately chosen by her dad when he got her dressed that morning. Sweet baby sat in a high chair and ate ALL the food for an hour while we were at BRGR. Glad we got a little extra time with Dad and Spencer in KC, and we are looking forward to Thanksgiving in Indianapolis!