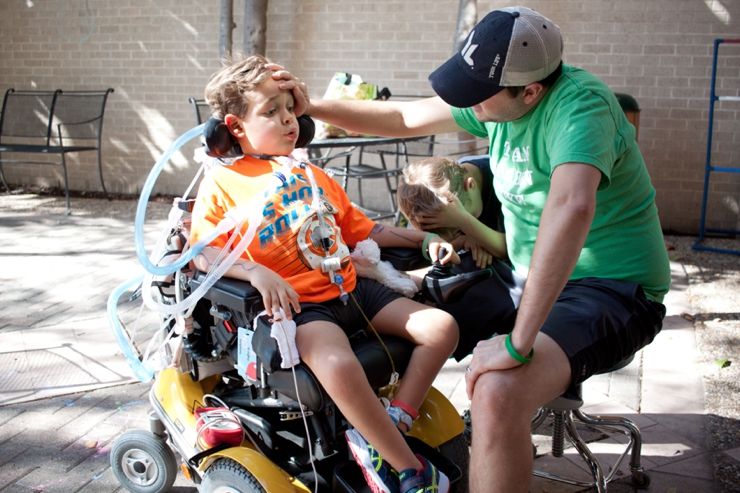 Not that many people read this blog anymore so it's safe to assume that everyone who does has been following along on the Team Braden Luke Facebook page or in other ways. The last time I was in Texas, my husband, baby and I were visiting the Scotts in Beaumont, and it was right before all of this started, and Braden was just not feeling well.
It's tough to put into words all the emotions from spending a weekend with these all stars, but there is no shortage of reminders that Braden has come a long ways and has a long ways to go. I wrote an update on their Facebook page while I was visiting, so I'm going to include that text here with these photos. I have always appreciated Rachel's updates when she posts about Braden's progress, and even more so after writing one myself. They are definitely a lot of work!
Rach and Sol are definitely champions for this boy. They ad
vocate for his needs, are super knowledgeable about his care, and celebrate all of Braden's progress. And Braden is awesome. He's an expert negotiator, made me laugh several times by playing games with the play-doh and pointing out the insanity of saying that the iPad needs juice. "It doesn't need juice," he said, "it needs ENERGY." I included a photo of one of my favorite poems that is posted in Braden's room and matched the mood for the days there and the great time in the sunshine.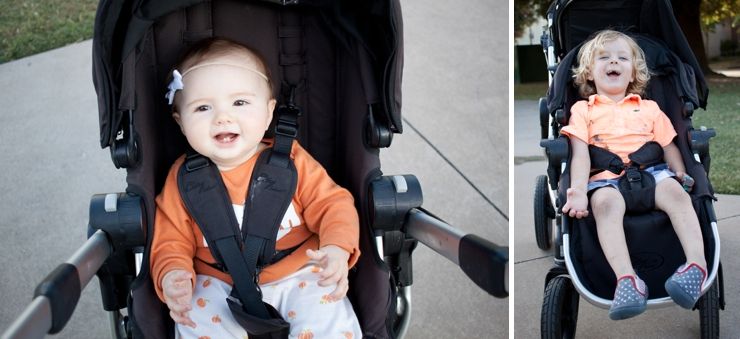 Rebecca and I arrived on Friday morning and stayed with the Scotts at their home away from home in Dallas. We spent about half of the weekend with everyone at the facility where Braden stays with some breaks to keep the kids entertained. Friday afternoon we took Merritt, Finn and Keaton to lunch at Velvet Taco and to the Dallas World Aquarium, Saturday we played at home a bit in the morning and in the afternoon I took both baby girls and Keaton on a walk to give them a short break and some sunshine.
When we were at the hospital, we spent a lot of time in Braden's room and in the small library right near his room to give Keaton more room for his wiggles. Rach has done a great job making Braden's room cozy, but it also breaks my heart thinking about how much time they all have spent together in hospitals since the last time we saw them. And the hours spent driving back and forth between Beaumont, Houston and Dallas too. The great news is that Braden is improving and has done even more amazing things since I was there!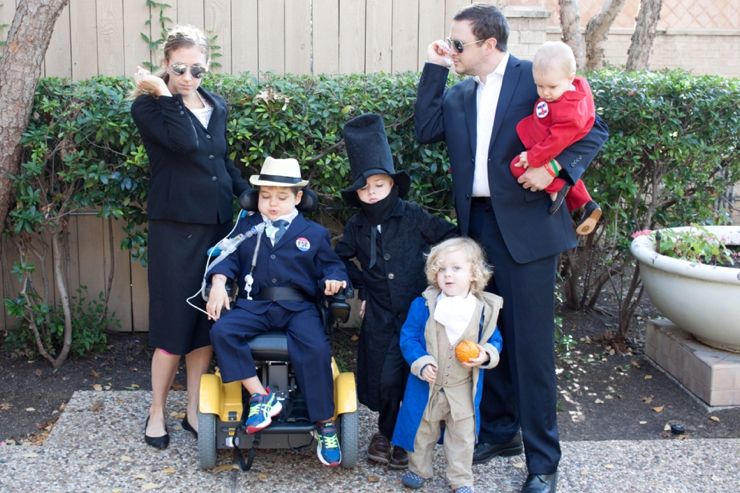 We were there for Halloween weekend, and per usual, Rachel outdid herself putting together fantastic president themed costumes. Rachel and Sol were dedicated Secret Service agents protecting FDR, Hillary Clinton, Abe Lincoln and George Washington. On Sunday morning everyone put on their Halloween costumes for a little fun and some photos.
Sweet baby Rebecca didn't sleep great in a new place sharing a room with Mama, so we were up by 6 each day. On Sunday morning, we climbed in the van headed for Starbucks and the Super Walmart where we found a few final items to help complete the costumes. I found black felt and elastic cord for Finley's Abe Lincoln beard, safety pins for the FDR and Hillary buttons, and the perfect $5 aviators for Rachel and Sol's Secret Service outfits. I was glad to help in this little way! Because I was there on the weekend and had Rebecca in tow, I had to be a little more creative with the ways I could jump in and help. I did a lot of laundry and was so glad to just be with the Scotts. Becca was an easy accessory for the most part, happy to hang out in the Ergo, crawl around at home, go for rides in the wagon and stroller, and try to make Merritt love her. Her pumpkin outfit didn't fit Rachel's theme but was a lovely loaned costume that fit perfectly. We called her the "French Pumpkin."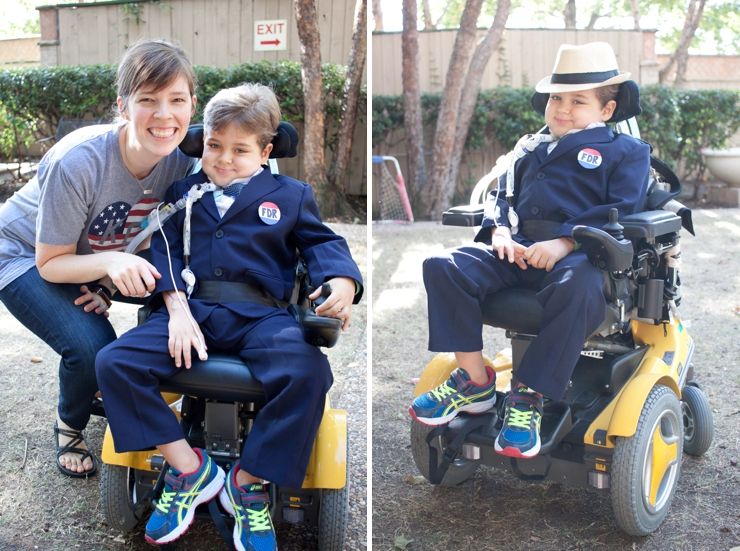 My pastor at home has given sermons several times about
stretcher bearers
. The sermon is based on the story Jesus tells in the second chapter of Mark about the friends who love their paralyzed friend so much that they go to great lengths to take him to the healer. I think that's what it's been like with Rachel and Sol. They are surrounded by so many stretcher bearers, people willing to go to great lengths to take care of all the kids, to sit with Braden in the hospital, to bring them food, give to
GoFundMe
or buy a t-shirt to show that they are Team Braden Luke. If you can, come sit with Braden if you have some time. Braden is a joy, and it is easy to learn what to do to help. Thanks for all the various ways that you have been stretcher bearers to Braden and the Scotts.