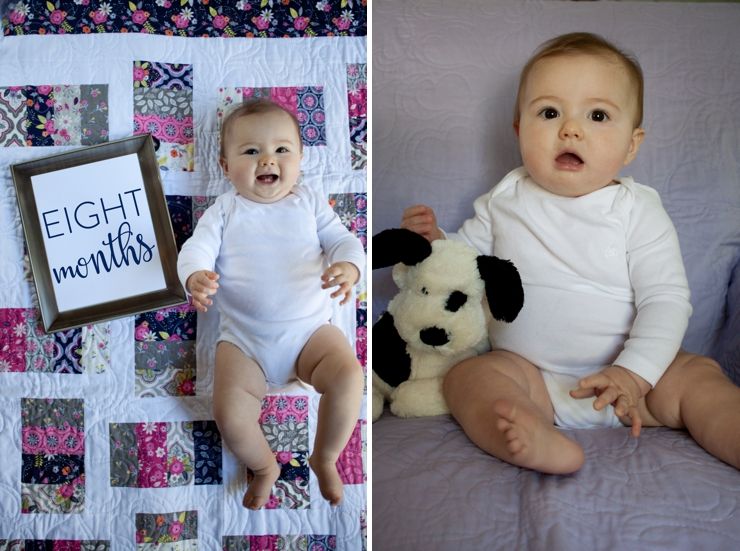 Becca Bear is 2/3 of her way to one. She is really a delight and rarely fusses except overnight when she thinks we should still hang out, at least once. (Let's not discuss the times when it is more than once. Those moments are less thrilling.) Kip would be quick to add that one time last week at dinner she was exceptionally tired and sobbed her way through stuffing her face with roasted sweet potatoes, so she does cry other times.
Rebecca weighed about 20 pounds earlier this month when I took her for her flu shot, so that's a good estimation for Rebecca at 8 months. She is still wearing the Gap onesie in size 6-12 months, though she wears quite the assortment of sizes right now depending on brand.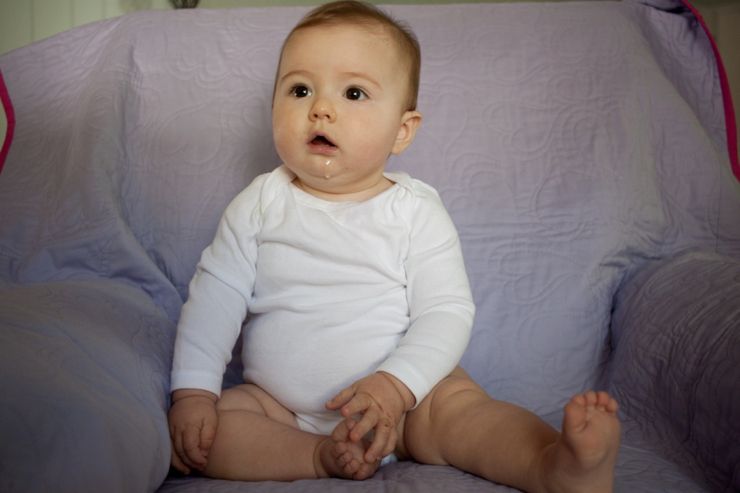 This sweet drooling baby has two bottom teeth (that's it, still) and a little bit more hair filling in. We noticed recently that it is lighter than we thought it would be and almost looks exactly like mine when I was a little girl. Wherever we take her with Kip, people always remark, "Oh, she has her daddy's eyes!" which is so very true. Lucky me to live with these dark eyed cuties!
Rebecca's favorite activities include eating, pulling toys out of her basket on the floor, reading books, walks, songs, and talking to Mom & Dad. She's a great eater, nursing a little bit less as she adjusts to lots and lots of food. While she will eat pretty much everything, we think it's so cute and fun when we find something she really likes and kicks her legs for more. Last week it was pears from Costco!
Her favorite toys are the classic Fisher Price stackable rings (both at home and daycare) and the large lids from orange juice and almond milk containers. She loves those things! As soon as she starts crawling, I am sure we will need to reexamine everything that is at baby level because she is certainly curious.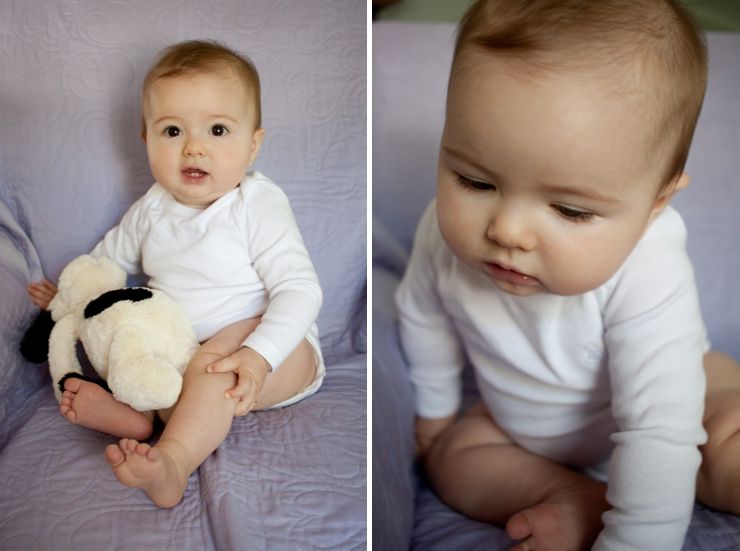 Overnight she loves to cozy up in her pajamas and her magic merlin suit. Unlike most babies, Rebecca does not roll over in that puffy sleep suit so we keep using it! If she wasn't wearing it, we know she would be sitting up in her crib because we've seen her do it on the floor countless times, going from rolling to her knees to her bottom. But she's also not crawling, just thinking about it.
Randomly Rebecca will use a pacifier - she does at school for her limited napping - but she is never that interested. It's just an occasional accessory. I have no idea what this means, and it seems weird she would develop a preference for a pacifier at 8 months old! Her napping is much better for us at home, she goes down without a fight, and we're constantly brainstorming with daycare to see what we can do to help her get more sleep there.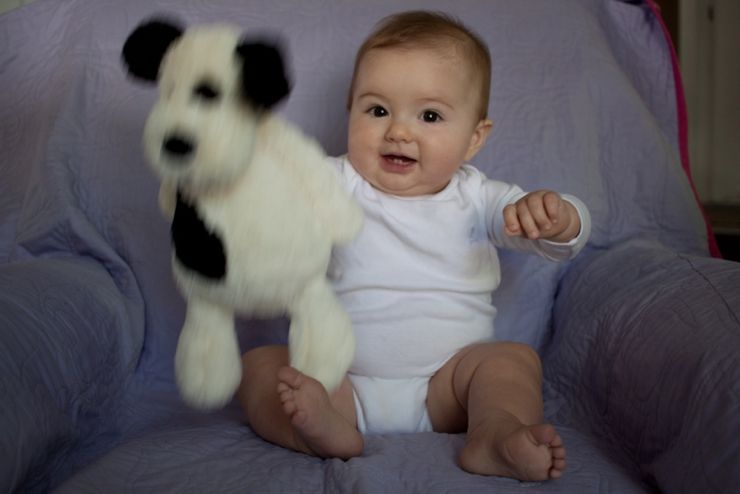 I took these photos while Kip was working last weekend which was definitely challenging. She wants to roll over and look out the window as soon as I lay her on her back, and she also started trying to lunge forward off the chair. Daredevil baby! She is in constant motion, so we'll see how she does at family photos with our beloved Erica May. We most often call her Becca Bear, and we really do adore that little bear.