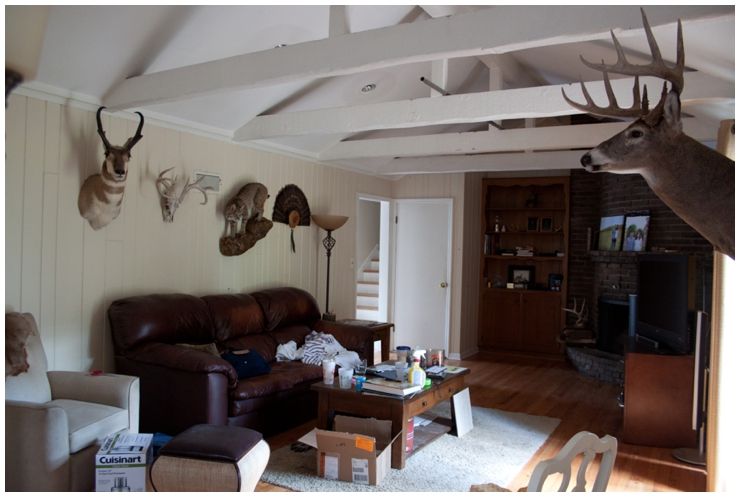 When Jennie was visiting, I told her that I had a post pending with photos from two years ago of what the house looked like before we started updating. She totally thought I should post the photos, and they are really fun to look at and compare what it looks like now. Kip undertook a major remodel of the house when he purchased it about ten years ago, and two years ago he tackled many many more projects around the same time we were married. Because he loves me more than anything else.
This photo of the living room before I moved in cracks me up. Kip needed to get all the taxidermy hung up before his parents came to visit so he just put it ALL up in the living room and out of the way so people could sit. Thankfully this isn't what it looks like now, though there is still taxidermy. Besides a new paint color, we have a new rug and a new couch, though only the rug will stand the test of time. Couches need to be tough to survive in our house, apparently. We love the big fireplace in the corner, but sadly we've learned it is not safe to operate. That's $5000 we really don't want to spend on the structural improvements necessary for a cozy fire.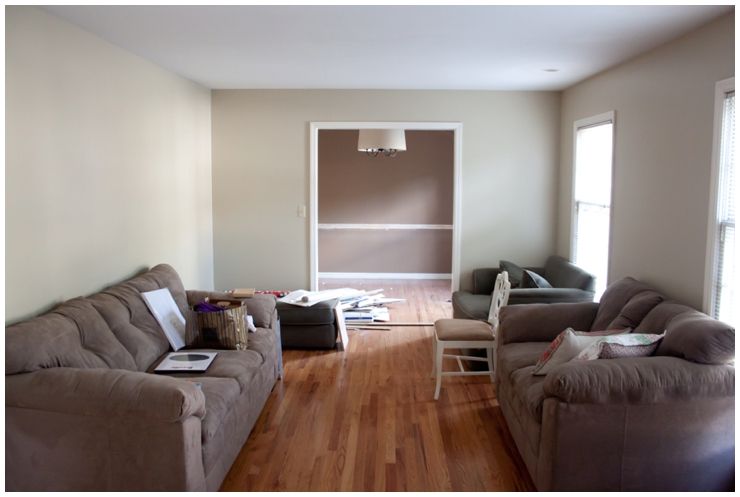 The house is a split level with three bedrooms and two bathrooms above the garage and a large first floor. The layout has two rooms on the front of the house and a very open living room and kitchen in the back. The front rooms may look the most different from before I moved in. We decided to repurpose the formal living room on the front of the house into a large dining room big enough to seat my entire book club, family, friends, etc. The couches you see above made their way into our living room.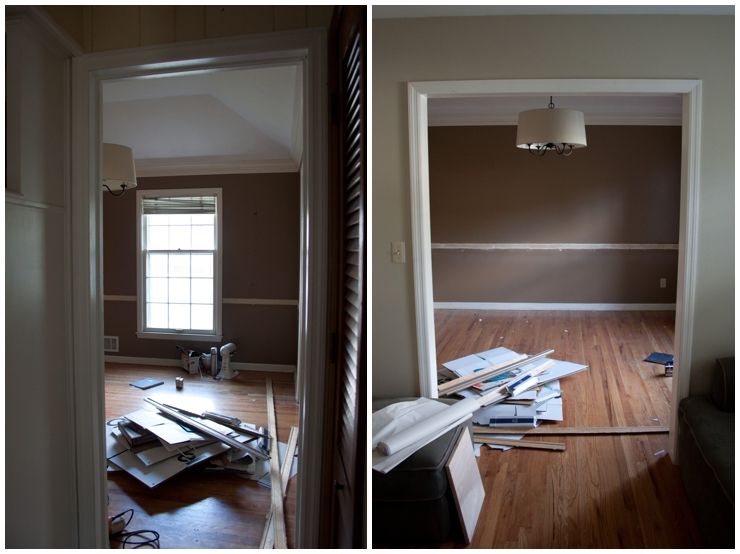 Most of the homes in our neighborhood were built in the 1960s with small square dining rooms. I think these rooms work great for lots of people. Not extroverts who also like to craft and have a corner of space to myself. This room has changed a ton with the removal of the chair rail, a whole new paint color and totally different purpose. It's a room that makes me exceptionally happy and has proved very useful, and as Becca gets bigger I think it will continue to be so nice to have right off the kitchen.
Somehow there aren't any shots of the kitchen from before, but it doesn't look that different other than the addition of the island last winter break. While there are plenty of dream items on our home improvement list (new doors and windows, new mattress, new couch), there's not a lot we're currently tweaking and updating. It's nice to look back at these photos and feel like we've accomplished a lot in two years that makes our house a good home for us. Tomorrow there will be photos of our home as it currently looks after lots of updates completed lovingly by Kip!