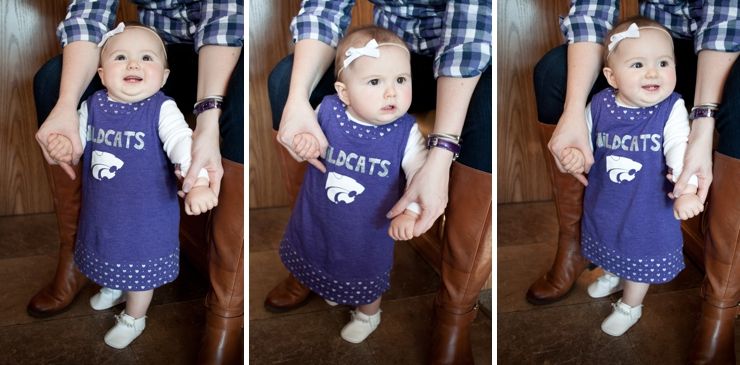 Before we talk about the game, I need to explain Kip's absence at the game! Much to their surprise, Kip and his dad "drew" antelope tags this year for Kansas. They were not expecting to get to hunt antelope this year, but they were excited for the opportunity. Kip and Keith headed out west to scout and hunt the first weekend of October, and though there were some close calls, they came home without antelope. Kip said something to the effect of thanking me for letting him go, but my response, without hesitation, was that I was so glad he went with his dad. That's very special time - four days, father and son together. We're about to enter deer season, so feel free to ask if I'm still feeling this patient in mid-November!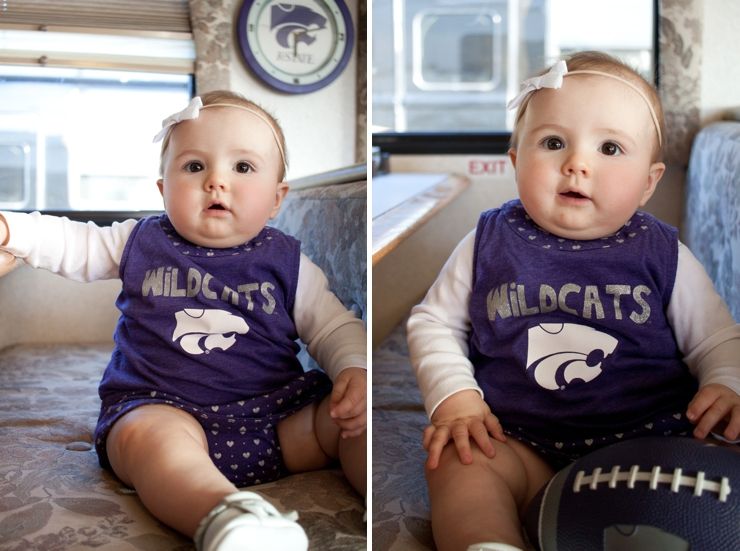 So because Kip was hunting, Mom, Lauren, Rebecca and I loaded up the van and headed to Manhattan. Luhrs Ladies on the road! Rebecca was wearing another one of her darling new K-State outfits and because it was super warm at the tailgate, she was comfortable before we went into the game. And adorable, obviously.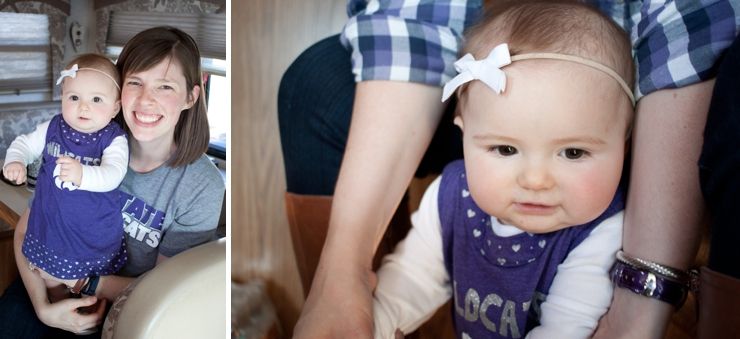 Besides her first football game, Rebecca was also attending her first tailgate. And it was Oktoberfest! A perennial favorite, they even had a wedding shower at the
Oktoberfest
game two years ago. Our adventurous eater ate pretty much a whole bierock by herself so she was really getting into the German mood! Sometimes Becca makes the funniest expressions, so I tried to capture all of them in the photos of her from her first game.
We picked up mom's first cousin Becky Jo (also a Rebecca) on our way into town, plus we were able to visit briefly with some friends from KC that now live in Newton, Kansas. Joan and John Stretcher walked all the way over to say hello on their way into the game and meet Rebecca. (You can see Don Norton still in his official German/Kansas lederhosen in the background!)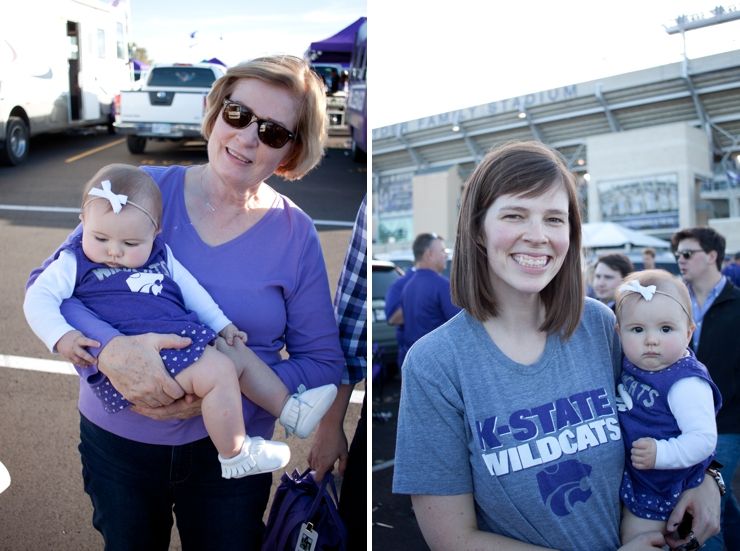 Rebecca's bedtime is usually between 6 and 6:30, so a 6:05 kickoff was a pretty tricky thing to pull off. The photo of the two of us in front of the stadium is a perfect capture of Rebecca's sleepy face. She was fighting sleep at this point!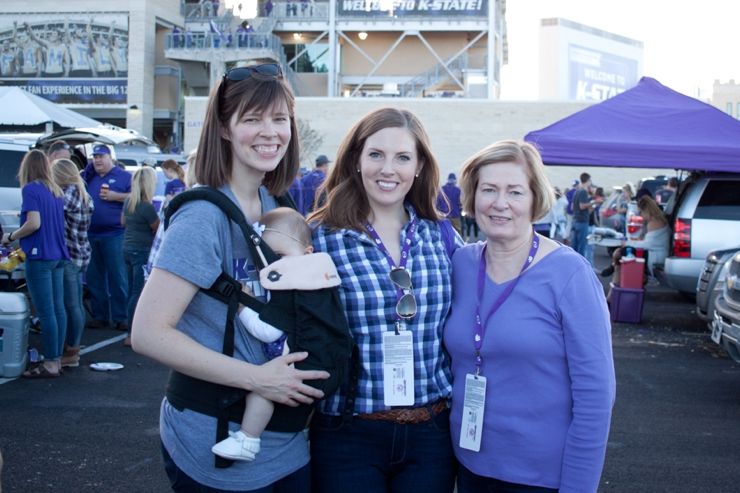 It was still nice as we were going into the game, and I carried a jacket for Rebecca, one for me, plus pants that I could put on her when it was time. We were both warm and cozy with the extra heat the Ergo provides. She was asleep in the Ergo before kickoff, a truly remarkable feat since it was Harley Day. Only a very tired baby can fall asleep with 100 Harleys roaring around the stadium. I went to find the nursing mom's room early in the first quarter, and while it was nice to be able to watch the TV, it would have probably been easier just to take her to Mom's car and about the same walking distance. The room at Bill Snyder Family Stadium doesn't compare to the one at the K.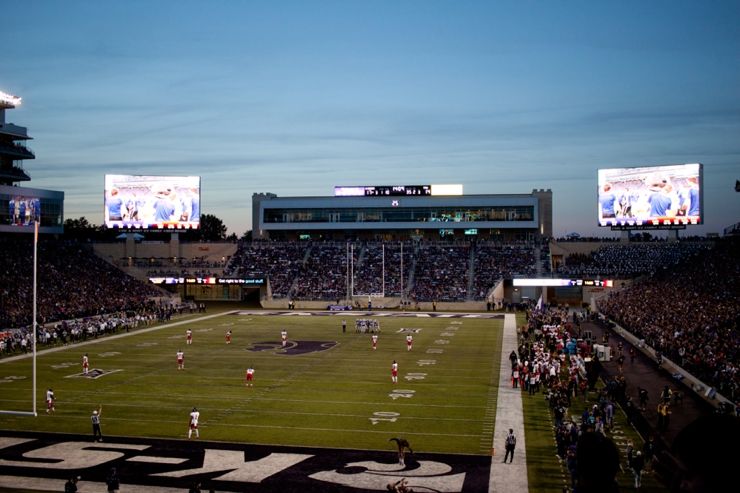 I had no idea what to expect, but Rebecca definitely woke up after eating and was awake for all of the first and second quarter. We took the baby headphones but they are almost impossible for the baby to wear in the Ergo because she keeps one ear pressed against my chest! They worked much better when we were flying with my dad to Nebraska.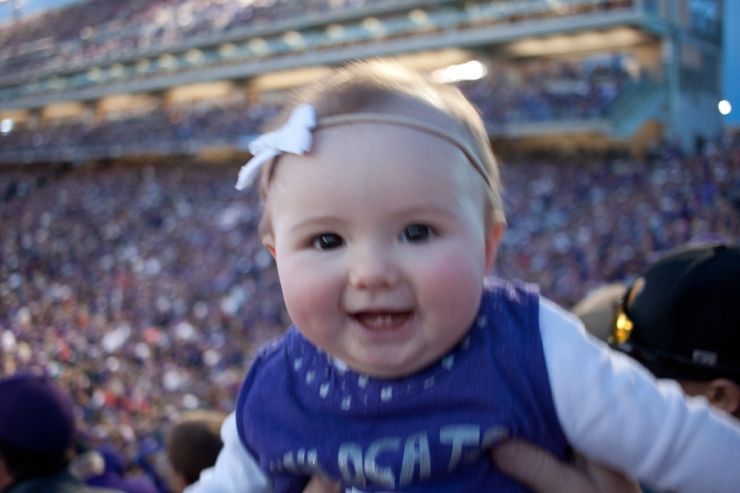 The good news was that even when she was awake, she was very happy! This blurry photo was too cute not to share, especially with her sweet little teeth. She bounced and looked around and was fine until halftime where I fed her again, bundled her up and put her back in the Ergo. She slept part of the third quarter and some of the fourth, screamed and cried until we got on I-70 and sweetly slept all the way back to KC. It was a
lot
of work, and I admire all the parents who take their babies to all the games. We are so fortunate to have family to help at the game, a RV to get out of the elements, friends that we sit with, and two loving grandparents a couple miles west of the stadium who want to spend time with her on game days too.
The other good news was that the Cats won, and it was a fantastic game. It was super fun to watch, and the weather finally felt like fall in Manhattan.