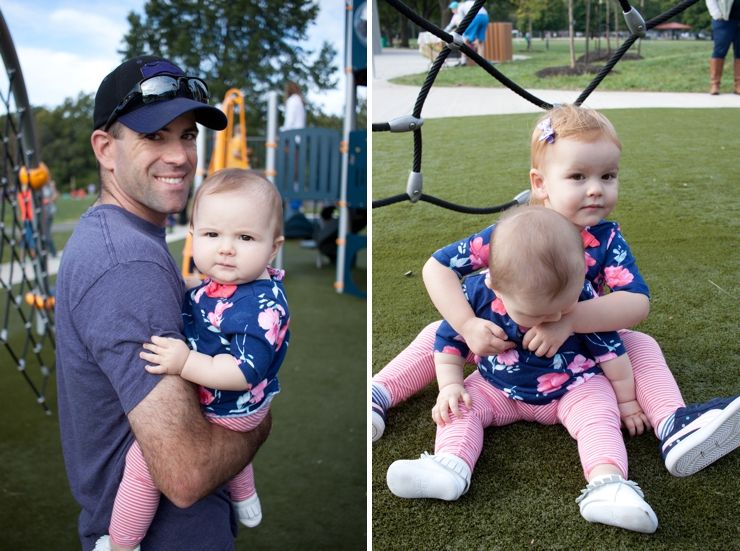 Jennie, Joe and Grace spent September 30 through October 3rd in Kansas City, and we loved getting to spend at least part of every day with them. To sum up their visit: the girls were busy playing and the grown-ups were busy eating barbeque. Grace will be two later this month, and she was pretty into baby Rebecca. Here are a few photos from our adventures!
They arrived in from Chicago late on Friday night, but we were all up and ready to go on Saturday morning! We put their girls in their matching outfits, and Kip made waffles, bacon and eggs before we packed up to head to Roe Park to meet up with other friends from KC and high school. One of our high school classmates had a darling little four-year-old who thought she should join in the fun with all the photos. Rebecca is oblivious to all the love. (But I am loving her little leg rolls in her leggings!)
While we planned for the baby girls to match, it's just a coincidence that Jennie and I are wearing some of the same colors.
After the park, we spent the afternoon at our house. We had lunch with my mom, Rebecca took a TWO hour nap while Jennie, Joe and I walked with Grace around the neighborhood and through Sprouts. We were inspired to make chocolate chip cookies by the bakery section, and Joe and I discussed the merits of measuring in grams vs. ounces while baking and how to use an oven thermometer to get a more accurate read for baking. Basically, we loved catching up on life and having the Conti family in Kansas City. It was their first time meeting Becca and the first time Kip and Joe met too!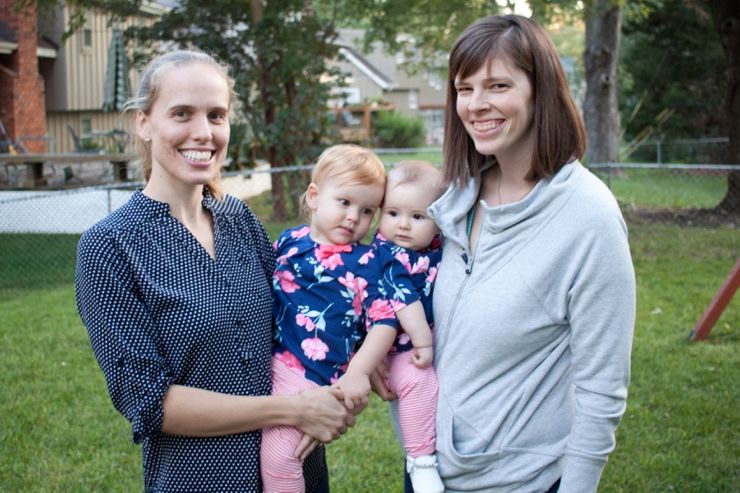 For dinner we grabbed Oklahoma Joe's takeout to enjoy at another friend's house in the backyard, loving the perfect fall weather. We would end up eating fantastic KC barbeque twice while they were visiting as we couldn't resist a chance to see everybody again on Monday AND eat at Q39. What can we say, we love when people come to KC and want to eat fantastic food!
Rebecca made some hilariously concerned faces when we put both girls in the grass to snap some more photos, but in general, she was up for all the adventures while Jennie, Joe and Grace were here. She just wasn't too sure about the extra hugs! It is so nice to have these photos from their visit so we can watch how the girls grow over the years. Thankful for all the family time together in KC this fall!