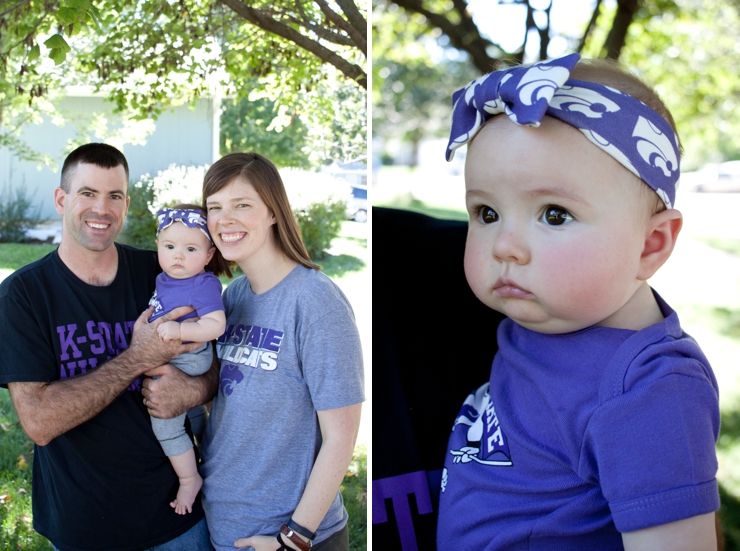 Fall is delightfully busy. Weekends have a little bit of lots of fun things, and I wrote a couple of posts wrapping up fall adventures in bigger posts instead of multiple little posts. I've been enjoying playing with the new camera lens as we go from place to place and activity to activity. September 17th was our first game day weekend in Manhattan, and while Rebecca came along, she spent the afternoon with Grandma Karen and Grandpa Lynch instead of sweating it out at a 1:30 game. I'm pretty sure they loved having this sweet little nugget all to themselves!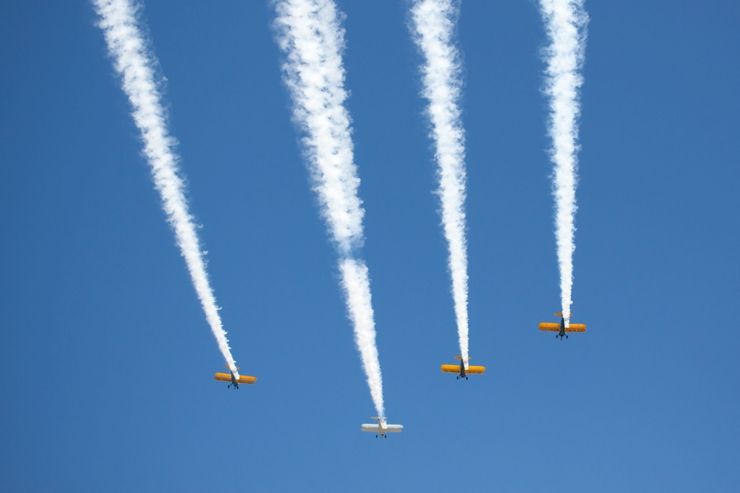 It was great to see many of our tailgate friends, though we are missing the Andersons and Strubes for sure this year! There was pulled pork, fresh salads, cold beer and delicious desserts. The tailgate is always a highlight for us - I'm already looking forward to Oktoberfest this weekend. We headed inside for the opening festivities including a very special flyover.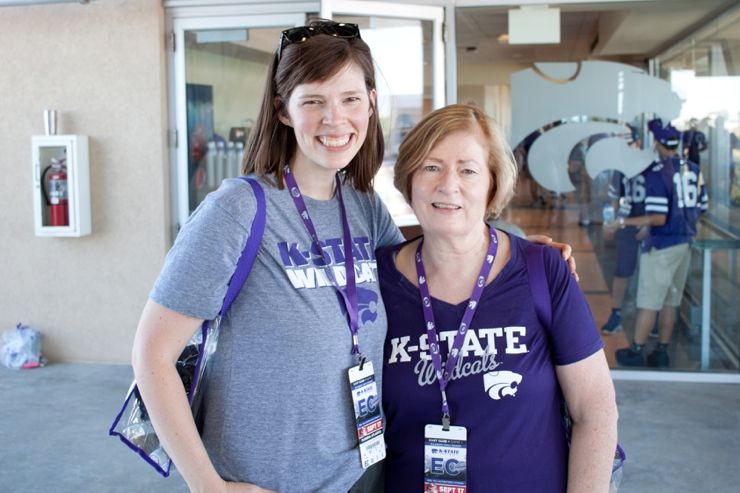 Lauren opted out of the game, and Mom had extra tickets on the club level, so we enjoyed the game from up high. It was certainly warm, and I stepped back inside a couple of times to cool off. There are six home games this season, and our attendance will be spotty. We stayed a long time because I know Kip enjoys seeing the team in person and he won't be back for another game until November. Kip was on the record as very excited about our prospects for the season, and he's still optimistic even after the West Virginia loss last weekend!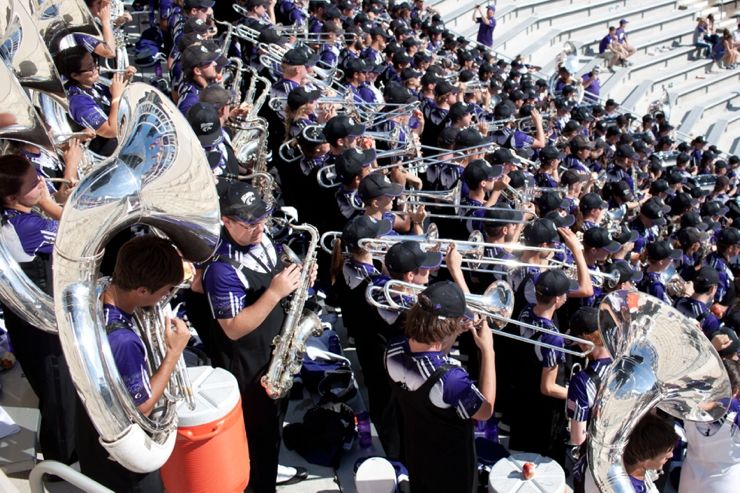 Kip and I walked a full loop around the stadium to stretch our legs. I was trying to figure out a few things and stopped a few strangers to inquire.
Where did you get that adorable K-State dress? Where did you buy your clear backpack? Have they hassled you about the sippy cup you are carrying?
I have yet to find the adorable purple dress that we saw a couple little girls wearing, so maybe it was last year's style. And about the bag...K-State implemented a clear bag policy this year that we all find highly annoying, but we are making the best of it. I didn't buy a clear backpack because I'm an upholder and like to follow the rules, but I certainly did look them up on Amazon. I'm sticking with the free clear bag I was given. Rebecca will be fine without a sippy cup this year, but I do wonder what they will do at Bill Snyder FAMILY Stadium going forward. It doesn't feel super family friendly with the new bag policy.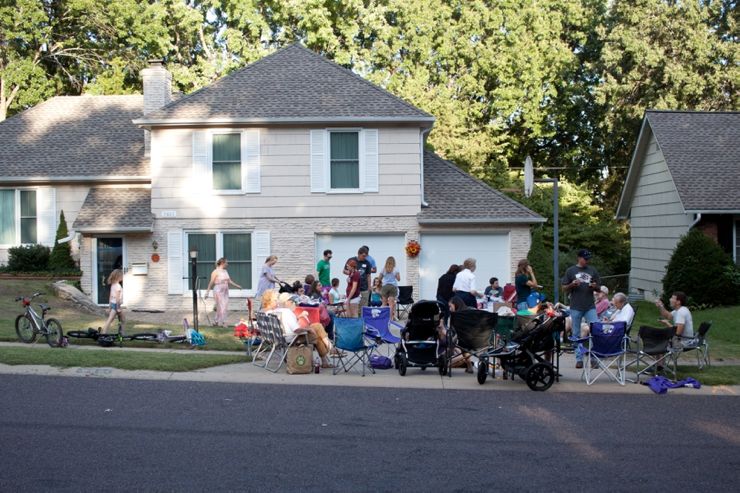 We drove home after the game because we knew we had a big day on Sunday with a block party right outside our house! Inspired by a
series of sermons at church
about getting to know your neighbors, I decided to bring back the block party. Years ago they used to occur regularly on our street, so I learned about some of the traditions and started planning. I ordered invitations from
Etsy
(our shop remains closed - and we're happy about that) and applied for the block party permit from the city.
Most of my prep for the party consisted of worrying about the party. I didn't get many RSVPs, so I set out to leave another flyer at everyone's house the week before the party as a final reminder. Delivering to the entire street with Rebecca in tow takes a while because I would stop and visit if someone was home. Kip helped me get the final reminders out right before the party.
As the date crept closer, I got a few more RSVPs so I was confident we would have decent attendance. I had a few people come even though they didn't RSVP, so the turnout was actually great! Of the 32 houses on our street, we had representatives from 18 homes. One of the residents has lived on our block for 54 years and another for 46 years, and I loved their living history of the neighborhood.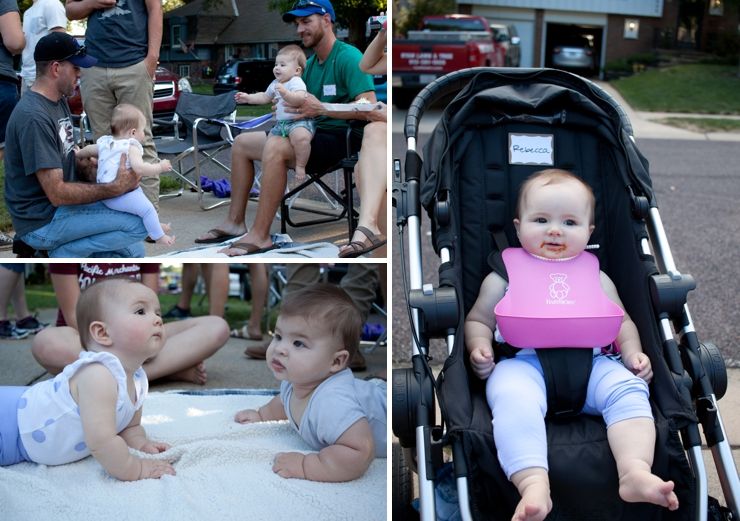 There were a surprising number of kids! Many people remarked that they were surprised by this, so it was good to get everyone out to visit with each other. We have little babies and big kids too - three in the fourth grade even! Rebecca and her little buddy are exactly six weeks apart. She sat in her stroller and showed off her adventurous appetite during the party.
Our sweet neighbor Kathleen provided the driveway and all the pulled pork from Costco and a few hot dogs for kids. Because she provided main dishes, we were able to do a true potluck with everything else. No one signed up, but everyone showed up with delicious desserts and side dishes. Because no one was grilling, everyone could be visiting. Much to Kip's chagrin, I made everyone get a name tag (super helpful and people loved it), and one of the older residents suggested introductions. We've since updated the street directory and have a much better idea of who is living on our block!
The only thing we would change for next year? Start time should be 4:30 instead of 4. The kids loved having the street blocked off for bike racing - maybe we should get out some bike decorating supplies! Or a little ball pit for the babies (
it was so popular at kids' book club
). We had a blast visiting with our neighbors, and I'm already looking forward to next year.