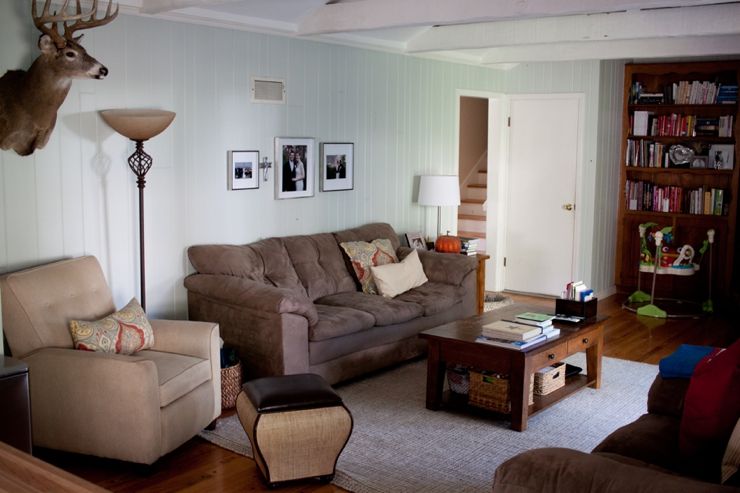 Yesterday I shared some photos from before we started updating. Here are some after shots, closer to what our house looks like day to day with a few piles that are much messier and a pile of baby toys right in the middle of the rug.
You'll notice there is much less taxidermy - one critter per room is the current negotiated agreement. That's Roger the very big deer in our living room. The beaver pelt that used to be on the back of my favorite chair found a new home to save it from the possibility of baby spit-up. And my mom made us some very pretty pillows which keep our well loved furniture looking bright. Our wedding photos are predominately displayed and a cross I bought in 2004 when I visited my friend Kate in D.C., and we went to the National Cathedral. Oh the foreshadowing! I love to think about all the times I would go back and all the places the cross has hung since I visited.
Kip painted the walls because he loves me. And the ceiling because he loves me. Vaulted ceilings are the best (except when you have to paint them).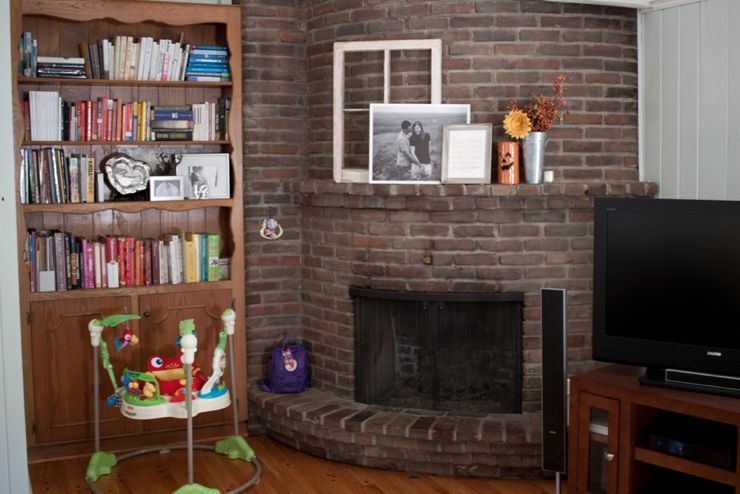 We haven't really made any updates in this corner though we would love to update the bookshelf by ditching the scalloped trim and painting it white to tie in with the kitchen at the opposite end. It's totally possible, and we met with the nice guy who built our island about it so maybe some day. My books are cozy on the shelves, though I would like to reduce the volume by half. The entire bottom shelf is cookbooks, and I officially have more than I realistically use in regular rotation.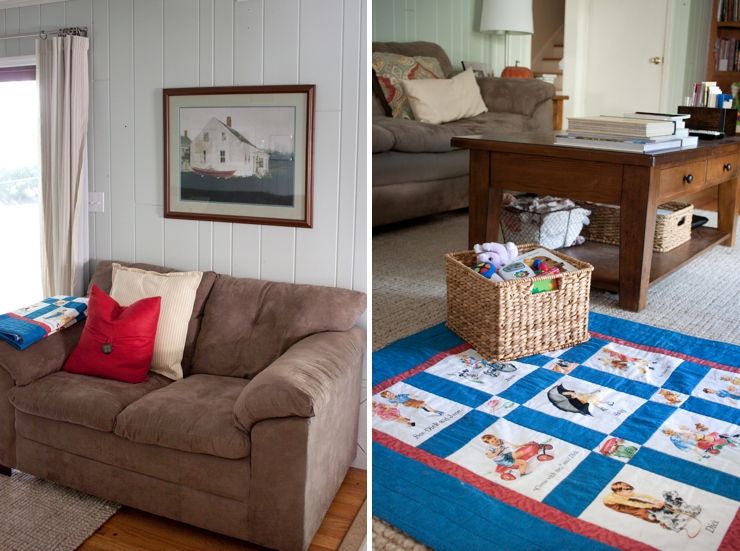 The room has a layout that might seem weird but totally works for us with this love seat on the same wall as the sliding glass door. Sometimes there is a quilt folded on the edge of the loveseat, but most often it's on the floor next to the coffee table covered in Rebecca's toys. Her current favorite game is to pull all the toys out of the basket, but because she isn't crawling yet the mess stays pretty contained. My grandma Mary made this sweet Dick and Jane quilt.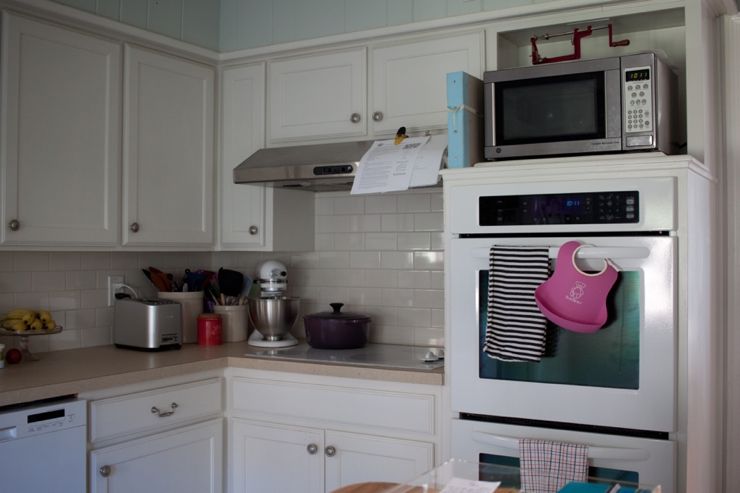 There aren't any changes to this corner of the kitchen, but this is definitely a shot that was missing from the "before" photos. Yes, I love having double ovens even if I don't use them often for sugar cookie baking. They come in handy plenty of other times.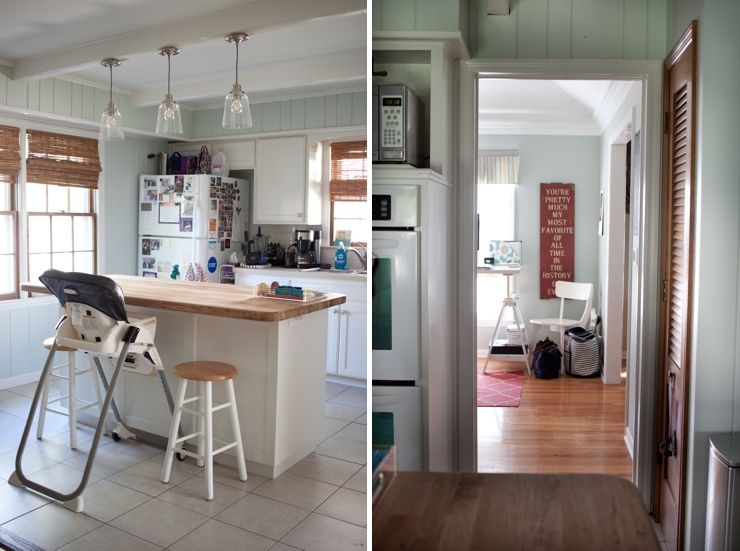 The new island is working out just as we hoped it would and the design fits us perfectly. We eat lots of meals here because we tend to start Rebecca on some finger foods while we finish cooking dinner. Lunches are assembled every night on the island, and it is the perfect size for our space. I purchased this
small tray
from West Elm because I wanted something to keep piles contained, and I can go through it about once a week and toss out papers and other things that have accumulated on the island. From the island you can see into the office/playroom and a sign that Kip bought me at Hobby Lobby that I still adore.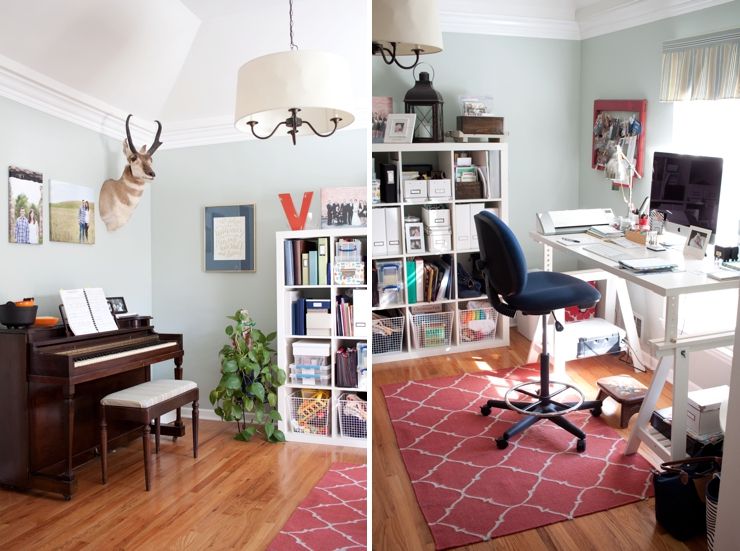 The office has a piano that struggles to keep a tune (but it was free), Artie the antelope, and most of my office furniture from the old house. You can see that the bookshelf is starting to morph into a more Becca friendly set up with a row of bins for toys and books on the bottom. The second shelf needs an update too, and I know that I definitely need to simplify this storage very soon.
I can't ever decide about my desk because sometimes the height seems silly, but it also keeps things out of Becca's eventual reach. And sometimes my desk seems big, but it also allows me to manage lots of work in progress. I would love a much bigger and softer rug for this space as Rebecca plays in here more and more, but I love the overall feel of the room. It is the same color as the living room with double the pigment so a tiny bit darker.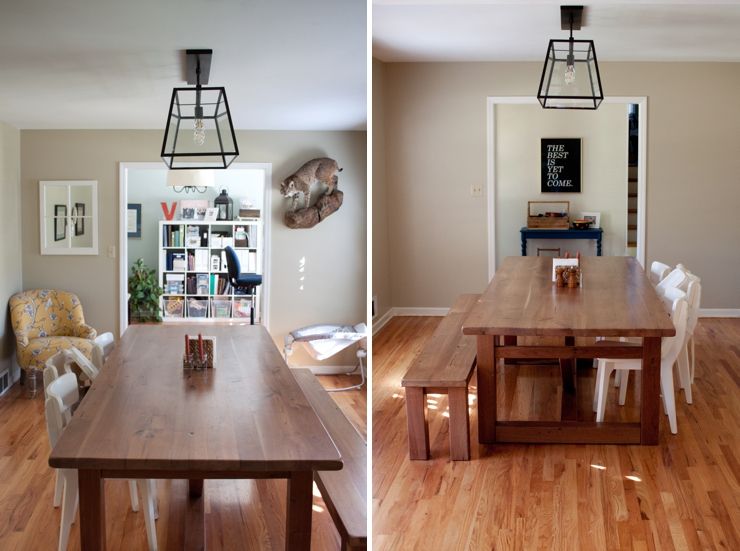 The dining room is also working out perfectly. I would love to add crown molding and more storage, but it fits us well right now. We often move Rebecca's high chair in to the table or use the booster seat that is strapped in one of the chairs that moved from my old house. The table was a wedding present from Kip's parents and custom built for us and this room by
Unruh Furniture
. It's beautiful walnut that Kip sourced for the guys at Unruh. We loved the process and highly recommend these guys! Kip installed this light and the lights above the island, and I'm not sure much more installation is in our future. It was a huge process and kind of an ordeal.
One thing I can't decide about is the entryway. We've kept a small table there but don't use it well for storage. Stuff just sits there as it is not directly in our path to and from the car through the garage. I can't decide if it is weird to have a more practical piece in the entry since you can see it from the dining room, but space is valuable and the number of coats, hats, shoes, etc. continues to grows with the addition of our sweet little nugget. Entryways are one of my favorite pinterest searches as I think about possible solutions.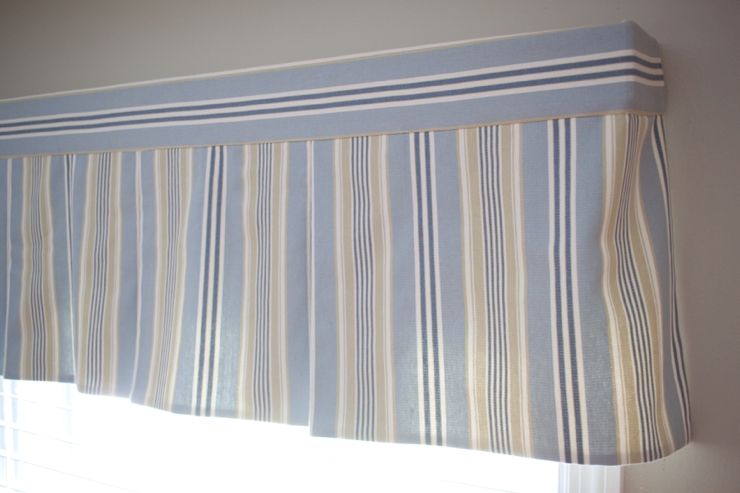 Mom made these sweet valances for the front rooms, and they make the windows nice and tall. We've also ordered new blinds for the entire front of the house, and they keep the old windows looking fresh. It's nice to have Kip and Mom to help with measuring projects as the math can sometimes make my brain hurt.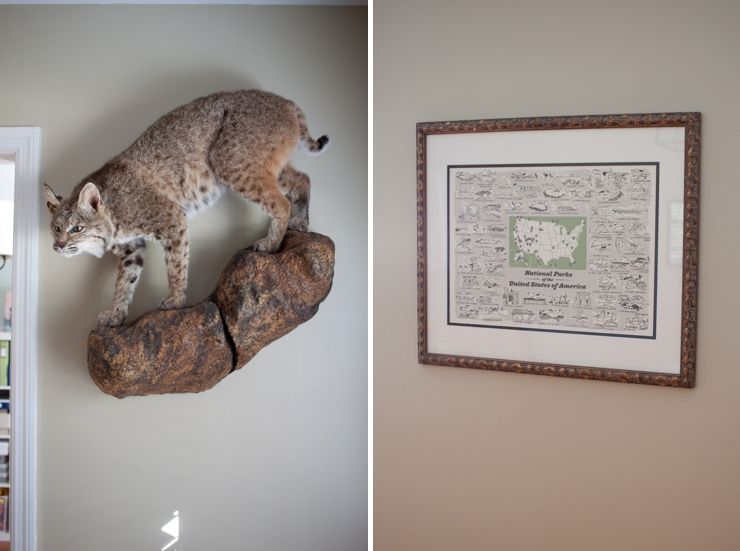 Beatrice the Bobcat moved to the dining room, and it delights us constantly to hear our friends' kids say "Kitty cat!" every time they see her! You may remember that I gave Kip this illustrated map of the National Parks as a wedding present, and it hangs in the same frame as our wedding seating chart.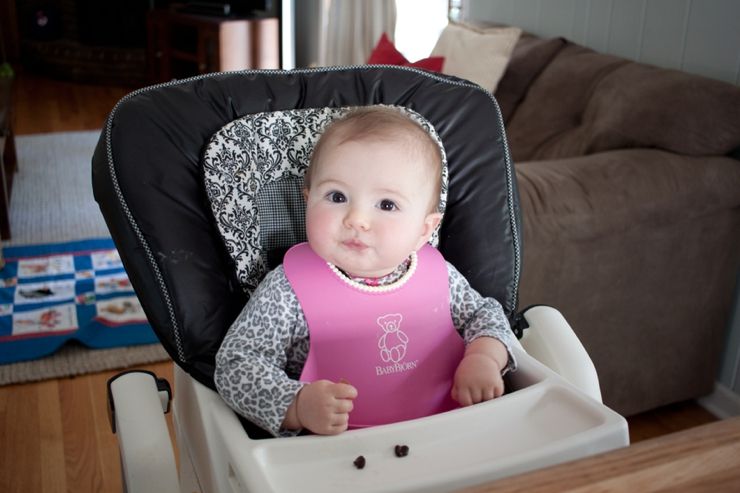 But by far our favorite house update is Rebecca Claire. This little black bean eating nugget is so fun, and she adds a lot of life to our house. It's fun to think about our home will continue to adapt to the needs of kids and a growing family.