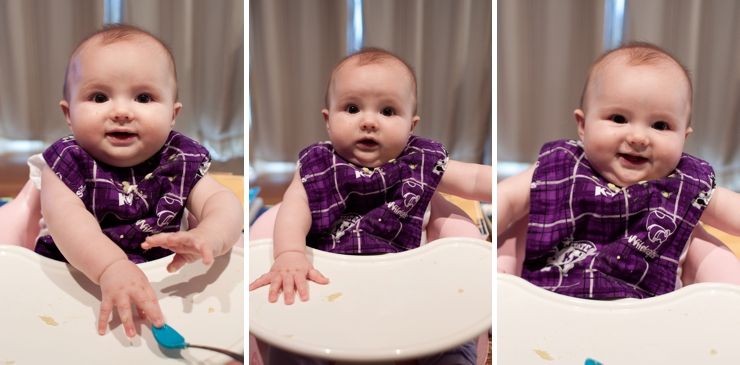 I hope a big photo dump of photos will brighten your Friday morning! I was looking at my desktop and realized that I have a ton of photos of Rebecca that I had been meaning to share and save. Lots of Rebecca sitting around the house and looking really cute! The photos above are from Rebecca's first food experience with avocado and spoons. I don't think her look of shock was about the food but glad I captured it anyways.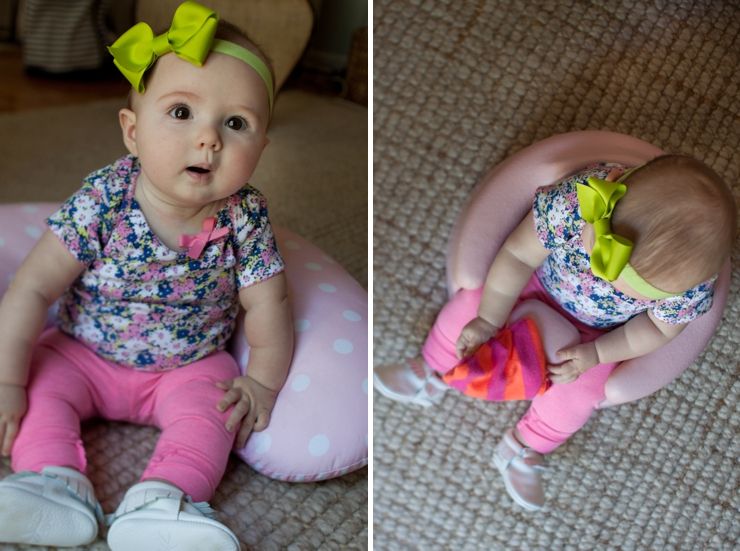 Some of my favorite Rebecca outfits are accidental outfits! I ordered bows from the fabulous Etsy shop
Kinley Kate
, and they included this very fun lime green bow as a free bonus. The onesie was part of a three pack I ordered for very cheap from Target to leave at daycare in case of accidents but I loved the pattern so much I kept this one at home. And the pants are 12 month ones that are already snug. Throw it all together for cuteness and about $6.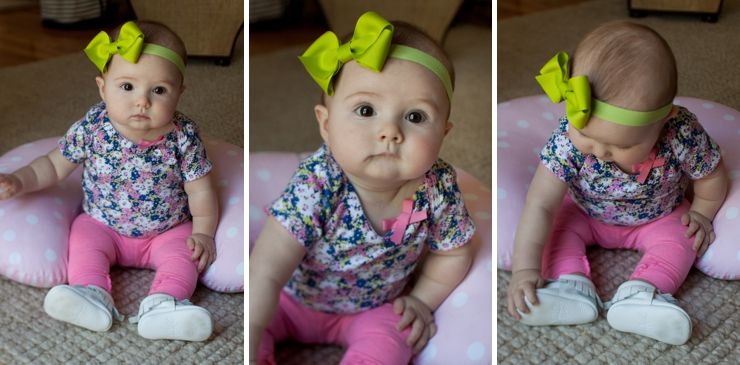 She's sitting like a pro, though we did use the boppy for a long time just in case she toppled over. Our big living room rug has enough room for some rolling and sitting without a problem. When she starts really crawling...we're in trouble. As there is plenty of stuff to get into, there is definitely some baby proofing in our future.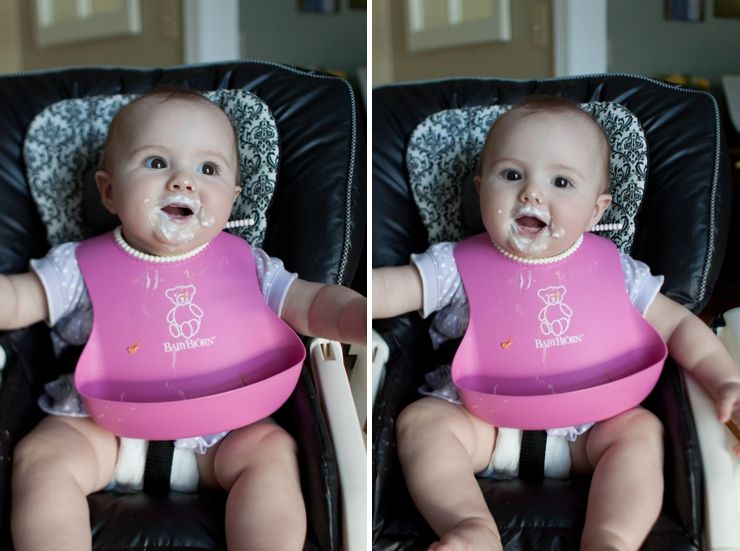 I did lots of research (reading Amazon reviews) to choose a high chair because we wanted one to use in the dining room that also worked at counter height as we eat at the new island often. What I didn't plan for was the mess. Really a high chair that you could take outside and hose off might have worked better! We try to stay on top of wiping it down after she eats though. It has two wheels on the back, and we often roll her into the dining room if that's where we are eating.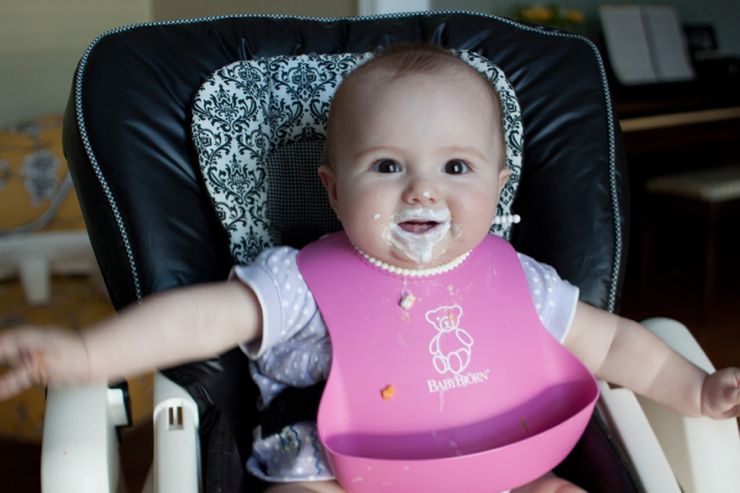 I have no idea how so much yogurt ended up everywhere. Seriously, I'm the one with the spoon. But look how excited she is about everything? Her arms are in motion a lot!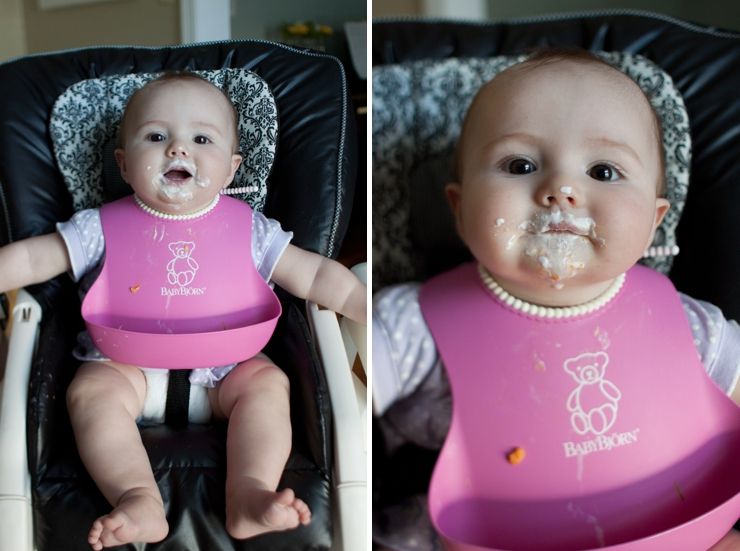 It's fun having her talk to us. She's learning that at the dinner table we talk about our days. I imagine her summary of activities at school is pretty lively! Before she was eating food and was mostly just sitting with us at the table, Kip once said, "I can't wait for Becca to talk to us and tell us what she wants." I thought, oh that's so sweet. And then he continued, "So we can tell her no." He was mostly kidding - pretty much so far he's not able to say no to this smiley delight. Last night he was putting her spoons away in the silverware drawer and said out of the blue, "Have you ever seen a baby so cute before in your whole life?"
A couple of Saturdays ago, Rebecca had all the rainbows out in our house! Her new Mr. Clown rattle that click clacks, her train that vibrates and plays a little horn, a blanket and even her onesie were covered in rainbows! She was too busy sitting and playing with her toys to smile at the camera, and I think her furrowed brow is the sweetest.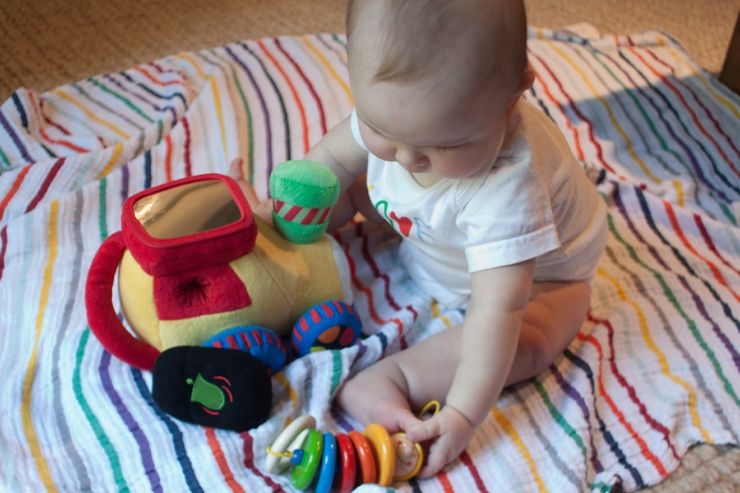 While she maneuvers well on her belly and pushes up on her hands, we've not seen a real crawl yet. But the sitting up, reaching, grabbing and putting everything into her mouth is also really super fun. All the rainbows for this sunshine.