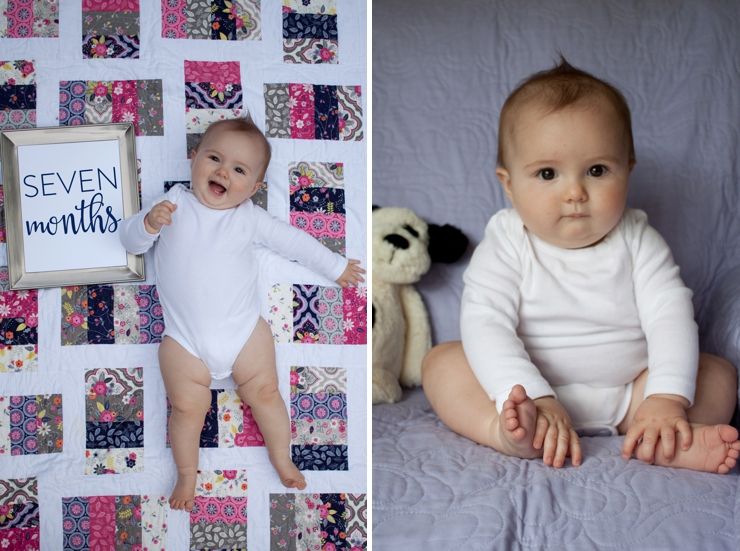 Our baby rarely has a mohawk, but when she does, I sure leave it that way. It was too cute to try to flatten it out when I was taking her seven month photos after school on Wednesday. Later she had a bath, and it was back to it's normal old sweet swoop.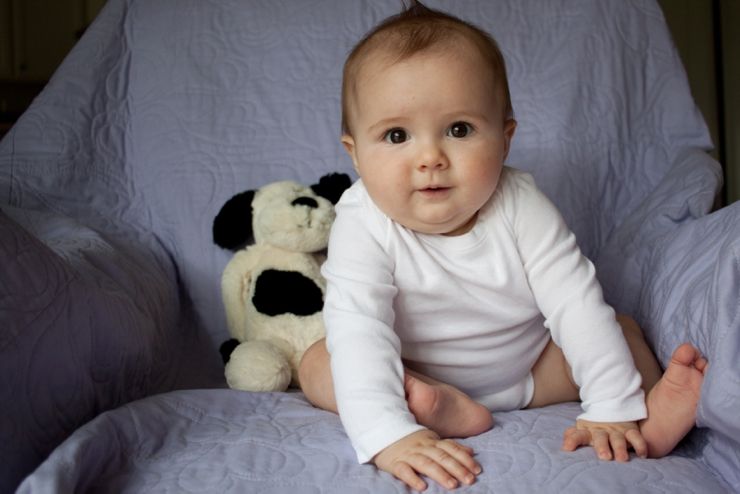 My camera lens (the 28mm) broke and was giving me fits over Labor Day, so we started September with a new lens. The 24mm is a much less expensive lens and my first "pancake lens." It's super fun to play with as it has similar effects to the 28mm but a wider frame. It has a very low profile and takes up less room for hauling around. My Canon Rebel Ti1 camera purchased while I was living in Virginia is still going strong!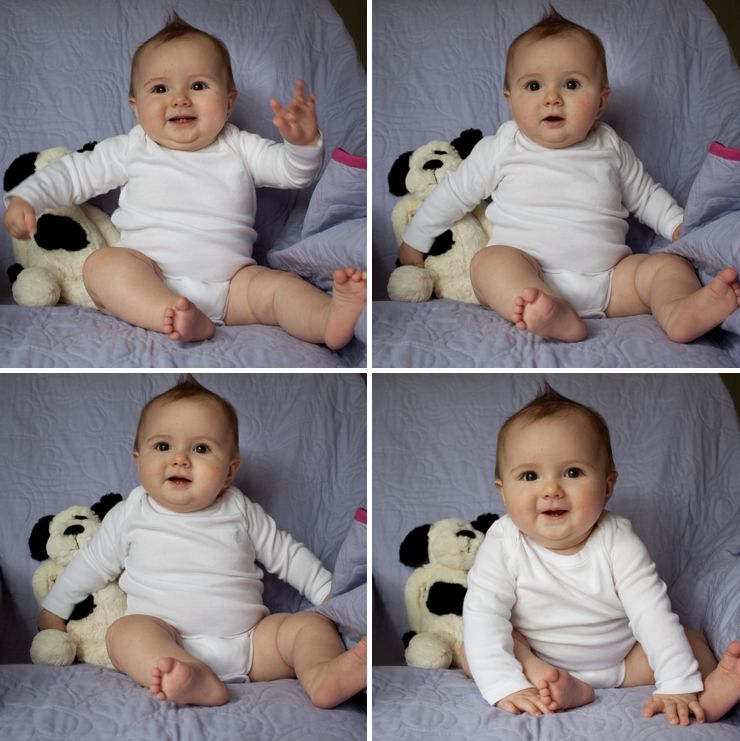 Becca is consistently sleepy after school. She's got a serious case of FOMO (fear of missing out) and on a good day takes two twenty-five to thirty minute naps at daycare. Thankfully I don't think she is fussy for them when she is awake. She usually has a snack and takes a little power nap sometime between 4:00 and 5:15. It doesn't seem to affect bedtime (except for the disaster that is tonight!) and helps get her a little more sleep towards her overall daily total. She was a little sleepy when I was taking these photos but interested enough in Mama to be compliant. You can see she's singing and talking in one of these photos - Rebecca is busy and loves to participate!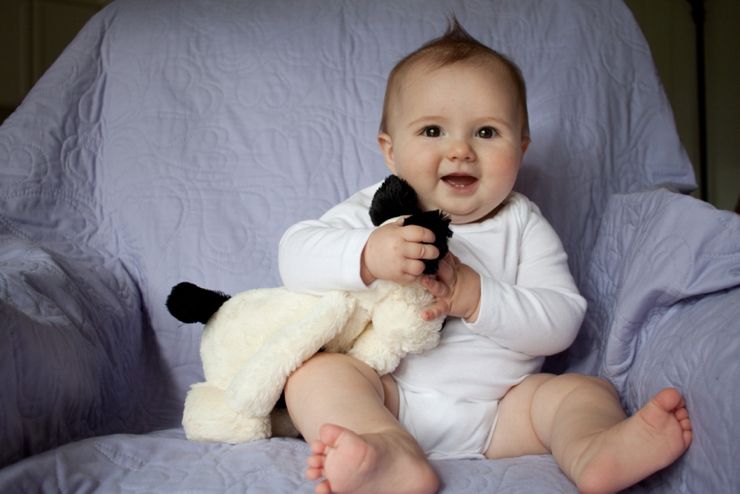 Rebecca is asleep before 7:00 almost every night and wakes up the next morning around 6:20 so that she can go to school with Daddy. We are transitioning from using a Magic Merlin for sleep to a regular old swaddle sack / sleep blanket, and she started sleeping on her tummy in the past couple of nights. I'm hoping this pays off because getting up two or three times seems excessive.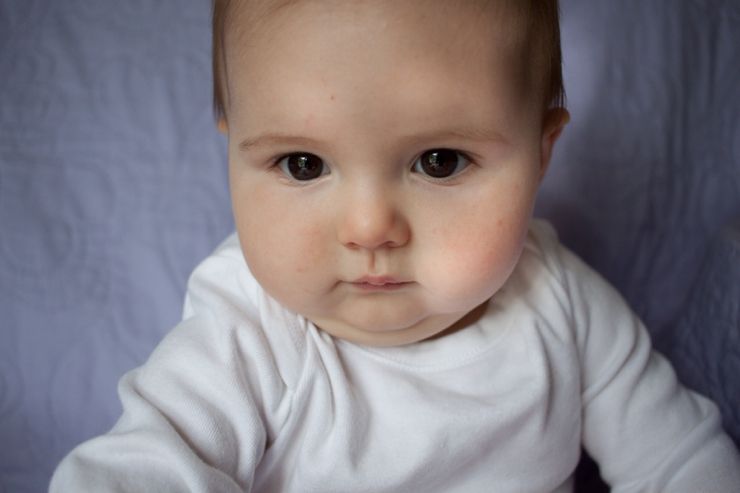 With her two little teeth on the bottom, Rebecca is a champion eater. Once we gave daycare the go ahead, they have tried tons of food with her, and we don't have reports that there is much she doesn't like. Sometimes we take food pouches with us on the go, she will eat well off a spoon, and she will feed herself puffs, crackers, vegetables, cheese...I tried keeping a list for a while of the things she has tried and then had to give up. There were too many different things. She was even totally digging the burritos we had last night! Since we had a rough start with breastfeeding and sleeping habits, the fact that starting solids has worked is a big relief.
I have totally failed Becca in the sippy cup category. She has not mastered the "Wow" cup or the munchkin cup (or the other two I have tried so far), and I think she would like to be drinking more water like the big kid she thinks she is. And why are there so many different kinds of sippy cups? We will keep practicing!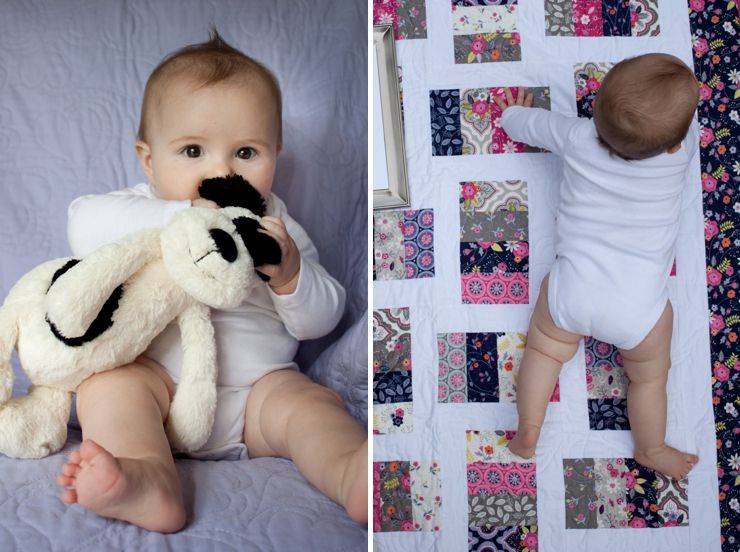 And these last two photos give a glimpse at what the monthly photo shoots are like. Putting the puppy in her mouth and flipping over to check things out as soon as possible.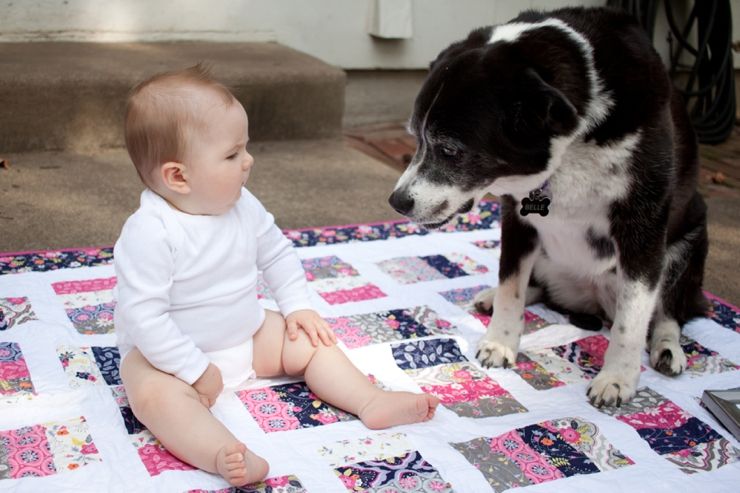 We don't normally take the photos outside on the quilt but the light was pretty yesterday. Rebecca's always happy outside too! Belle came by and stopped for a chat.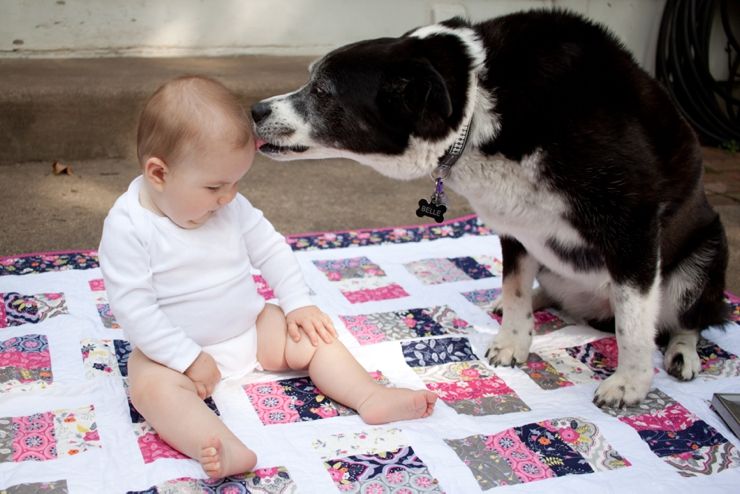 And a quick kiss! Rebecca's sitting is awesome, and I don't worry about her toppling over all the time. She's definitely sturdy. This onesie is the size 6-12 months from Gap, and she often wears Carters 12 month and Cat & Jack 12 month. Even though it is late September, it still feels like summer, and we go most places without shoes and socks. Cooler temps and jackets will be here before we know it! We still call her Becca Bear most often and are currently researching bear Halloween costumes, obviously. AND we totally love her to pieces.