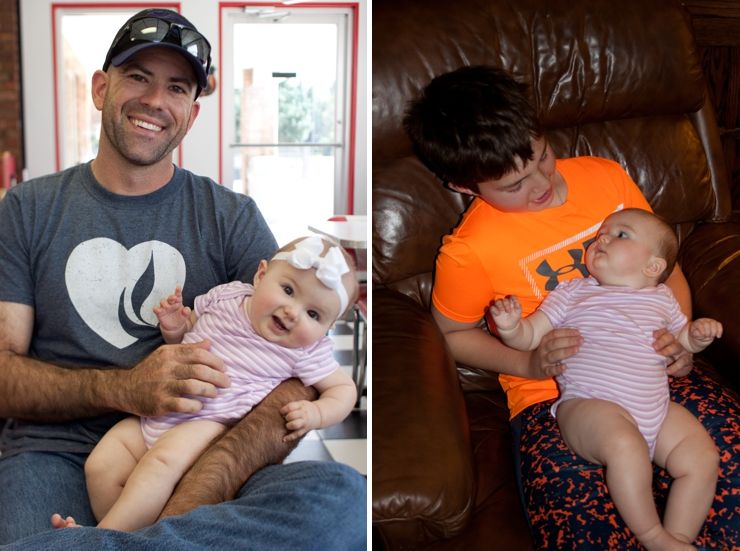 We spent about 48 hours in Nebraska over Labor Day, and they were good hours. (Except for the ones when Rebecca thought we were there to party overnight.) It was fun to share the place my dad grew up and the place I explored as a kid with Kip and Rebeca. It wouldn't be a trip to Imperial without a snack at the Sweden Creme. I ordered the same thing I've had my whole life, essentially a dip cone in a dish with the magic shell. Rebecca promptly knocked it off the table - her first ice cream calamity! The kind folks at Sweden Creme replaced it for free.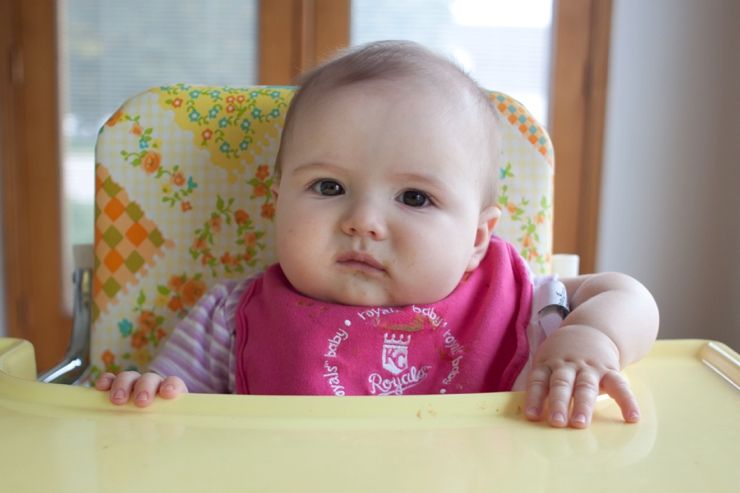 Dad found this throw back high chair in the basement, and even though her face says otherwise, Rebecca liked being a part of the action in the sun room. She ate some food and talked to everyone when we were out there. I've sat for hours in the sun room, playing games of cribbage and scrabble, working on puzzles, and eating at the kids' table at big family dinners. It's easily one of my favorite rooms in my grandma's house.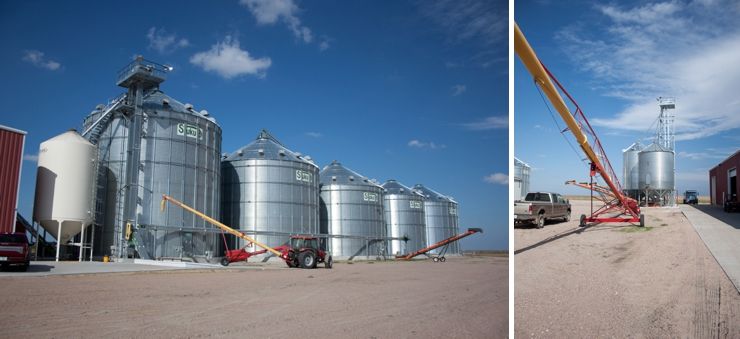 Sunday afternoon we took Kip out to show him the Luhrs farm (since 1904) and explore my uncle's certified seed operation. When we arrived the skies were a very pretty blue, though a storm was rolling in as we walked around the farm.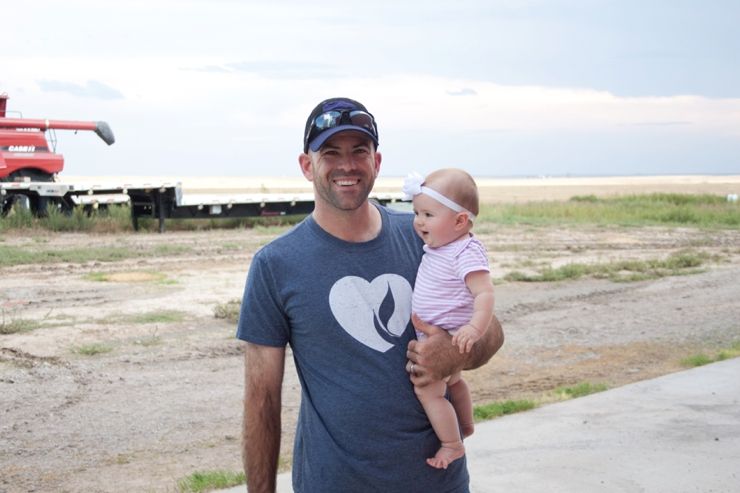 I've said it before, but sharing these places with Kip is very special to me. He loves to be outdoors and explore, and I think he enjoys spending time in the small towns and rural country surrounding them. I know he also appreciates the stories my dad tells about growing up with three brothers in the country. Kip and his brothers also got themselves into plenty of trouble!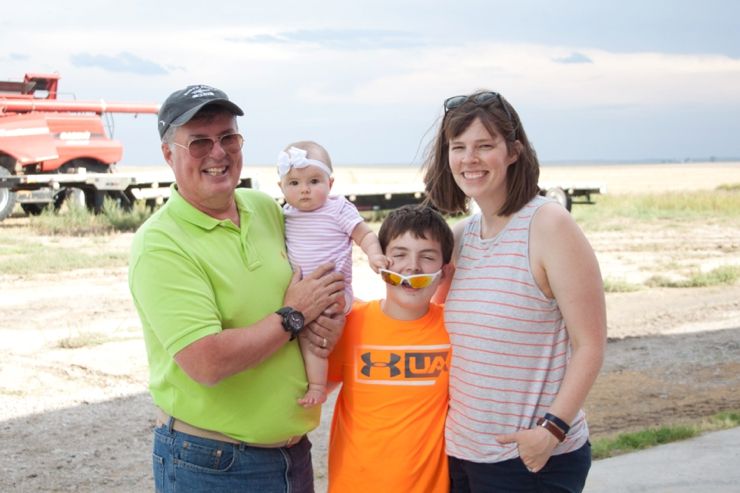 Rebecca knows what she wants, and apparently in this photo, it was Uncle Spencer's glasses. He was cracking us up while we were on the farm with a million questions about what it would be like if he came out and worked for Uncle Tom. His fear of inclement weather directed a lot of questions as he wanted to know exactly what might happen if he was working and there was a tornado.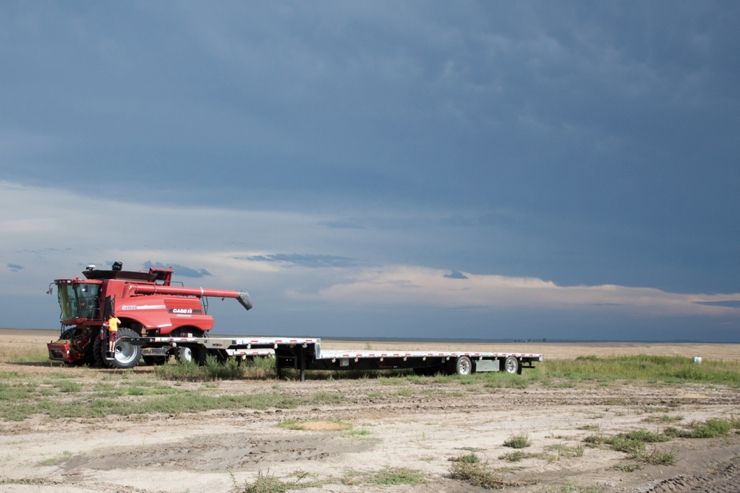 To add to the drama of all his questions, we watched a pretty good size storm rolling in from the west, creeping around the south side of the farm behind this combine.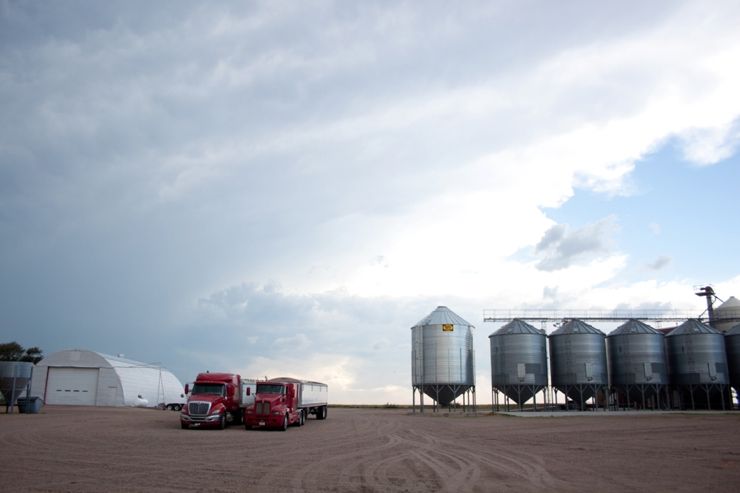 It ended up not hitting us though we were worried it might be a doozie - not good for Dad's airplane parked outside at the airport.
Spencer also asked a lot of questions about what he was going to drive if he was working on the farm. He'd been taking Uncle Tom's golf cart out of a spin in town, and he was also interested in the ATV on the farm. The big trucks worried him, including this old Dodge that my dad drove as a teenager.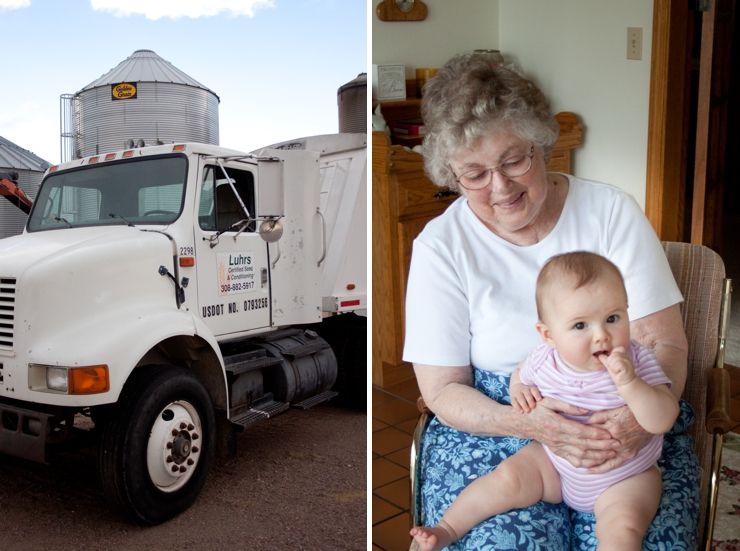 Rebecca is Grandma Mary's first great-granddaughter. It was special to share her with my grandma and also have an extended weekend with Grandpa Bob for quality generational time.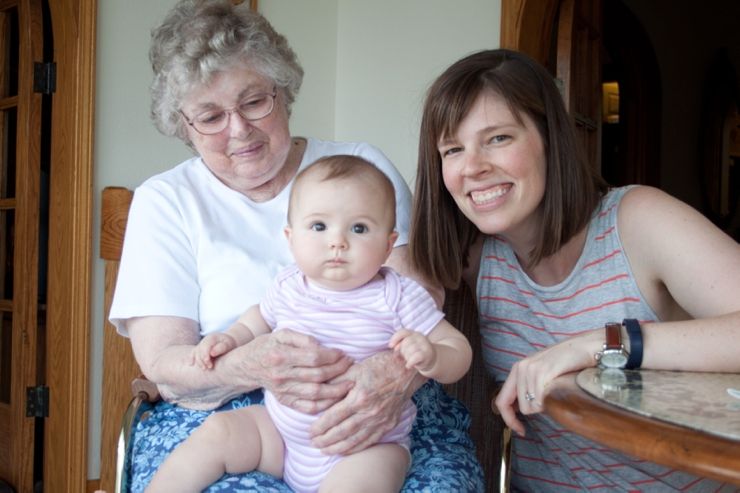 We ate at a couple of restaurants while we were there, and Rebecca did better the first night than the second one. Imperial is on mountain time, so it was tricky to coordinate with a baby who wanted to go to bed at about five o'clock! On Sunday morning when she was up so early, I drug myself out of bed and loaded her in the stroller to walk for coffee at about six am. We walked down main street in the cool 60 degree temps and back down to the house. Dad came out, and we made another loop up and back to get Spencer some hot chocolate. We walked up and down on Monday as well as we waited for the fog to lift to fly home. As kids we were allowed to explore all over downtown, something that felt like a really big deal. At home in Overland Park there were certainly not little shops that we could walk to all on our own!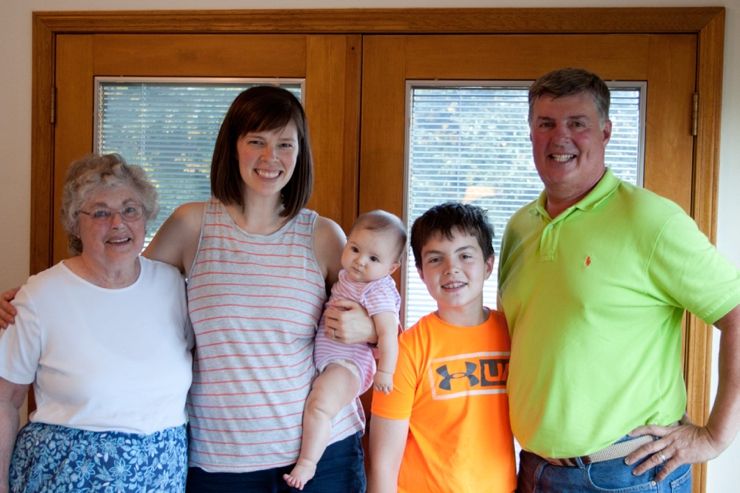 And as required by such a visit, we took this four generations photo. Mary, Bob, Victoria & Spencer, and baby Rebecca. Lots of Luhrs love for this photo.