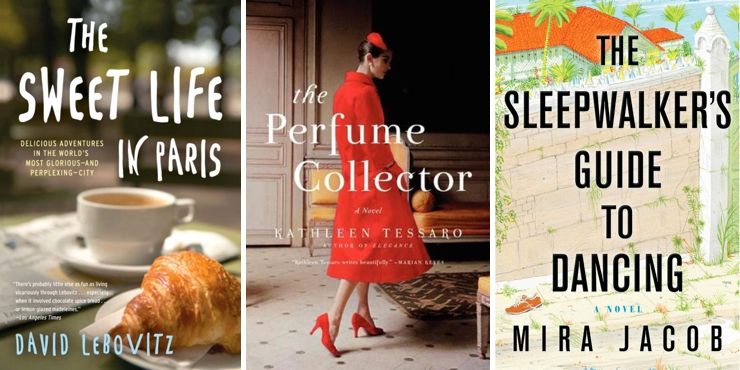 Let's do July books real fast before September gets here...
The Sweet Life in Paris
was a daily deal on the Kindle that had been on my list of books I wanted to read. I loved his stories about life in France - he knew he was becoming a Parisian when he realized you must dress up to take out the trash. I flagged a few of the recipes as I read, but I'm not sure I'll ever remember to make some of them. (That's a major drawback to books on the Kindle.) Mom and I went to many of the places he describes on our trip back in 2012, and it brought back great memories of that trip!
The Perfume Collector
was the July book club book and a good solid story with a little bit of mystery. I don't wear perfume so it was a little difficult to imagine the importance of these great scents, but I'm always down with stories set in Paris. That's why I read two this month. We had some interesting discussion around this one - it's a good book club pick.
The Sleepwalker's Guide to Dancing
came as a recommendation from the fine folks at Rainy Day Books, and I snatched it up when I saw it as a Kindle sale. It's really neat, probably because the setting and characters were unique. It's the story of Indian immigrants living in New Mexico and Seattle with a few fantastical elements and a hefty dose of family drama. I read it quickly (and often in the middle of the night) and definitely enjoyed it.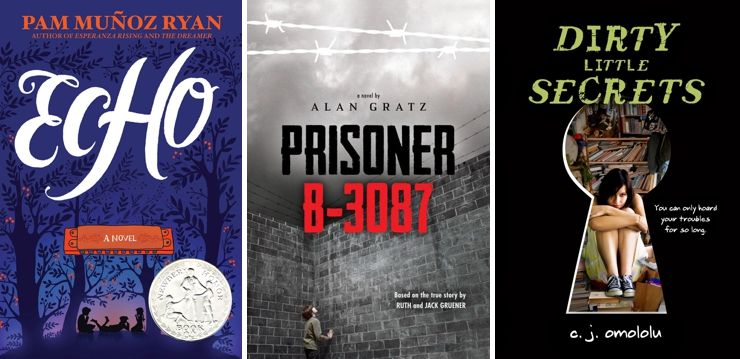 I committed to reading 6 (it turned out to be 7) books for the KCK literacy festival. I knocked out three more in July.
Echo
was my favorite, my mom's favorite, and the favorite of my partner. It is amazing, extremely well done, and I think adults would love it too! The story follows a harmonica through three different stories, each ending with a dramatic cliffhanger. It's brilliant, and I almost enjoyed being awake in the middle of the night reading this gem!
Prisoner B-3087
is a tough read. It follows a little boy as he travels through ten concentration camps and is based on the actual experience of Jack Gruener. We're working on some lit circles for our sixth graders, and I think we will definitely include this title.
Dirty Little Secrets
is the first book in a long time that I ended up having to skip forward to the end before I was finished. I couldn't figure out how the author would resolve this TERRIBLE mess the young girl is in...her mom is a terrible hoarder and she finds her DEAD in like the first 30 pages. It reads really fast, and I think it will hold the attention of our book battle competitors!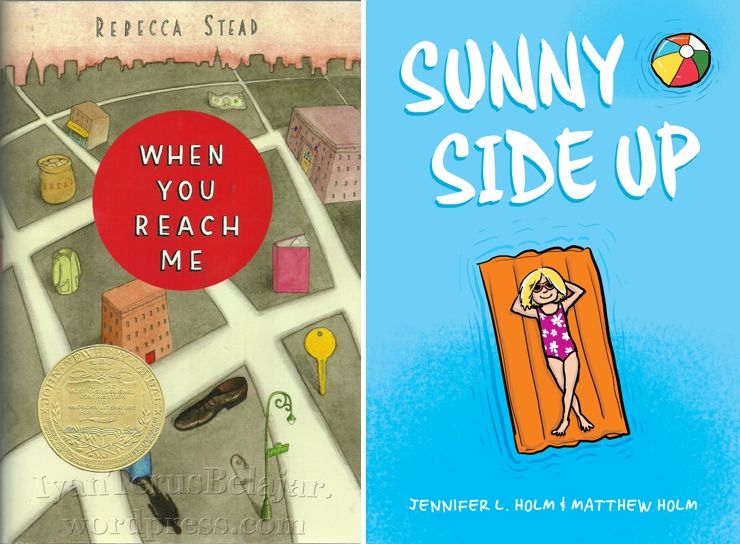 Two other random books I read for students...
When You Reach Me
is a NYC story with a fantasy element and was based a little too much on
A Wrinkle in Time
for me to enjoy. Sure it won the Newbury, but I don't think I would recommend it to many students.
Sunny Side Up
looks like a happy go lucky graphic novel, but the cute story about a tween going to live with her grandpa in Florida for the summer actually has many layers. Adults will find the adventures in the retirement community pretty hilarious, and everyone can appreciate the way the authors tackle the tough topic of drug abuse and how it affects families. Sunny is in Florida while her parents take some time to get her older brother some support. It's well done and yet another example of a great graphic novel for tweens!