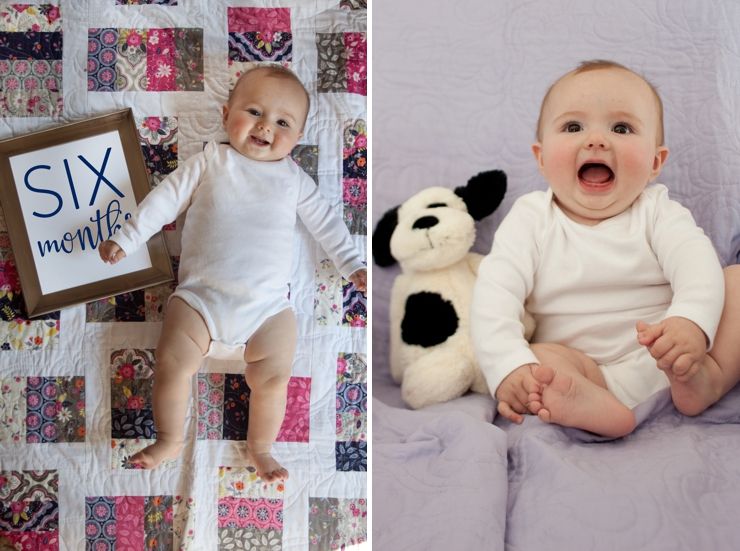 Becca Bear is six months old! Let me write this like it was last week on the 17th when she was gloriously putting herself down early and only getting up once overnight. For several nights in a row, she thought sleep was cooler than her mom, and we all rejoiced. She's since changed her tune, maybe because she's still growing like a weed and popping out her two bottom teeth. Rebecca does not seem miserable, but she has needed to see me a couple extra times the last few nights. I'm trying to give her some grace because her life is certainly busy right now!
Rebecca's bedtime has gotten much closer to seven which is good because Daddy and Becca leave for school at 6:30. We'd like it even a touch earlier to get her much needed sleep overnight! She takes small naps at daycare and even for us at home. Over the weekend she slept an hour in her crib each afternoon, and I didn't even know what to do with myself. She also went down for her dad two nights last week, feeding herself a bottle downstairs before calling it a night in her crib. Kip was rightfully so proud, and it makes things like back to school night certainly easier.
We started dabbling in food in the week before she turned six months old with encouragement from our pediatrician. She's tried a variety of purees and what my friend Jennie calls "mashable solids," and avocado was her first favorite. She's getting the hang of it, and daycare joined in on the fun last week so she's getting more practice now too. We love Rebecca's teachers as they have been great supports as she's getting bigger and doing big kid things like napping in her crib at daycare, eating food and working on sitting up. Silly girl is also laying on her belly and trying to figure out what happens if she arches her back and tries to get up on her knees. Kip boldly predicted Rebecca would be crawling by the end of August, but so far she's just scooting around in circles on her tummy, not full on crawling.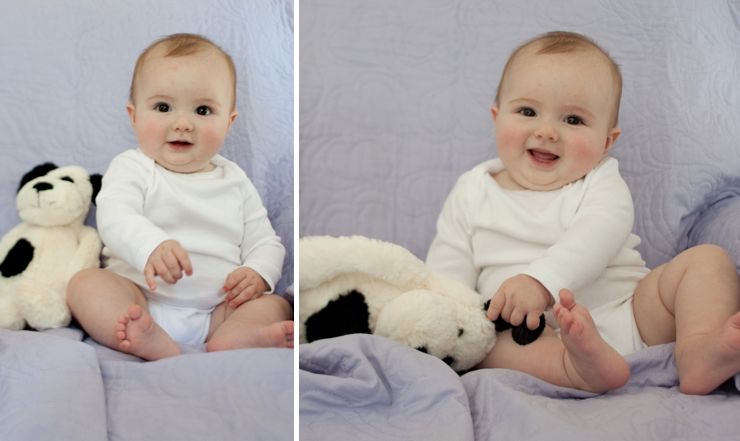 Today at her appointment, Rebecca weighed 17 lb. 8 oz. and is 26.5" tall. She's wearing a variety of sizes so I decided to stop buying clothes for a bit longer because it's hard to keep up. Carter's 9 month fit mostly okay or great, all her Baby Gap clothes are 6-12 months, and her pants from the new Cat and Jack line from Target at size 12 months are TIGHT. I think they are supposed to be skinny leggings, but they might be a bit extreme. Thankfully I didn't pay very much for them!
Rebecca is a happy, easy going baby. We started taking her to the church nursery, and she's done fine all three weeks so far. I suspect she loves when the musicians come upstairs and sing during the service! August's temperatures have been extremely mild, so walks and eating outside have been favorite activities for all of the Lynches. Rebecca likes the jumperoo, her activity mat (laying down and sitting up at it propped with the boppy), books, baby paper, Sophie the giraffe, and one of those mom necklaces she can chew on from Nordstrom. Basically, she likes everything.
Her happy gummy (pre-teeth) smiles in these photos were because her dad walked in the room. We both call her Becca bear all the time and are trying to cook up a Halloween costume fitting of such a little doll. Miss Rebecca Claire is really a delight.