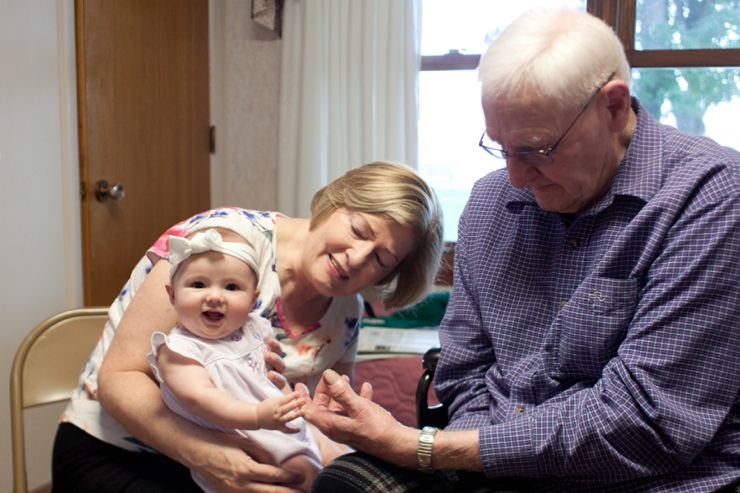 I think sometime during the week leading up to the Threshing Bee I tried to tell my mom I wasn't sure we should go. I was stressed and tired between Rebecca not sleeping and trying to help Rachel as much as
possible
over the internet from too far away. Mom said in reply, but everyone wants to see you. I think she really meant that they wanted to see Rebecca, but I'm glad we went. It was good for all of us to get a quick break from KC and head to north central Kansas.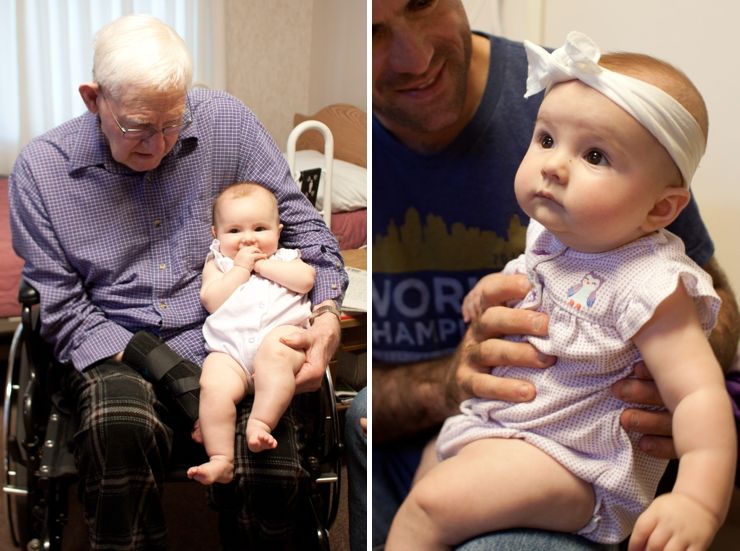 Grandpa Lauren loved getting to see Rebecca and even hold her. She held his hand for a while, and we all marveled at how big his hands are in comparison to her little baby fingers. Becca wore purple to visit her great-grandpa, and it was so sweet to hear him sing her a couple songs including Home on the Range.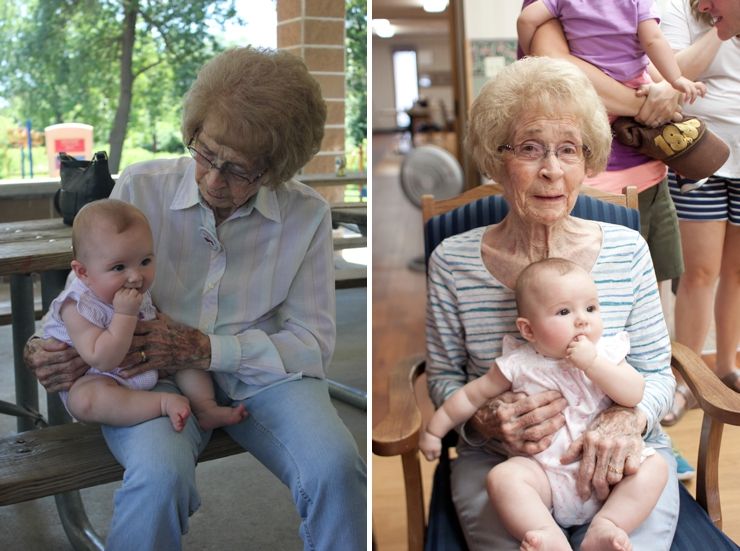 Becca also got to enjoy time with her great-grandma Virginia in Superior and at the Threshing Bee. Rebecca is entering the "put everything in her mouth" stage, though she won't really commit to being a thumb sucker yet and is not interested in pacifiers at all anymore. I packed them up and put them away! Grandma loves her baby great-grandaughter and is always commenting about Rebecca's sweet dark eyes (like her daddy).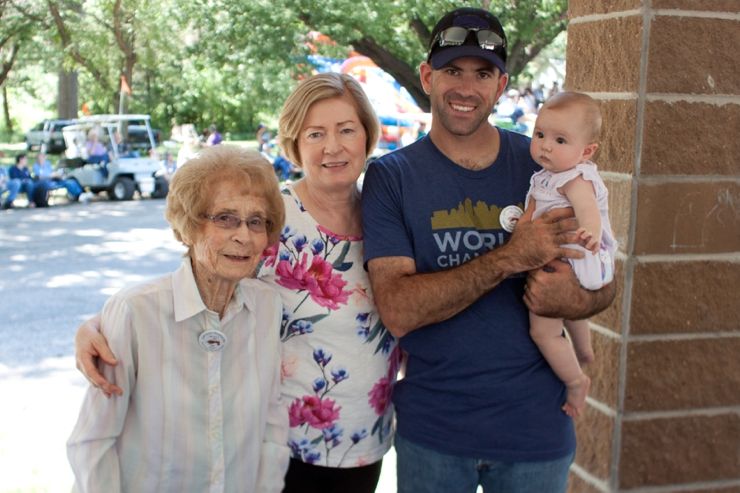 We went to visit Grandpa in the morning and made it to town just in time for a bite to eat in the park pavilion before the tractor parade at the Threshing Bee. Next year, Rebecca will notice the tractors so much more than she did this year. But she was happy to be outside, and it wasn't too terribly hot! I'm still not sure that girl has every gotten fussy or cried while she is outside.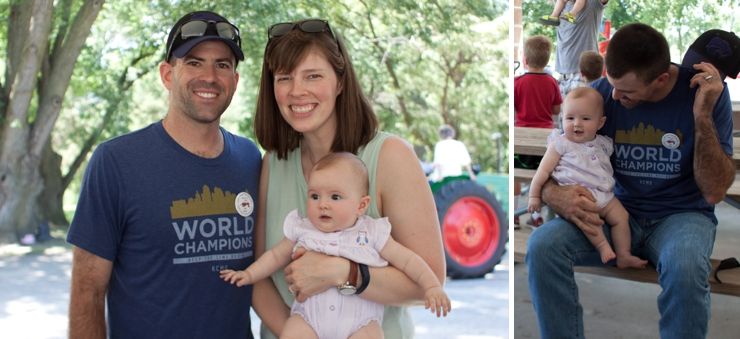 No one drove the tractor in the parade this year - maybe next year! Becca played some peek-a-boo with Daddy while we visited with family in the nice shade of the pavilion.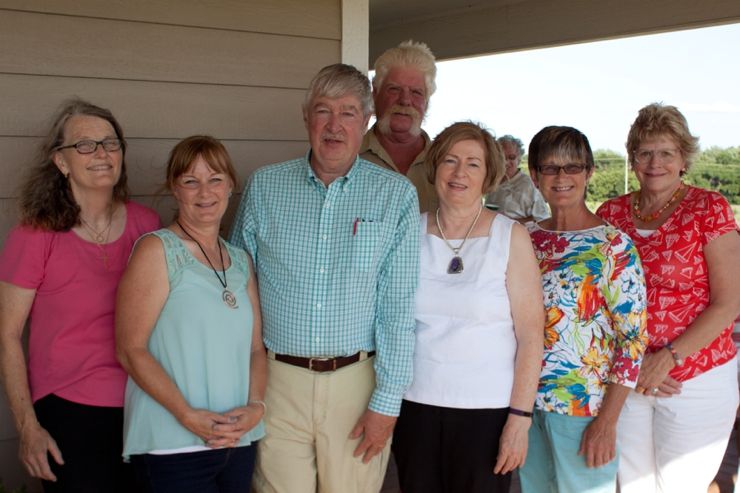 Later that night was the now traditional gathering at my aunt and uncle's house, but this one was designated as a birthday celebration for Bethany's 60th birthday. All of my mom's first cousins on the Roe side were there which is certainly impressive. We didn't make it very long at the party as our little baby was starting to get very tired. Kip talked for a while to a young man visiting from Auburn where he is studying forestry - which is where his dad did his masters degree and PhD in forestry! Small world indeed. There was music, great food and jokes, and we were sad to leave early-ish and miss the beer garden shenanigans back down at City Park.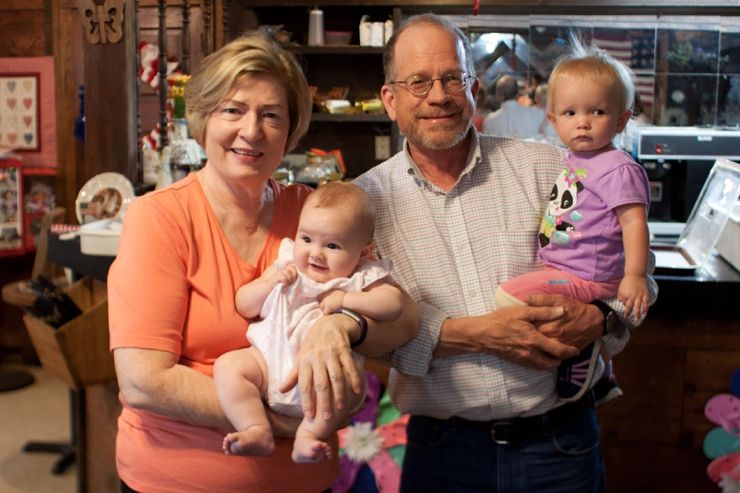 Two years ago, my mom's first cousin on the Lewis side, Rod, came from Wyoming to the Threshing Bee with his wife Sandy and one of their sons who lives in South Dakota. They were back this year, but now Colin and Katrina have baby Anneliese! At 18 months old, it was fun to see all the festivities through her eyes and think about Becca in 2017.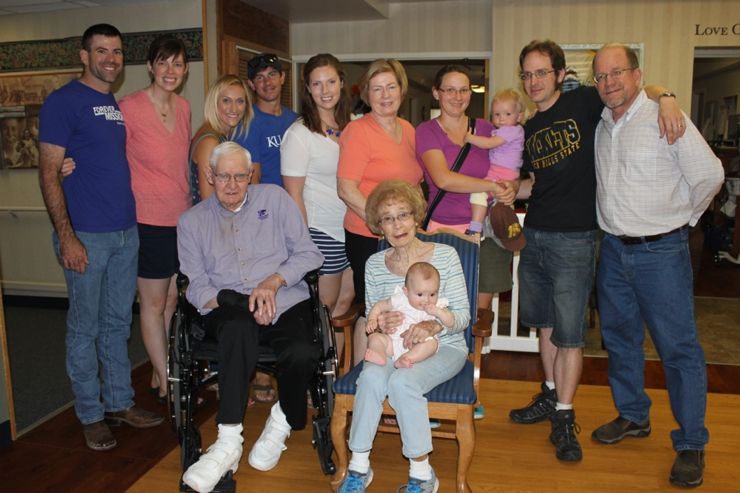 Sunday morning we met for breakfast at the Velvet Rose which is just north of where my grandparents live. It was a new restaurant to us, which is kind of hilarious because it is not a new restaurant! Like we kept asking ourselves, why have we never eaten here? Anyways, after breakfast we went back to visit with Grandpa for a little bit. Everyone sang me happy birthday - Uncle Keith had already disappeared, but technically I share the 19th with him!
It was time to hit the road, and everyone went their separate ways back to South Dakota, Wyoming, Lawrence, Wichita, and Kansas City. The Threshing Bee is mostly a tractor parade, but we've made it into a terrific excuse to all be together and that's why we try not to miss it. Today is my grandparents' 63rd wedding anniversary, and we're so happy they got together to bring us all together. Much much love for this family of mine.