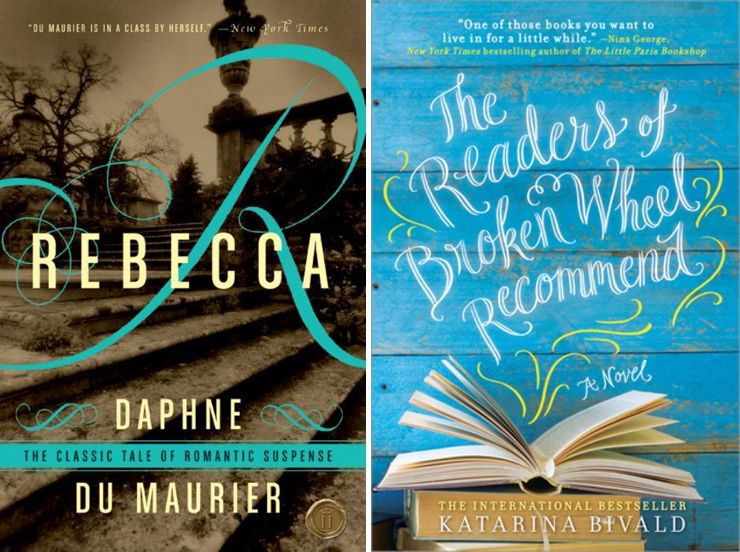 Sliding downhill fast in the last week of summer before I start back to work. It may seem early to you, but it's actually the latest start I've had in a few years. And I'm still going back seven days before the teachers! Here are some books I read...in June...
Rebecca
had been on my list since we chose baby Becca's name. I read it originally in middle school with a red cover and gold letters that made it look like a romance novel. I snagged this one when it was a Kindle Deal, and it holds up really well. By no means is our Rebecca named after this Rebecca, but it's important to be familiar with famous characters that share her name. So thankful I read it again! My friend Kate re-read it during October once, and it's just spooky enough that I totally see why.
The Readers of Broken Wheel Recommend
was the book we chose for mom/daughter book club. It fit the bill perfectly - plenty to talk about, accessible to everyone, a little bit of love and not controversial. It was our fourth mom/daughter book club, and my favorite one to date. We met on a weeknight and had a lovely party room all to ourselves. Broken Wheel is a small Iowa town, and the story centers around a little bookstore and a few quirky townspeople. There could be a whole genre of books about bookstores now (usually recommended to me by people at our favorite independent bookstore, Rainy Day Books).
The Storied Life of A.J. Fikry
is still the best one in this newish genre, also a mom/daughter book club selection.
It's worth noting that the next generation is clamoring for their own book club now too. When is mom/kid book club they ask? (The ones who can talk, that is.) All nine members of the book club have babies so maybe it will come together soon.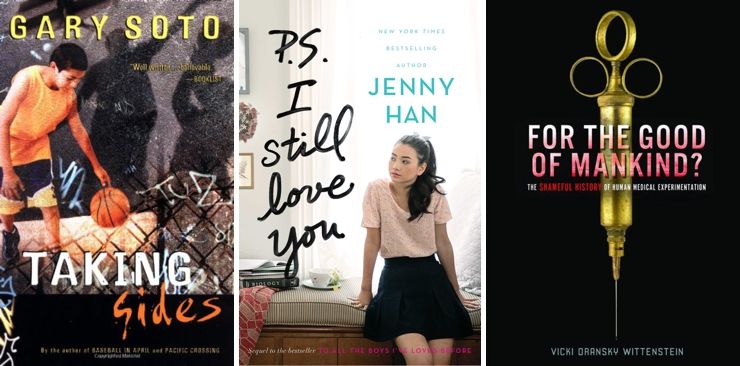 Knocked out a few young adult books as I prepare for the next generation Battle of the Books in KCK and making recommendations to readers at my school.
Taking Sides
is an easy to read Gary Soto story about fitting in, neighborhoods, and basketball. Even though it was written long before Snapchat and iPads, I think our students can still relate to this story. It's one of the books for the fall competition.
P.S. I Still Love You
follows up on the characters from
To All the Boys I've Loved Before
.
While the premise in both books is pretty cute - what happens if all of your crushes found out years later that you had a crush on them - the second book is a bit too risque to make me feel good about handing it out to a lot of middle schoolers. It is by no means explicit, it just seems to be the main topic in a really disappointing way, and besides that the general story isn't very good. The main character spends every Friday night volunteering at a nursing home. This is a weird premise. Jenny Han's first series is much better than this pair of books. Pretty much my ENTIRE book club read those books as as a guilty pleasure (
The Summer Without You
.
For the Good of Mankind
was weird and terrible. Originally supposed to be one of the books for the book competition in KCK, we've since removed it from the list. It's a nonfiction book about medical experimentation, and it's awful. I absolutely think that middle school kids could read it - the readability level is appropriate. However, I'm nervous about not using it as an instructional text. It's a lot to process. So I read it, hated every page, but at least have learned a few more details about just how bad medical experiments have been in our history. We have some better fiction and nonfiction items we are considering adding to the list for the fall!