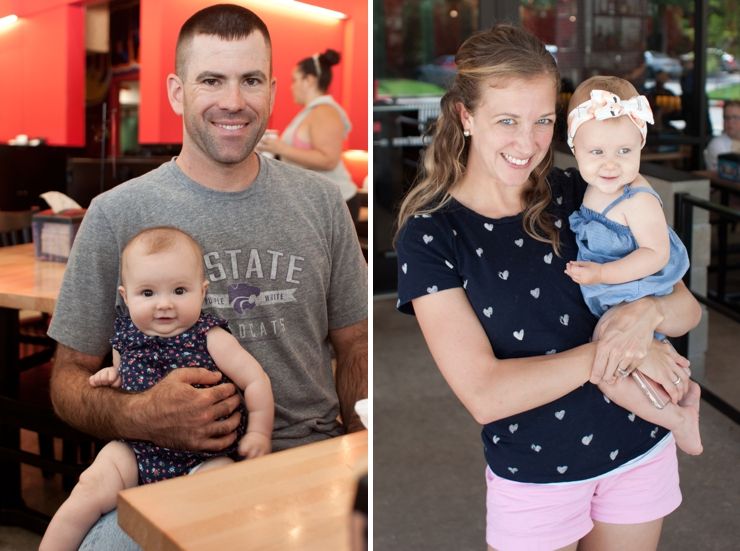 I realized that I hadn't even processed the photos from our trip to Texas at the beginning of the July. Probably because I'm struggling to process all the ways life has changed for the Scotts since we were there. Rachel's
posts each night
share the big and little gains that Braden is making, but they are also enough to break my heart each and every day. Here are a few photos from our trip to Texas...they are a little bit sporadic but tell most of the story of our time while we were there.
Rebecca's third airplane trip was non-eventful and pretty easy with a direct flight from KC to Houston. We arrived early enough on Saturday to make our way to Torchy's Tacos in Houston before heading to Beaumont. Torchy's did not disappoint, and our daughters were obviously delightful in the restaurant. Merritt was born last September, so a short five months older than Rebecca. It was hot, but that's to be expected from Texas in July.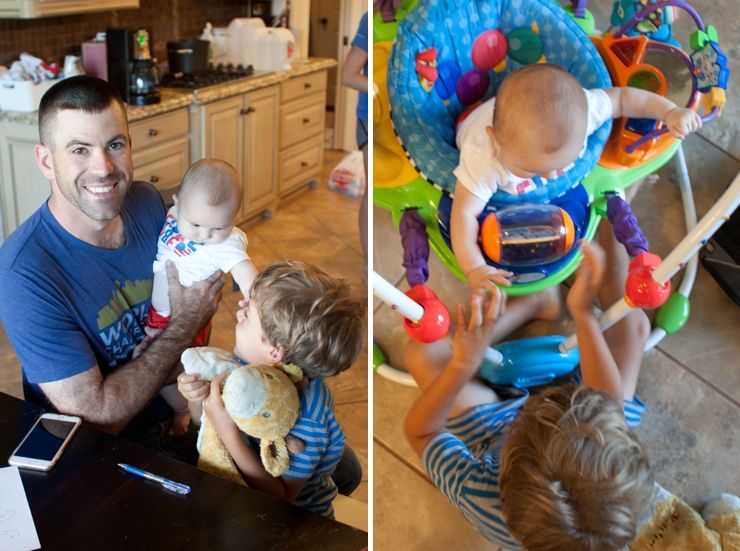 We spent lots of time hanging out at the Scotts' home, which suited us fine for a vacation. Finley and Kip played many hands of a modified version of Go Fish (the rules were definitely a little fishy!), and the babies were definitely entertained by all the action.
Braden, who really is the sweetest, tried to make Rebecca happy while we were there because he has learned a lot about babies being a big brother to Merritt. Would I have normally blogged these photos? Maybe not because they are kind of wonky and not totally in focus. But looking at them now, they are too much. Look at Brady showing Becca his beloved giraffe, Tucker! And trying to make her so happy in the jumperaoo, showing her how all the toys work! We're rooting for you, Braden Luke, and praying for you often, but especially each afternoon at 4:12.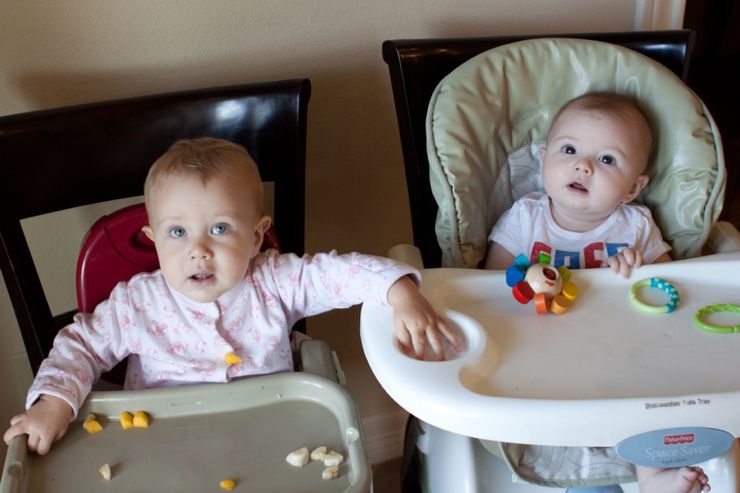 Here's the baby BFFs looking at me with admiration. Actually, it's because I am shaking a toy above my head.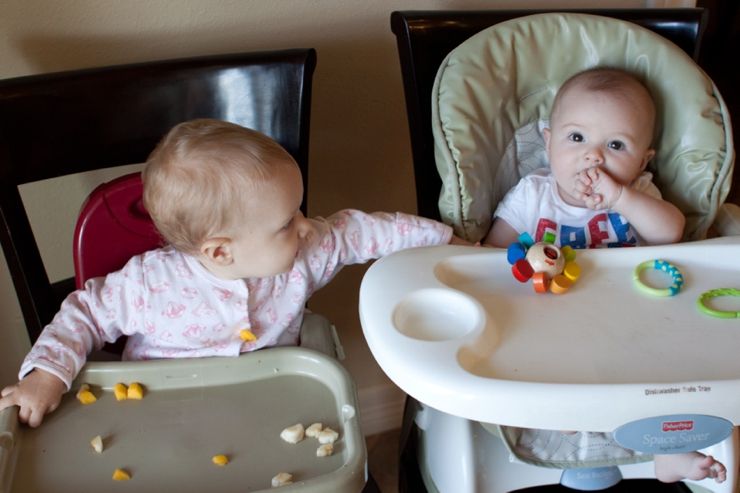 We're getting SO close to solid food in our house, so it was fun to see Merritt working trying everything from pulled pork to mango. It looks like she's trying to hold Rebecca's hand in this picture!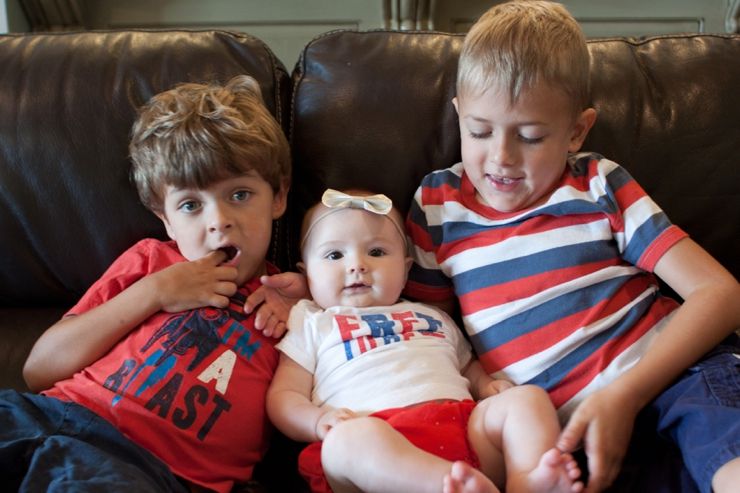 All the kids wore patriotic clothes on both July 3rd and July 4th thanks to careful planning by their mamas. Here's lucky Becca with Braden and Finley on the 3rd. It really was very relaxing, even with five kiddos, two dogs, and four grown-ups. We swam twice at the house of Rachel and Sol's friends, Sol smoked wonderful ribs and pork shoulder, and we ate great Texas peaches.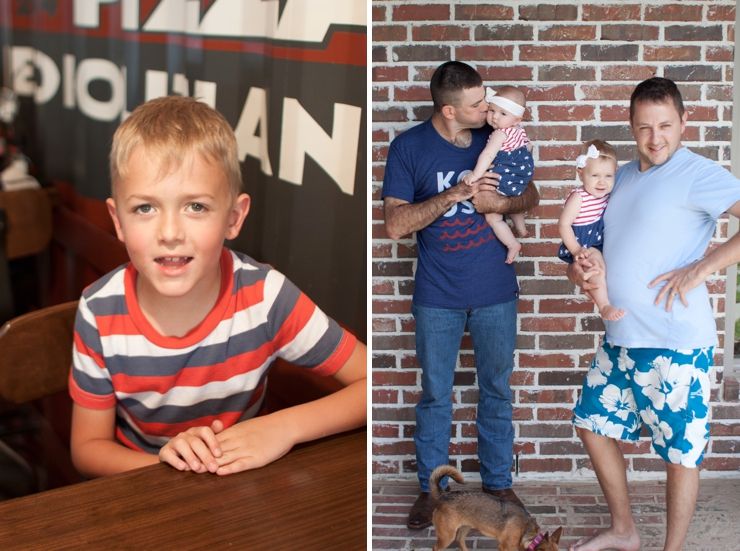 Besides Torchy's Tacos, we also got to experience another one of their favorites, Crown Pizza. It was really amazing, and the cheeseburger pizza came with fries on it! We love a good cheeseburger pizza - that's our favorite kind to order in Kansas City at Minsky's. Finley has gotten SO big - it's crazy to think about moving to Virginia 7 years ago to live with the Scotts and go to grad school when he was just a little baby. He's a pretty smart kiddo, impressing us with his vocabulary and mad math skills. He preferred Kip to me, so apparently he's forgotten how much he loved me when I lived there. Same story, different day as the kids always love Kip. Sol and Kip get along great, and they remain tremendously good sports about Rachel and Victoria's never ending list of fantastic ideas.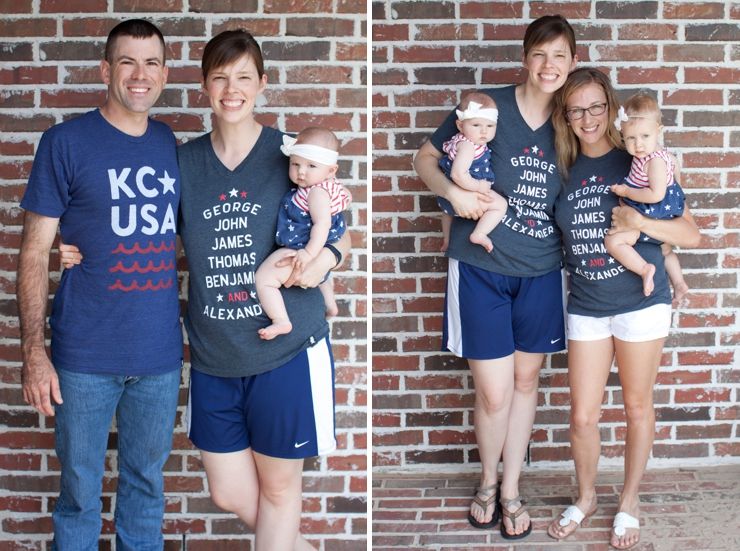 Like these shirts we wore on the Fourth of July! Rachel and I have a thing for Hamilton, so we had to get these matching Stately Type shirts. The first design didn't have Alexander on it, but the public spoke up and Hamilton was added! We ordered matching rompers for the babies, and I think that Rach, Mer, Becca and I are about the cutest matching BFFs there ever were on the Fourth of July. I also love this family photo, especially with Rebecca kind of squinting and looking tough. Really it was just bright outside!
I got to talk with Rachel on the phone last night for almost a half hour, and it was really good. I asked her some questions, we talked "what ifs" and "what nexts," and her trademark planning has taken a new direction but made it seem like a regular old conversation we would have had. If you aren't already, check out the
facebook page
for regular updates. You don't have to have a facebook account to read their updates each day. Thanks to everyone who has reached out with support, love, and prayers.