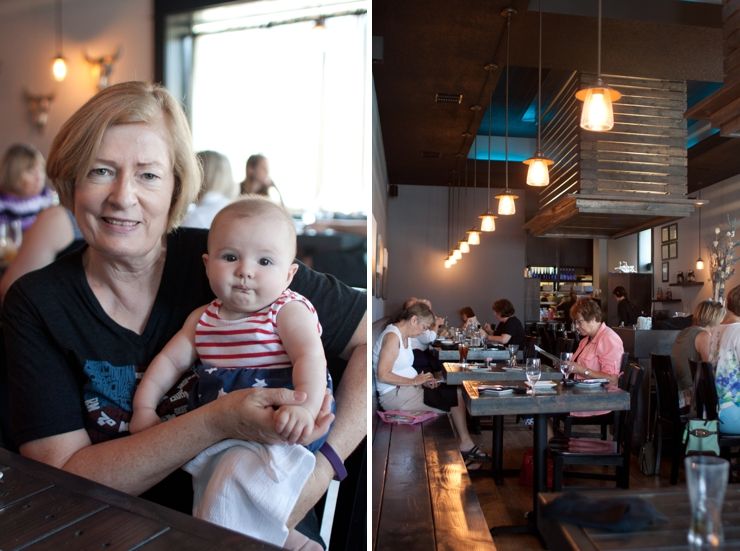 Mom and I made a return trip to Hamilton, Missouri to visit Missouri Star Quilt Company on June 27. It feels like it was so very long ago, even though it was only two weeks. Since our trip to Hamilton, we went to Beaumont to see Rachel and company for the Fourth, and we have been worrying and praying for our friends in Texas since we got home. Rachel's second son,
Braden
, was getting sick while we were there. He has gotten much worse, and they are looking at a long journey to get him well. Praying this morning that he might be on the right track with a possible diagnosis. Rachel is keeping people up to date through her
instagram feed
. We're obviously all #teamBradenLuke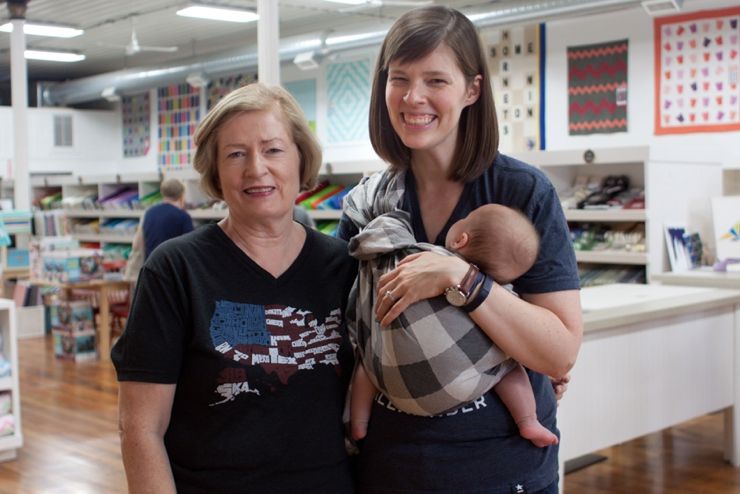 But back on the 27th, Mom and I drove to Hamilton and took Rebecca with us. She was a quilt shop trooper, snoozing on the 90 minute drive, and even a little bit while we shopped (her head was supported in the ring sling, the angle just looks funky in this photo). Mom and I are wearing patriotic gear made by our favorite t-shirt shop,
Stately Type
, because we were going to Hamilton, Missouri, and I'm a bit obsessed with all things Hamilton these days. You can't see my shirt with Alexander's name on it right now, but don't worry, you'll see it in photos from the Fourth. We also knew that the people who make Stately Type tees are big quilters, so they loved Mom's instagram with our tees on at Missouri Star Quilt Co. We obviously put Rebecca in a patriotic romper as well.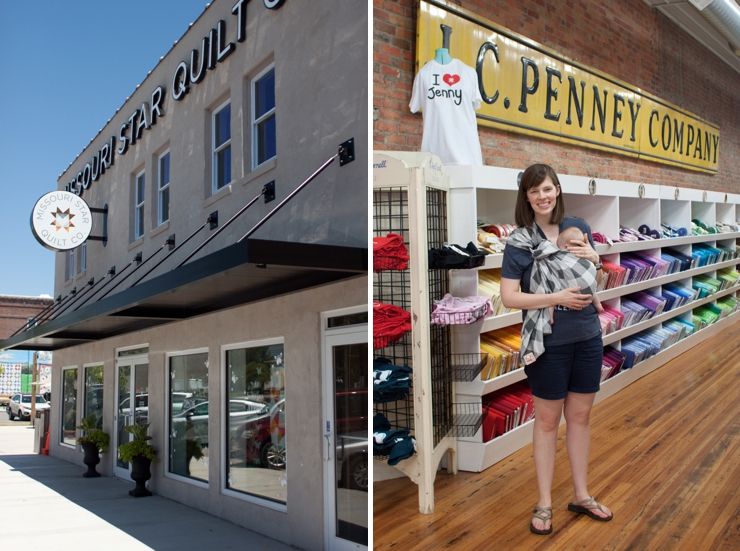 It really is an incredible place to visit with eleven quilt stores all on Mainstreet and a fancy little restaurant that we enjoyed at lunch time. They are all owned by the same
company
, and they are organized into themes. The main shop just reopened, so we looked in there before heading to the two main reasons for our trip - Sew Seasonal and the Kids & Baby. Mom has decided to take on the big project of all new stockings for the family so she can make matching ones for Kip and Rebecca. And I found a little project in Kids & Baby for Rebecca when she gets a little older. It's worked best for us to know what we might like to make when we go. There are so many beautiful options, it would be easy to get a little carried away!