Rebecca, Lauren and I spent the second weekend of June in Indianapolis celebrating Mitchell's high school graduation. Yes, I know, I can hardly believe it myself! He turned 19 last Tuesday and is off to Miami of Ohio next year, but more on that later. Rebecca's first flight went pretty well! I wore her in the Ergo, convinced her to nurse as much as I could, and she even slept a little bit. Coming home was another story...
While we were in Indy, we helped with some party preparations, enjoyed the party and then relaxed for the next couple days. On Saturday, Spencer was playing video games in the sunroom and wanted me to bring him Becca for some morning cuddles. You can't see her little dimple in these photos, but Spencer's classic Luhrs dimples are definitely visible. He's also sporting brand new braces that he was adjusting to while we were visiting.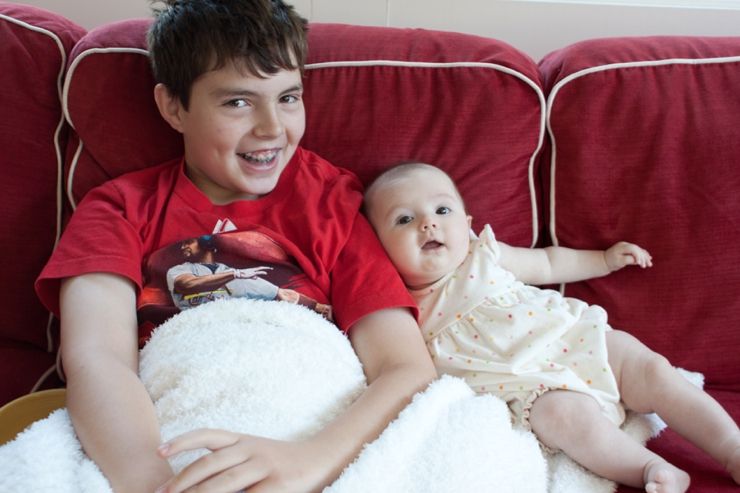 Rebecca's sitting is still a skill in development, but she was happy to lean into Spencer while I grabbed some photos. She makes this adorable cooing sound that sounds like "Hi!" so Spencer and I discussed first words. He was a bit surprised to learn that she doesn't have a first word yet and won't for a bit longer. For the record, we asked his mom and his first word was "Daddy."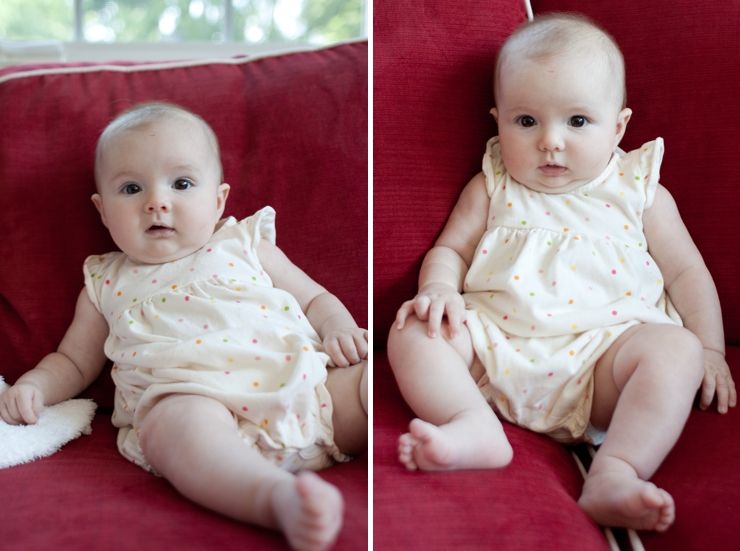 It's definitely baby romper season and this one fits so nicely. She's outgrowing a onesie every single day, but this
romper
has room for a few more weeks of fun. It's the softest thing she owns!
We really enjoyed our time in Indy, and Rebecca slept pretty well for being in a new place. When we flew home on Monday, we were on our own as Lauren stayed behind to do depositions. I had practiced how I would do without her help while we were going out, so I felt pretty confident. But boy did we struggle a bit more on the way home! As Dad dropped me off, I poked her in the eye loading her in the Ergo. She screamed a bit, but it didn't really start watering until we were in the air. We sat on the tarmac for an extra 30 minutes which was hot and tricky because she already wanted to eat making takeoff a bit harder on her ears. About halfway through our quick 75 minute flight home, Rebecca had a huge blowout of her diaper all over everything. She made a spectacular mess.
I really couldn't decide what to do, so I ended up just staying put. I was in the window seat, and I wasn't sure how I was going to manage to get out past the two businessmen with my backpack, Ergo and baby to try to change her. And I could tell it was going to be a mess! God bless the two men sitting next to me who carried on like there wasn't a smelly 14 lb. situation in their row. She cried a bit coming down, and I tried the best I could with nursing and a pacifier to help her little ears adjust. After we landed, I loaded her in the Ergo and grabbed my suitcase before Kip helped me get everything cleaned up. She slept all the way home after not sleeping at all on the flight. We ended up going to urgent care that evening to get her eye checked (it was literally fine by the next morning!), and life went on. I could definitely laugh about her accident by the next day. She's a baby, and that's what babies do, sometimes at really inconvenient times.