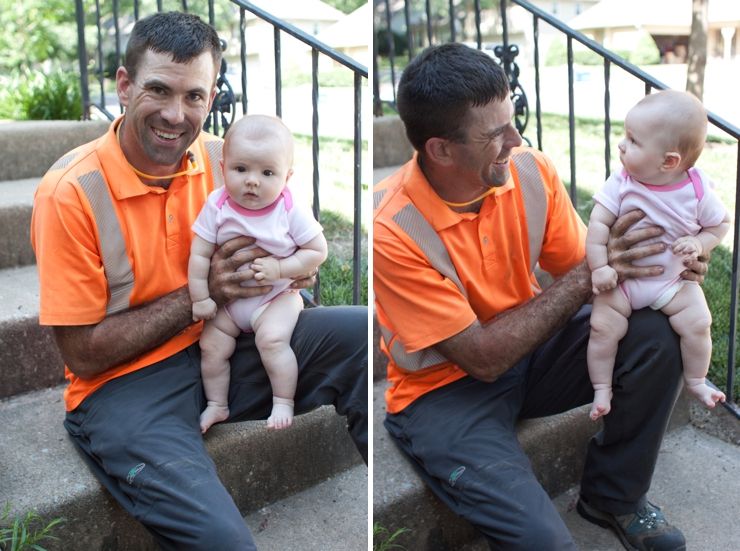 Kip came home early the other day from work so that he could be here while our AC was getting fixed (yep, as hot as it sounds), and so that Becca and I could go meet a friend for dinner. After visiting with the AC repairman for a bit, he disappeared. Rebecca and I went looking for him and found him a few feet off the ground in the tree in the front yard! He had decided to get a little bit of overdue pruning done on the pecan tree - overdue in Kip's eyes because I surely couldn't tell the difference. Rebecca and I watched a bit before I went back in and grabbed the camera for some action shots and then took these shots with Rebecca after he got back down.
It is no surprise to anyone who has met Kip that he is a fantastic daddy to Rebecca. He's a natural with children, and kids are definitely drawn to him. Pretty sure whenever I'm with my friend Erica's 2-year-old Maddie I spend most of my time answering questions about where Kip is and what he is doing. Erica said the other day Maddie was talking to Kip on her play phone! When we went to the Royals game on Friday night, Kip was barely sitting in his chair before the third grader next to him struck up a conversation about all things life and baseball. Kids love the guy.
He's exceptionally patient with Rebecca and encouraging as we try to figure out feeding and sleeping. He does not worry ("Would it help?" he says) and is super sweet with our little nugget. She's had her days of needing mama most, but he adjusts better to her phases than I do. Kip wears her in the Ergo, reads her stories and is the bath time resident expert. They walk around outside a lot, and I know he can't wait to teach her all the things he knows. She's a very lucky little girl.
Happy Father's Day to Kip and all our dads! We are definitely doing it up right with dads this year, spending last weekend with my dad in Indy and this weekend with Kip's dad Keith in Manhattan.