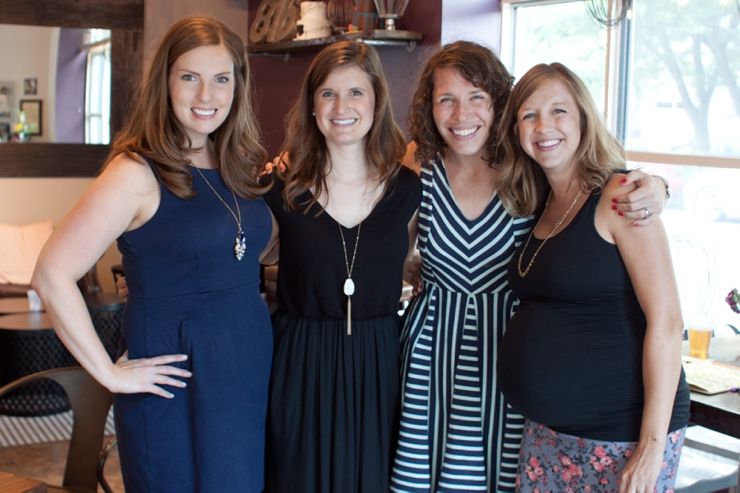 Lauren is a bridesmaid for the lovely Megan later this year, and we're ALL having so much fun in the festivities leading up to the big day in September. Lauren and Megan have been friends since their sorority days at K-State, and she has always been a Luhrs Ladies favorite. Getting to celebrate with Meggie is an added bonus because she's been in Chicago at PA school the last couple years and is preparing for a move to Colorado. A wedding is an excellent excuse to hang out and catch up!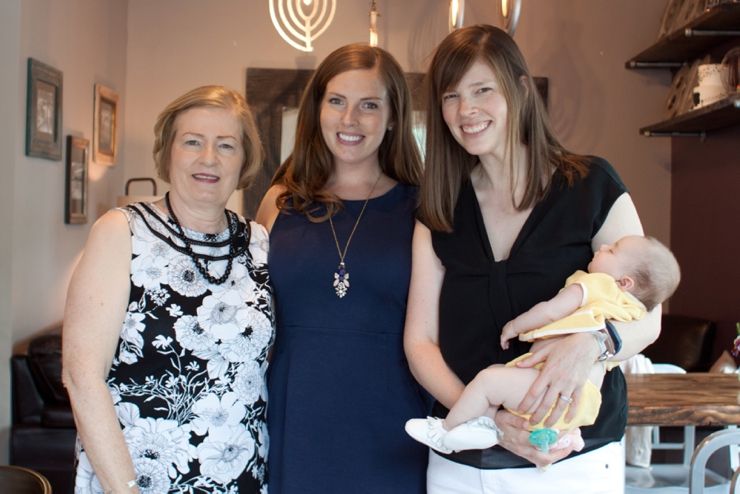 Rebecca was awake and cute for most of the party, but she definitely needed a snack and a nap after a while. Megan's shower was the second party of the day for the baby, and she was definitely worn out after all that attention. I wrote about it on Instagram, but Kip didn't understand why she would need to wear something different to each party. But with all the cuteness she has in her closet, I love to change her whenever I can and whenever there will be photographs. This lovely yellow dress was borrowed from Miss Olivia, and she was darling in it.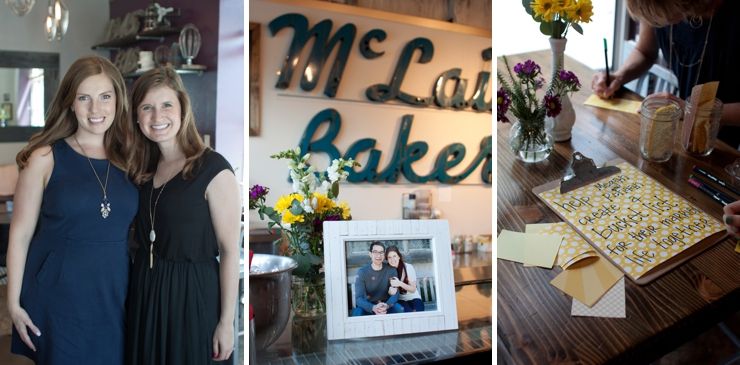 The hosts planned Megan's shower at McLain's Bakery, one of my very favorite Kansas City originals. Their location is open for private events after they close on the weekends and weeknight evenings. We had a lovely spread of salads, sandwiches, and obviously cookies! McLain's is opening a second location 2.2 miles from my house, and I think will even have a drive through. This is obviously fantastic and terrible news as their cookies are really some of the best, and it will be the closest independently owned coffee shop to my house!
There were three little stations around the room to leave notes for Megan and Rehaan. Questions and answers from me (in italics) below:
What's something that should go on their marriage bucket list? Eat dinner at the bar. It's actually easier to have conversations sometimes when you're huddled up together knee to knee and elbow to elbow.
What's advice that you have for the newlyweds? Whatever tasks you each preferred to do before you got married, keep them! If Rehaan does the ironing best, let him! (And I recommended a new iron to make the job even easier because apparently he does like to iron. Just like Kip!)
What's your favorite memory of Megan? When she had jello shots in her purse in Aggieville!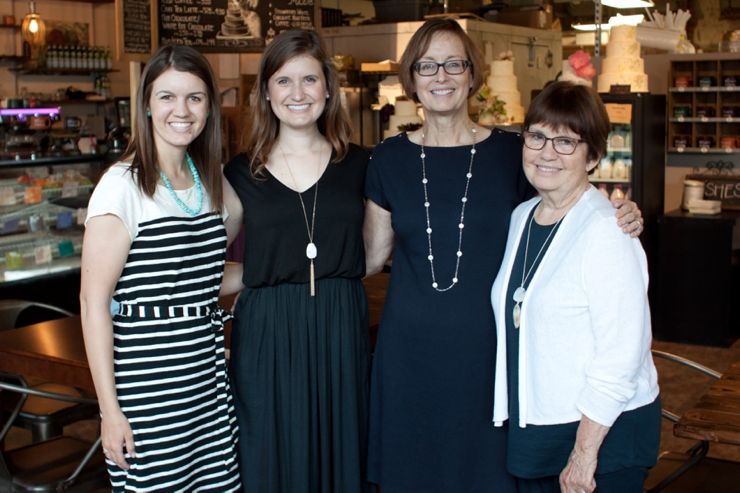 Megan's sister (a new K-State grad), mom and grandma were all there for the shower. Her grandma told me very sweet stories about her experiences at the American Royal, a place you know that I love. They are all from Lyons, Kansas, and we think the whole family is pretty awesome. (See this
article
for more proof.) It was fun to shower her with gifts and help them prepare for their Colorado move, and we can't wait for the celebrations to continue!