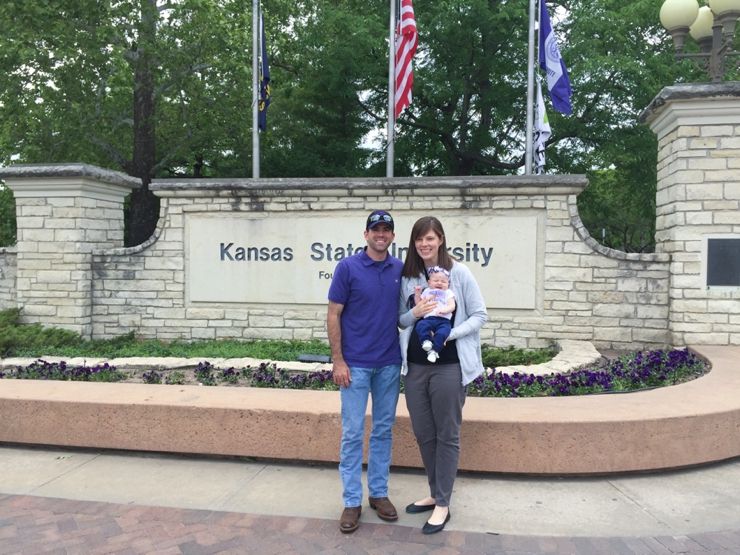 We went to Manhattan May 13th through 15th so that Kip could try to hunt turkeys. He was unsuccessful, just like last fall when he tried to hunt deer. He always enjoys sitting in the middle of rural America by himself, but it was a bit of a bummer to have two seasons without much luck. He did go much later than he normally would have so that could have affected the outcome. But between our new baby and a couple weekends of sickness, that was the best we could manage in 2016!
Rebecca and I spent the time he was hunting with Grandma Karen, Grandpa Keith and Uncle Kenny. We met a friend for coffee on Saturday and took long Saturday afternoon naps as we tried to fight off the virus that was sticking around our family.
I got in my head that I really wanted to take Rebecca's photo in front of Higinbotham Gate. Because it was graduation weekend and Kip was hunting, we waited till Sunday on our way out of town to take the photo. There was still a small crowd of graduates in a line, some even waiting to take a photo with their cap and gowns from the day before!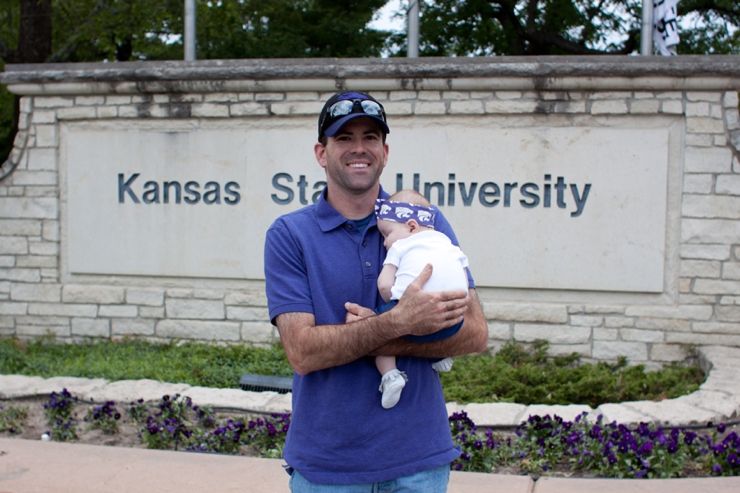 Rebecca wanted to nap through the whole thing so she was definitely a little fussy about the interruption of her sleep. She was looking pretty adorable in a onesie with her name on it and a purple megaphone that you mostly can't see in the photos! Thankfully the headband that Rachel made her shows off some purple really well.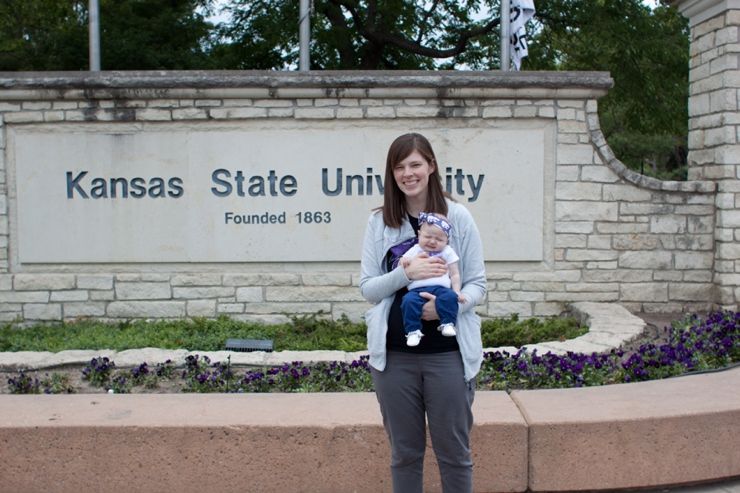 A note for Becca: Rebecca, truthfully, we'll be really excited wherever you go to college in 18 more years. We just wanted you to know your roots and the place that Mom & Dad loved for very different reasons. Because Daddy grew up in town, K-State was his whole world. That's where Grandpa Lynch was a teacher. And your mama, grandma, Aunt Lu, and great-grandpa Lauren all loved going to school there too. We all love the football, the pretty blue sky behind the limestone buildings, and the kind Kansas people. So just in case you choose K-State too, we have these photos of you in front of the gate. We can recreate the photo at your graduation in 22 years. Or 23 if you are like your Mom and Dad (but hopefully 22!)