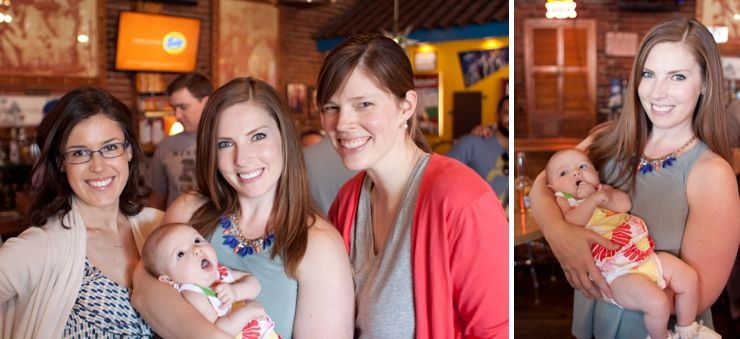 After a break in 2015, the Queso Crawl returned on April 30. It was the third one, and we were excited about a great reason to drink Mexican beer and eat a lot of cheese. Hostess and planner extraordinaire
Amy
upped the competition this year with the addition of guacamole to the official ballot.
It's one of my favorite traditions, and I enjoyed looking back at year
one
when Rachel was visiting (and pregnant with Keaton!) and year
two
when Kip and I were almost engaged, and he still wore glasses. And for year three we brought a baby! I tried to pick an outfit that screamed "fiesta" for Rebecca to wear.
A big part of the core crew of queso crawlers was back, plus new additions that are always welcome. Lauren brought quite a few of her friends, and she's always happy to see her niece too. For as much smiling and talking that Rebecca does at home, she was pretty overwhelmed while we were out and about and pretty much just vegged in our arms, looking adorable.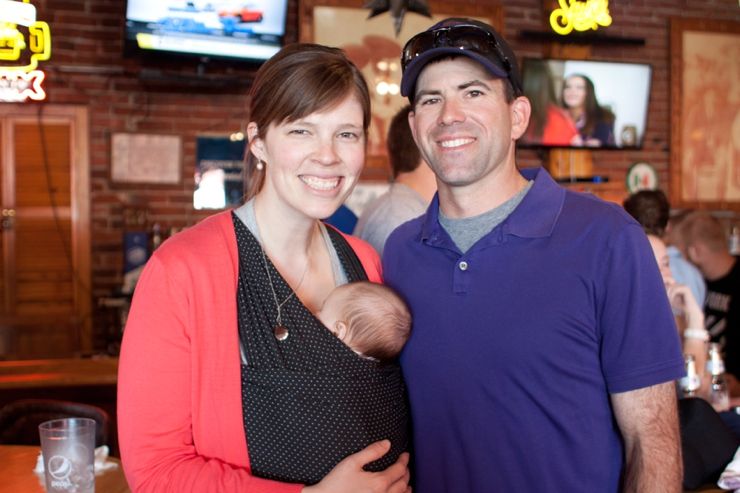 After a while, Rebecca was ready to take a nap. I pulled out the Solly and began to wrap it up so that i could wear her. I really wish that we would have been recording Lauren's roommate and his date while they watched it happen. I didn't really notice, but they were standing over to the side in disbelief that all those yards of fabric would be in use. And then they couldn't believe that a baby would fit in the wrap! I quickly turned them into believers as Rebecca not only slid in easily but also fell asleep within a couple of minutes for the remainder of the party.
We only made two of the crawl's official stops with the group at Los Tules and at La Fonda El Taquito (pictured above), before the group went on to Margarita's and El Patron without us. However, we weren't surprised with the voting results. The queso winner remains Los Tules and the newly named champion of guacamole is El Patron.