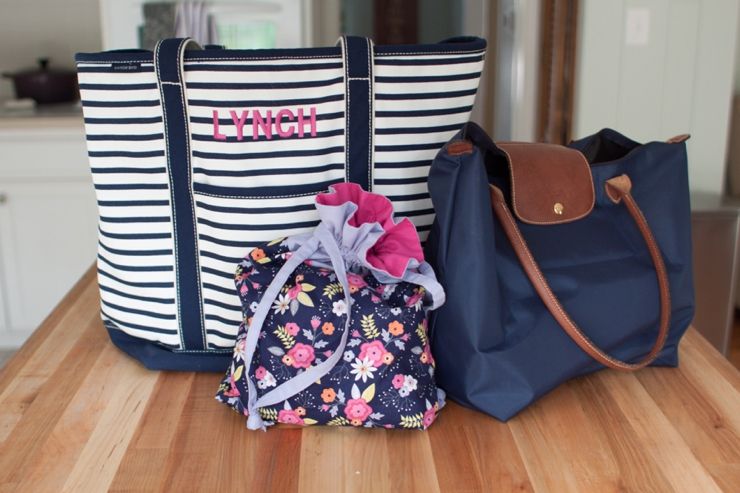 This post, as you guessed by the title, is all about the bags used to get a baby and her stuff everywhere. If that is totally uninteresting to you, don't worry, I included Rebecca photos at the bottom.
I asked everyone about what they used for diaper bags, and I looked at the options lots of places before deciding to go with a classic Longchamp tote in navy. Two of my friends have used theirs as diaper bags for a couple of years, and it is pretty much perfect in size. My new
Longchamp
was a Christmas gift from my in-laws and replaced my first bag that was identical. I purchased the original in 2006 on a trip to visit Rachel in Boston. Over the next nine years, that bag went literally all over the world (Paris, Belgrade, and Budapest even!), serving as my tote when I worked in DC and as a camera bag, so I knew it would hold up well and fit my style.
To keep baby essentials organized in the Longchamp, my mom made these
ditty bags
for my friends. They are a quick and easy sew, and I have even made a couple myself! Mom made mine out of fabric that matches Becca's quilts. It's roomy, and inside I have diapers, wipes, a burp cloth, a spare set of pjs, and this
changing pad cover
to use on the go for diaper changes. It washes easily! Erica tipped me off that a roll of bags just like I carry for Belle's messes on the go work great in the ditty bag too. They're pink even! There's still room in the Longchamp for my wallet, sunglasses, etc. and my nursing cover that Mom sewed using this
tutorial
. Rebecca is getting bigger and more interested in stuff, so I've got room in the Longchamp for a book and an
elephant
to chew on too! Because the bag itself is so lightweight, it's still comfortable full of everything we need. I only really feel like it gets too heavy when I add my camera.
Getting all of the parts needed for pumping to school was another challenge! I used an old Vera Bradley that I had laying around for a couple weeks till I got a feel for what would work for me before I ordered this
Lands End large canvas tote
. I wanted one that zipped for carrying everything in and out of school and to meetings, plus it had to be big enough for a lot of accessories, my laptop and planner, and even my lunch bag. I didn't want to lug any more bags around. It's not too heavy, and it makes me really happy with it's bright preppy stripes. My friend Leah pointed me in the direction of this
lunchbox
which fits bottles and a small ice pack perfectly, and bonus, is nice and tall to stand up in the tote.
After 14 weeks of life with Rebecca and 6 weeks back at work, I'm happy to report all the bags are working really well. The striped tote will also get some use this summer on various road trips we go on, and it really is so lovely.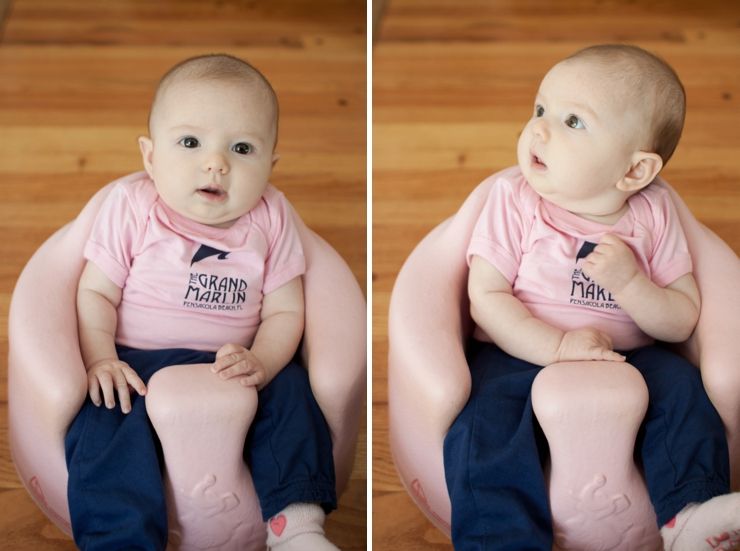 And as promised, Rebecca photos. Because she's too cute sitting in the bumbo like a champ.