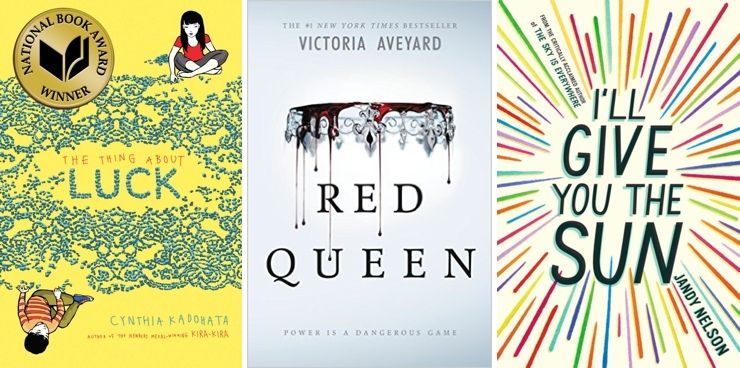 I finished one book in February while we were waiting on Rebecca, and then there was too little sleep for reading. After a while, I got into a rhythm with nighttime feeding and have been able to read a bit more.
The Thing About Luck
is a young adult book from the author of
Half a World Away.
It's an interesting look about culture as the young children in the book spend the summer with their Japanese grandparents working on a custom harvest team. They are from a fictional town in Kansas, and it is a story about family, tradition, hardship and fitting in. I liked it for the Kansas connections, and I imagine for students in other part of the state might be able to connect a bit more. It would be a bit of a stretch for our kiddos.
Red Queen
is sold as a young adult book for people who love the Selection series and Hunger Games. And it is
very very
similar, but with more supernatural elements. It is the start of the series, and I haven't decided if I will continue. It definitely ends with a cliff hanger. However, I do think I will recommend it to students. It's got the right amount of all the features our kids love about dystopian novels - a strong female character, a couple legitimate love interestes, and the underdog.
I'll Give You the Sun
is the last young adult book I read in March. The format is extremely well done as the chapters alternate between two twins, a boy and girl's point of view told a few years apart. My friend Abbey and her high school art students could probably relate to the setting at an art school and the sculpture, sketching and painting that the twins do. The YA books I have read lately are more depressing than the adult fiction books, and this one is no different. I would feel better about 8th graders and older reading it - it's got some sexuality elements.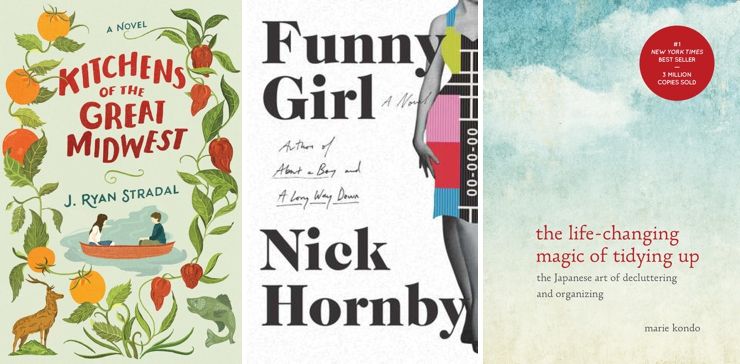 If you read one book from this round-up, make it
The Great Kitchens of the Midwest, A Novel.
Kate chose it, and it's one of my favorite books I've read in a while. It's a wonderful compilation of shorter stories that make one big story about a famous fictional chef in the Great Lakes region. I have no idea how the author crafted the story - it's brilliant - and a fantastic debut novel. I'd read more books he writes for sure! (Bonus: just read this
NY Times Review
and apparently he also is a tv producer for shows like Deadliest Catch. Who would have guessed??)
Before I started keeping track of books, I read About a Boy by Nick Hornby because I loved the movie and the soundtrack. I'm also a fan of his Fever Pitch movie with Jimmy Fallon. So it's not a surprise that I really liked
Funny Girl
about a fictional British comedy star in the 1960s. The book includes all the folks who work on the show and follows their lives and careers. It was good, but let me use it instead as a plug for my favorite podcast, Pop Culture Happy Hour. When it is new on Friday it is easily one of the highlights of my week, and they discussed
this book
a year ago.
The Life-Changing Magic of Tidying Up
is a very buzz-y book that seems to be sold everywhere. We read it for our March book club with a sort of spring cleaning mindset, and it made for some hilarious discussion. Some of us are neat freaks, some of us are hoarders, and if we aren't one of the two, we're married to a neat freak or a hoarder. She makes some good points about the amount of STUFF we have in our homes, but none of us could drink the koolaid on the Kon Mari method completely. I did take every single piece of clothing out of drawers, cabinets and the dreaded plastic tubs in the basement and ended up with 96 items for goodwill. I'm not sure it changed my life, but it was a good reminder to be a bit more careful with the things I buy. I'm also inspired to downsize my piles of books, but she's not getting near my photo albums.
Also, thanks to Nanette for this hilarious follow-up on why tidying up is challenging for parents. This line summed up my feelings reading it at 1 and 3 am feeding Rebecca perfectly:
Being home with my baby, I have a lot of time to fret about the clutter in my house, but not a lot of time to address it. My hands, quite literally, are full.