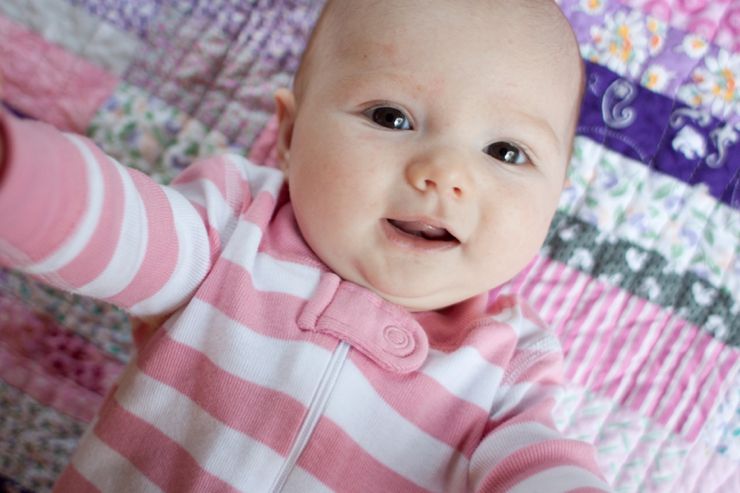 It is officially time to start transitioning Rebecca into the next size clothes, and I am taking it pretty hard. I tried to explain to Kip that I was going to be sad to put away all her 0-3 months clothes, and he looked at me funny. All of her newborn onesies were borrowed or lovely hand-me-downs, but the clothes she is outgrowing now I am a bit more attached to! So many little memories of getting to know this sweet baby over the past couple months. But the time has come and her feet are definitely bigger than the bottoms of the footie pajamas. Thankfully these cute pjs don't have feet on the bottom so she hasn't outgrown them yet!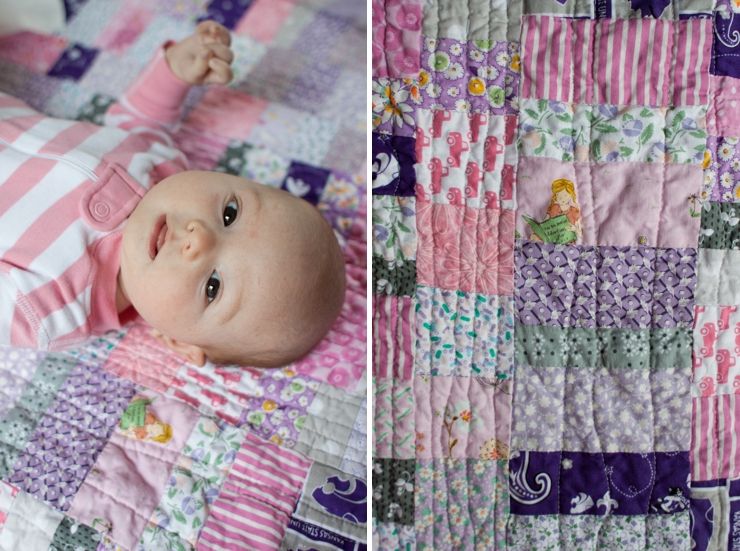 This quilt was a surprise gift from our friend Abbey's mom Vicki. It's pinks, purples and gray are in perfect proportion to Rebecca's nursery. The fabrics she included are so sweet too from the pink trucks to the little girl reading and the K-State Powercats. Rebecca is lucky to know so many talented seamstresses! It's nice to have a good blanket collection for the cutest photographs and to make it cozy on the floor for tummy time and hanging out in the living room.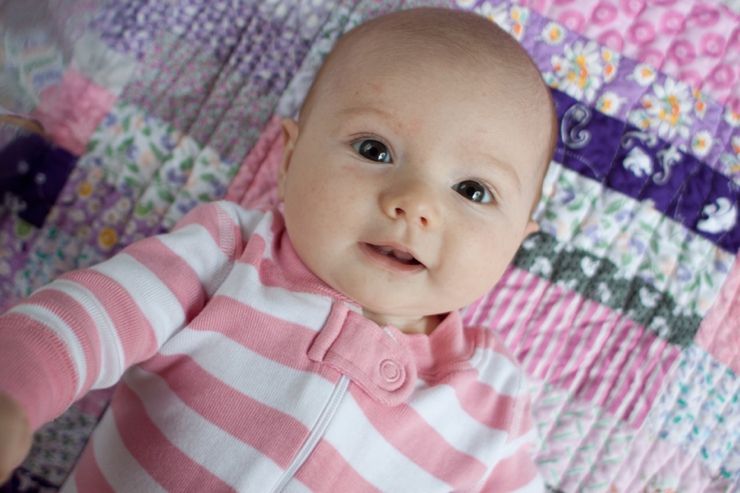 I took these photos on Friday as Becca and I kicked off our three day weekend. I think she took the two month shots a little harder than we thought initially and having her first sniffles had thrown her off a bit at daycare. So we were all glad for a long weekend to rest up! It's hard to say if Becca brought home the first cold or I did, but we both took a beating after our eight weeks of maternity leave in a pretty germ free bubble. The weekend was good with an evening walk to enjoy the nice weather, some time with friends, and a class about parenting at the church.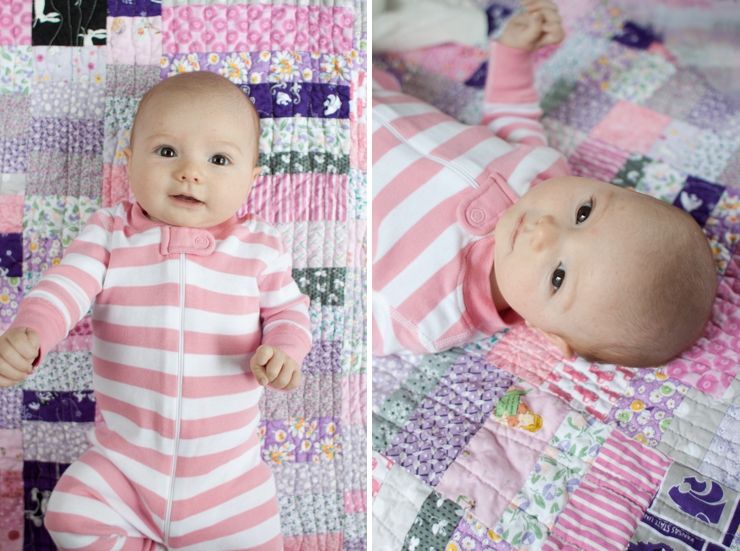 Rebecca's hair doesn't seem much longer yet, but the little wisps are definitely dark and starting to fill in a bit more. My mom was holding her last week and said, "She does look a little bit like Kip," and I quickly agreed though we can't put our finger on why! It might get clearer as she gets bigger.

And since this is a random post full of tidbits about our little nugget, tell me about what you do with books. Kip was reading Madeline to Rebecca last night (yes, it was as cute as it sounds), and he was getting frustrated with the dust jacket which already looks like it's taken a beating even though Rebecca hasn't even touched it yet! Do you keep the dust jackets on your books? Remove them and toss them? Remove them and save them? I'll tell you the truth about Madeline - we threw away the dust jacket because the book cover underneath looks exactly the same minus the Caldecott Honor sticker. Are we terrible? We'll take all the advice we can get. #rookieparents