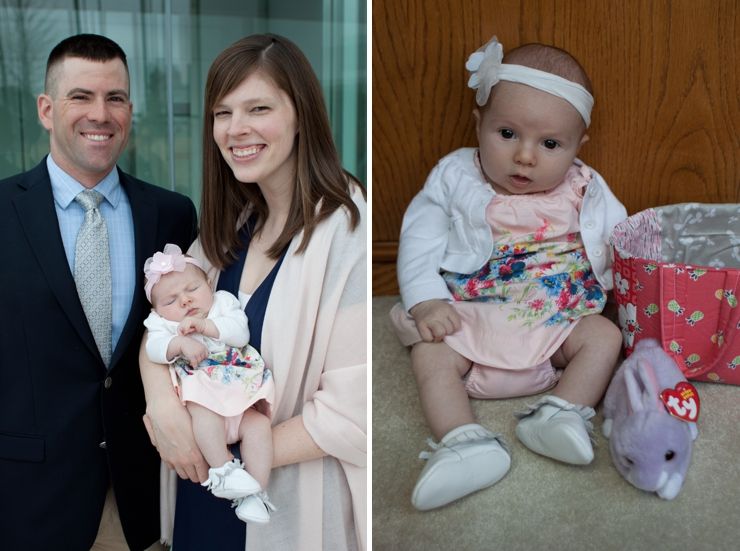 It's been an exciting time lately for our church in downtown Kansas City. We love being members at Resurrection Downtown, and we are about to begin the process of building the first NEW church in downtown Kansas City in 80 years. (
Here is the story
in the Kansas City Star!) There are signs of construction all around our church, with new buildings for even more people to move downtown. Our already crowded church will need to be ready to welcome new folks, and we love that! We desperately need more space for babies and kids and seats in a sanctuary. It's been so exciting learning about all the new plans for the church to grow - we can't wait for Rebecca to grow with it!
But as for now, we're still meeting in the building where Kip and I were married. So just like we have the past couple years, Easter services were held at the Kauffman Center for the Performing Arts. It's a gorgeous place for worship, and we feel so lucky to get to celebrate the resurrection there.
With Easter being so early in March, it was a bit tricky to pick out the perfect outfit for Rebecca's first Easter. But my mom and I still made a big deal of it because it was her first one! Kip didn't totally understand, and I think this is very much a girl thing. What we wore on Easter was always so fun growing up! My mom made so many of our dresses or picked out matching things for Lauren and me to wear. We found this adorable little dress (with bloomers!) at baby Gap and added a baby cardigan. She wore her Freshly Picked moccasins, and we bundled her up with a blanket to keep her warm in the snow!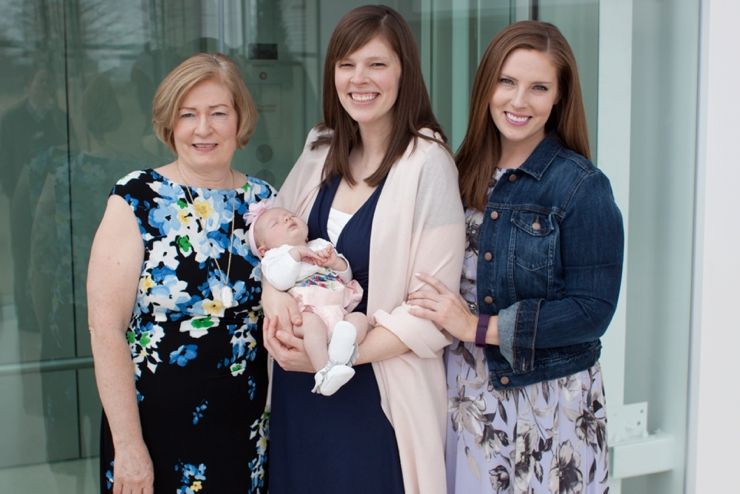 Thankfully the snow was gone by the time church was over, and we stopped to take photos in the beautiful atrium. Rebecca slept or was cooperative through all of church and then woke up to eat a bunch as we arrived at my mom's. My mom had a lovely meal planned, which was awful nice of her since we were very much still in the newborn parent camp and merely drying my hair was an accomplishment.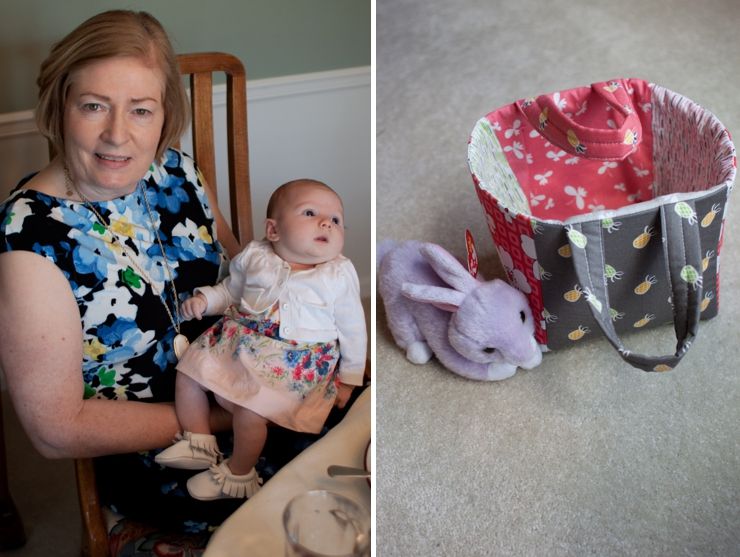 She also sewed her an Easter basket with darling fabric and tucked in Rebecca's first Easter bunny. We've always loved Easter and feel like we have so much to celebrate together, and it felt especially true this year as we marked Rebecca's first Easter!