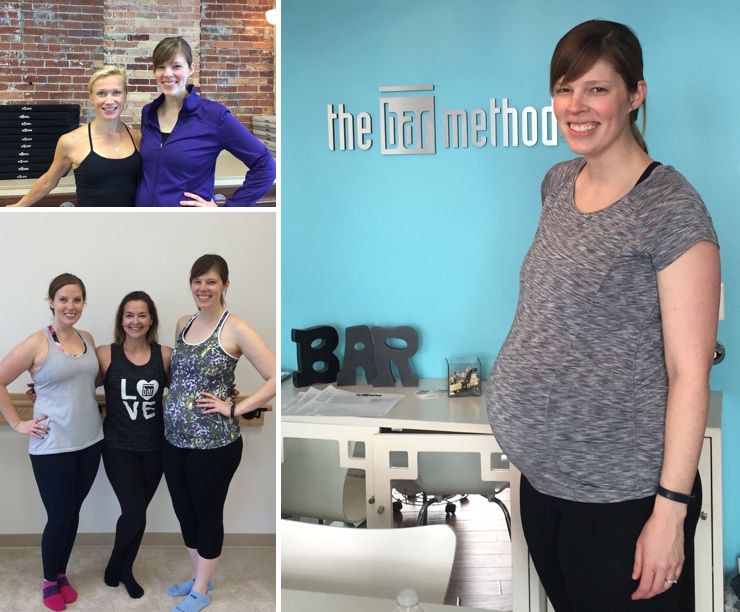 Other than the having a baby part, doing Bar Method while I was pregnant was one of my proudest accomplishments with my pregnancy. I have to give my sister Lauren credit for being the first adopter of Bar Method in our family, and I totally thought it sounded nuts when she described it a few years ago. Flash forward to November of 2013 when I took my first class for a Junior League social event. Hoddy Potter taught that first class, offered a discount on the first month of classes, and I signed up on a whim. I'm not the athletic sort, never played a single sport in middle or high school, and I've never taken a dance class in my life (unless you count BOTAR!). But something about the classes hooked me in completely. I loved that I could see it working, felt better about myself, and loved the teachers.
So when we found out we were pregnant, I decided that I was going to keep going to Bar Method three times a week. It's a very pregnancy friendly workout, and there are prenatal classes and modifications that keep it possible till the very end. The first trimester was actually the worst because I mostly wanted to lie around eating dry cereal. But I had agreed to work in the childcare room three mornings a week. Since I was in the studio already, I kept working out through the first trimester ick.
But after that first trimester, it was easier to keep it up. I went three times a week for my entire pregnancy, including taking classes when we traveled! I was still taking Level 2 classes when Kip and I went to Salt Lake City, and I loved my class at the Salt Lake studio. Over Thanksgiving, Lauren and I took a class in Indianapolis together so I could keep up with my goal of going three times a week.
Near the end of my pregnancy, the Bar Method studios here in KC were shaken and somber with the loss of the owner of both studios, Hoddy. She was a major part of the Bar Method appeal. A transplant from the west coast, she owned both studios in Kansas City. Hoddy was also over six feet tall, and she made the tall girls feel welcome. She's featured in the videos Bar Method sells, including their pregnancy DVD. It wasn't just Bar Method that lost a tremendous individual when
Hoddy passed away
last December, but the Kansas City community. Easily one of the most dynamic people I've ever had the pleasure to know and work for, I'm lucky that she introduced me to Bar Method.
I worked out all the way to my due date and took my last class Monday before Becca was born on Wednesday (pictured above). Bar Method was one of the most positive places for a pregnant lady like me to hang out because everyone wa
s so encouraging and told me I looked awesome. No one gave me crazy unsolicited advice, and all the mamas promised that the classes would help with delivery and recovery. They probably did, but

I don't have anything to compare it to! Getting back to Bar has been slow, but I have taken a few classes. The technique comes back quickly, and it is really good to see my Bar buddies again. I am looking forward to summer and getting to take a little bit more often!