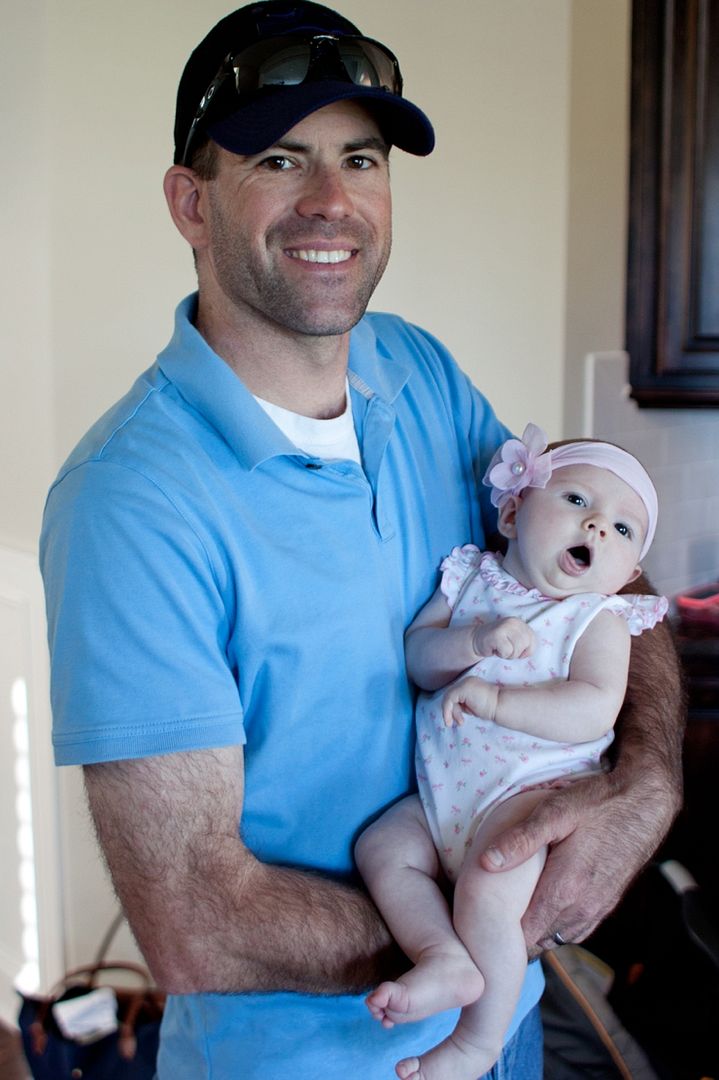 Two years ago I asked Kip some answers and recorded them on the blog for posterity. It's a fun
re-read
, especially all the comments people left! Here are some questions for Kip about being a dad to go with this picture of him with his baby girl. I think he's looking rather manly and tough with his short sleeves, hat and scruff on his face, and Becca looks about as dainty as possibly in her Kissy Kissy romper with little pink roses, pink bow, and fair skin. It's also a great photo to show just how much her eyes match his.
1. What's your favorite thing about Rebecca right now?
Her smiles. She works so hard on them!
2. What do you like about taking Rebecca to daycare each morning?
Her smiles.
3. When I first asked you what surprised you most about being a dad, Rebecca was only a few weeks old, and you talked about the lack of sleep. When I asked again, you said how much work the breastfeeding was. What would you say now that she's ten weeks old?
Nothing has really changed, really. Her life still revolves around eating, sleeping and pooping. (I add, "and smiling" and he agrees. Do you see a trend? We're obsessed with baby smiles.)
4. What's your favorite book to read to Rebecca?
I don't really mind that Madeline book. (I was sure he was going to say "Don't Let the Pigeon Stay Up Late" by Mo Willems because it cracks us up.)
5. What's your least favorite book to read?
I don't know. A few of them. (I was sure he was going to say Blue Hat Green Hat by Sandra Boynton.)
6. What's something you hope for Rebecca?
That she makes lots of friends at daycare. (Her first friend is named Quinn, and they lay on the mat together and look at a mirror. I walked in the other day to find them shoulder to shoulder, hip to hip, just gazing at the mirror. Quinn is one month older, and they will probably be chatting in no time.)
7. What's one lesson you've learned that you would tell other new parents?
Be patient. (Victoria's edit: The other day he told people who were expecting to not expect to do anything after they had a baby but try to sleep. No other projects will get done.)
8. What's the cutest outfit she owns?
(After a lot of deliberation)
Pink and white stripe one
9. Am I doing a good job as a mom?
Yes, you're doing a good job as a mom. Worry less.
10. Should we have another baby?
Yeah.