I mentioned that Rebecca's name was a surprise until she was born, but we had decided on her first name in early November. Before then, I would regularly suggest names to Kip, often classics or family names. Kip mostly thought they were all not a good fit. So I requested a couple of books of baby names from the library to try to help the process along. One evening I went to a fundraiser by myself, and I came home to find Kip reading the books with a list of names on a notepad. His list included Rebecca, Riley, Abigail and McKayla with Grace as a possible middle name.
I crossed McKayla off the list quickly because I had a student named McKayla that ruined it forever, but I was immediately drawn to Rebecca. It's a name I had never even considered until he put it on the list, but it grew on me really quickly. I usually give all the credit to Kip in choosing her name.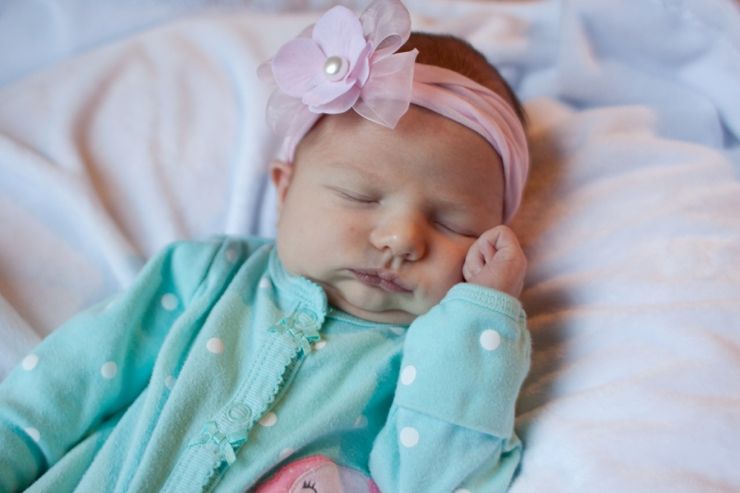 I felt a lot of pressure to pick the right kind of name for baby girl Lynch. I loved being the only Victoria growing up, and it's a name that suited me well. So I spent a lot of time looking at the
Social Security
website to find names that were maybe less popular but still easy to spell and that people would know. Rebecca fit the bill perfectly, a name that was super popular when we were growing up but is much less so now. It wasn't in the top 100 for 2015, and she is the only Rebecca our pediatrician sees. I also love that it's Biblical (though spelled differently).
I'm generally a fan of the nickname Becca (not Becky). Kip and I call her Rebecca most often, but sometimes Becca fits perfectly when we're talking to her or about her. For example, in patty patty cake, you can say "and mark it with a B, and put it in the oven for Becca and me!" Or Kip calls it the Becca special when she makes a huge mess on the changing table. Because I loved the main character in the book "
The Royal We,
" I think Bex is a cute nickname but sure doesn't fit a baby as much as it might a high school student. It's similar to my nickname - no one called me Vic until high school, though many of my family members and everyone under the age of five have called me Tori for years and years.
And while this wasn't intentional, I love that her name ends with an A. So does mine, as well as my mother Barbara and grandmother Virginia. All of our names are either 7 or 8 letters long. Rebecca just fits in this unintentional pattern. And my initials are VCL and hers are RCL which I also love.
No one guessed her name before she was born, though a couple of my coworkers came close. A fellow book lover wanted to know if her name was also a character in a book. Definitely a few famous Rebeccas! I want to reread the classic
Rebecca
soon - it's been years since I read it - and also Bex from The Royal We like I mentioned above. Another teacher guessed that we would bring back a name popular in the 80s like Sarah or Rachel, and she was also pretty close!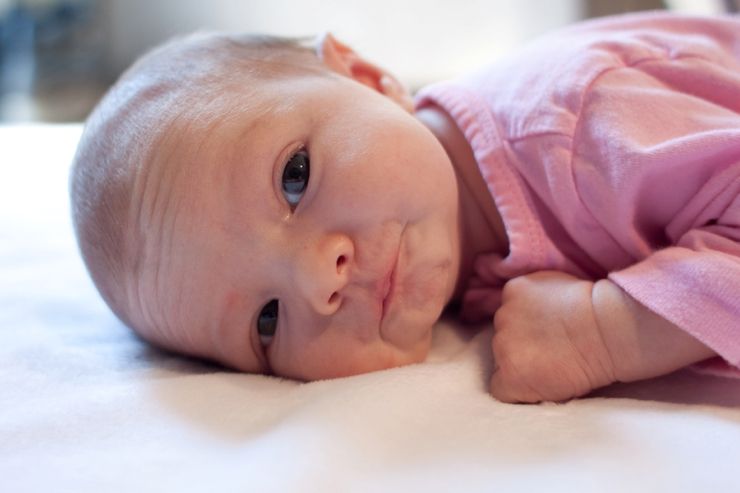 Pretty much as soon as we were sure about Rebecca, I was sure about Claire. My maternal grandfather is Lauren (like my sister!) and his father was Clare. It took Kip a little while to feel sure about Claire, but a buddy of his came by in early January to drop off a present. While he was visiting, he was asking about the name, and Kip said, "Oh, we've got one." I didn't know we were sure until then! We used the feminine spelling, and I was happy because her name includes one family name.
I only monogrammed two things before she was born, a onesie and a little notebook, but we were definitely sure about her name. A couple people asked, what if you see her and change your mind? Which I totally get could happen! But we were more in the camp of wondering what Baby Becca looked like. We knew her name, we just couldn't wait to see her face.
The photos above are from the hospital and our first days at home. Kip took the first one of her swaddled after her bath, and I think the photo may be one of the first times he was holding her. I told you, he's a proud dad. She is eight days old and sleeping soundly in the middle photo and twelve days old in the bottom picture. She doesn't crinkle up her forehead quite as much anymore, but I loved to try to count the number of sweet little wrinkles while she was checking out the world around her.