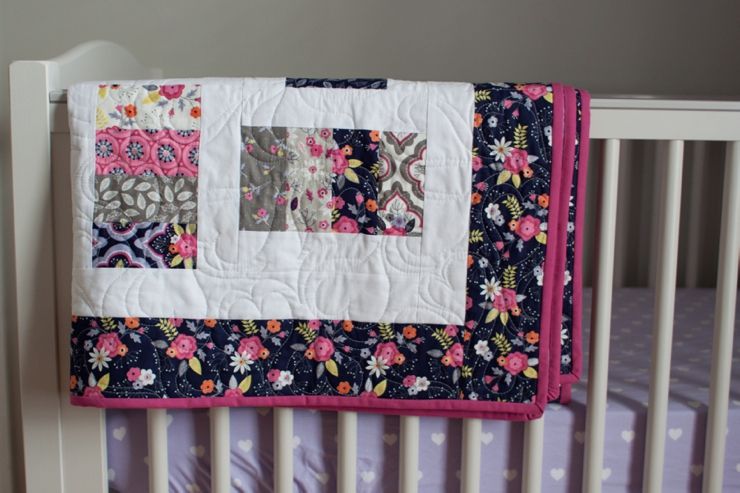 Baby's room is pretty much ready for her to arrive, and I think she's getting close to prepared too at 40 weeks. I can take almost no credit for her room, it's a labor of love mostly from my mom and Kip with sweet gifts from friends and family.
Kip worked so hard on this little space, and I really wanted to document the extensive list of DIY projects he completed over the past couple months preparing the nursery. This was an unused room of junk until we found out we were pregnant, and we donated an old bed to
Sleepyhead Beds
, took advantage of big trash pick-up in Overland Park, and reassigned a couple of turkey fans to other corners of the house (basement). Once the room was empty, Kip started on a long list of handyman projects including:
Priming and painting the room a very neutral gray. It took many trips to many paint stores and five samples to get the right one, but finally, we picked one that I love. It had to not be too dark for a nursery room!
New baseboards
Patched a lot of spots in the walls
Painting the ceiling
Painting the trim
Installing a ceiling fan
Adding insulation to the attic with his dad on a cold day in December
Building a new attic access door to help seal off the closet and help regulate the temperature
Assembling the crib that Dad and Tracy bought us
Installing new blinds and curtains
New light switch, registers and outlets (significant because it requires turning off the power)
Priming and painting the closet and adding new baseboards in there as well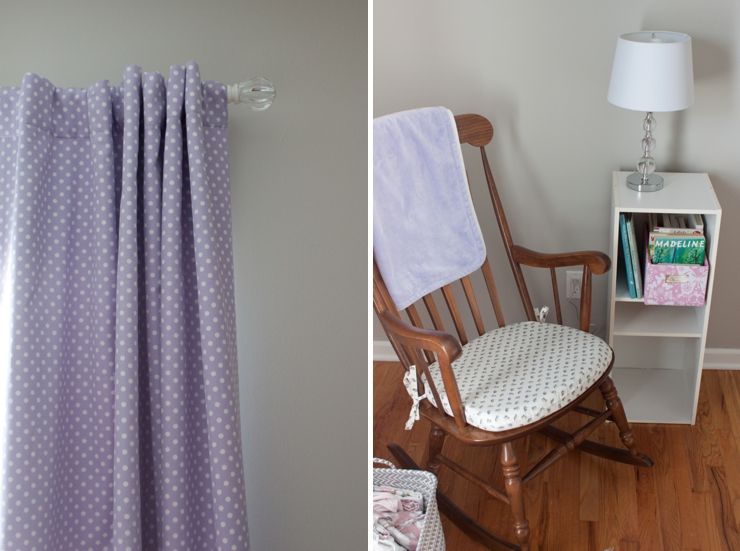 There is nothing on the walls yet, though we have a few ideas. I think I was waiting for her to get here, and maybe we will personalize it a bit with her name. There is a rocking chair and a cradle (in our room) that came from my mom and dad when Lu and I were little babies, and Mom sewed a new cushion for the rocking chair. We're getting by with a small nightstand borrowed from Mom's house while we debate what kind of book/toy storage would work best in the room.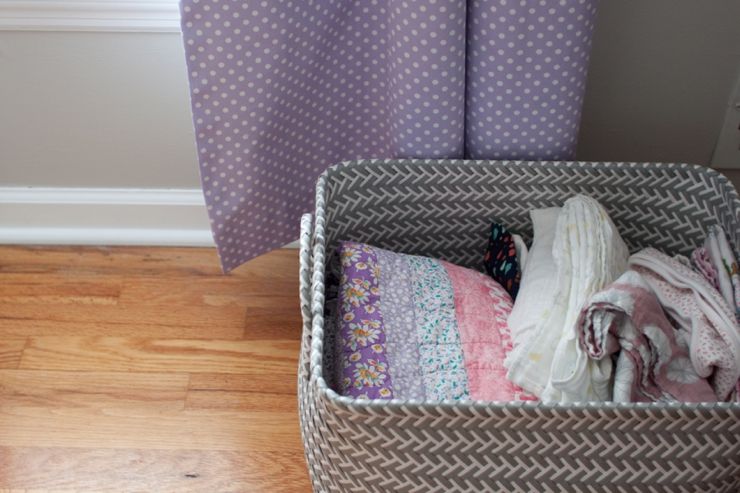 Since the beginning of this re-do, Mom and I have discussed what was worth sewing and what we could buy just as easily or sometimes even for cheaper than the homemade version. She made the quilt hanging on the crib, as well as a baby blanket version of one with cuddle fabric on the back. She also made a couple ditty bags to use in diaper bags and new sheets for the cradle, plus pillowcases for pillows that will go with us to the hospital.
We purchased the curtains on sale at PB Kids, and they are lined with lovely blackout fabric and were a great price. The sheets and crib skirt come from PB Kids, though we have a couple from Buy Buy Baby that also match the gray and lavender. Mom ironed the curtains and crib skirt, a gift of patience for sure. And the changing pad covers came from Land of Nod. There's a storage box near the window and the rocking chair with swaddles, soft cotton blankets and a beautiful quilt in pinks, grays and purples made by our friend Vicki Graham. She even found pink pick-up truck fabric to use for baby!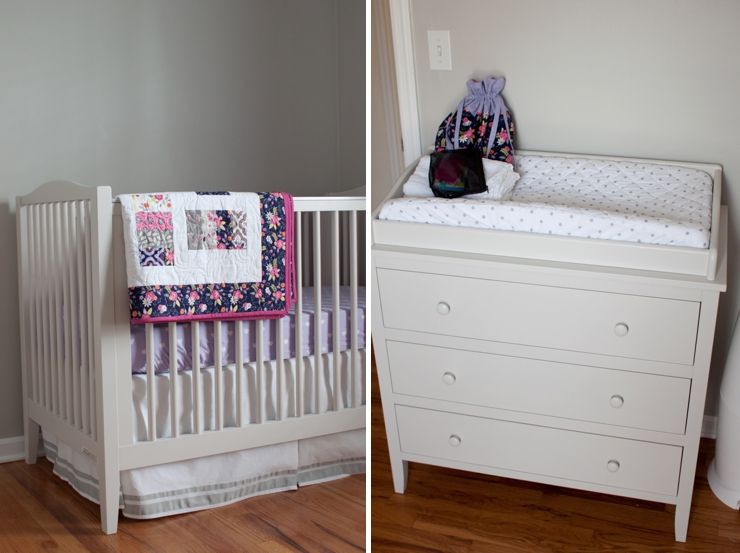 Her closet has a couple dozen hangers in it with sweet cuddly onesies I want to make sure she wears before she outgrows them, and Kip folded many loads of clean baby clothes that fill the drawers of her dresser. Baby's books are all over the house with a crate in my office, a basket in the living room and a few more on the small nightstand. Kip jokes that he has read more books lately than in his whole life, previewing them before she gets here, and I can't wait to see which ones are her favorites too.
Besides wall art and the bookshelf, we're discussing rugs and how seriously we should keep Belle out of the room (her dog fur is a problem). I really did very little for this room other than offer opinions and feed my cute husband. Kip and my mom did so much of the work to make it perfect for the little lady arriving soon. I know better than to attempt handy and sewing tasks, much smarter to leave those tasks to the pros. Now we just are waiting for her debut!