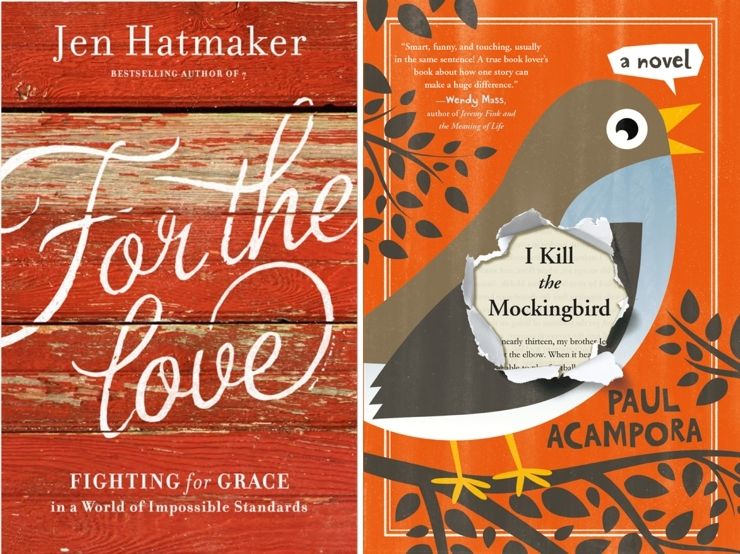 Two books to round out the year...
We read
For the Love
for our December book club book. It's a collection of essays, and while it is sold as an appeal to give up comparing yourself to everyone on Pinterest, it ends up being more than that in execution. She has a couple of good essays along that line, but Jen Hatmaker also writes about raising children, the church today, and the importance of gathering around the table together. She is a very popular Christian writer, and I've heard wonderful things about her book 7: An Experimental Mutiny Against Excess (there is a study related to it at our church right now!). It's unfair, but it was hard not to compare her writing to Shauna Niequest whose style I adore! There were several great essays, and we did talk about it a bit when we met in December for the ornament exchange.
I Kill the Mockingbird
was part of the stack of books laying around the house that I've been reading before baby arrives. This one is a YA fictional story about three 8th graders who decide to make Harper Lee's classic novel popular again (not unlike Go Set a Watchman). They hide all the copies of the book around town to make it a conversation topic, but it never really flushed out for me. Probably because I read most YA lit critically with the one of two lenses: 1. Would this be compelling for the diverse population I work with? (No) 2. Is this extremely well written and holds it's own as a quality writing for all ages? (No, again). I still haven't read Harper Lee's other book, but I think I'm done with To Kill a Mockingbird for a bit longer again.