Happy 2016! We welcomed the new year, the year of Baby Lynch, with a bang at our friends' wedding. Amy and Matt were married on the Plaza and had a lovely reception at the Kemper Museum of Contemporary Art, and we have been looking forward to it for months! They planned a black tie celebration, and I did some research to find the perfect dress for my almost 33 week belly.
I ended up renting a dress from Rent the Runway, and it's actually the same dress I wore to
BOTAR
in the fall of 2014, but in gold instead of black. You may recognize it from some maternity photos that
Rachel
had done too (hers was the short version). They don't have maternity dresses on the website, but they do have many labeled as "bump friendly." I read all the reviews for this dress where women swore they wore it up to 35/36 weeks pregnant, but I was pretty much at the max for the zipper. It had enough stretch that it was actually surprisingly comfortable, and people were generous with the compliments about the dress and my growing belly. With my gold flats from our wedding, it really didn't look too short which was my biggest fear. I even rented the sparkly earrings to go with it and felt fairly glamorous all night.
And a note about Kip's tuxedo...after much debate and a little research, we ended up renting him a tuxedo for the night. Several people told us that buying can actually be a better deal than renting and after doing more research we found this to be both true and false. Kip doesn't have a great need for a tuxedo, but he will need to wear one again later this year because Lauren is on BOTAR exec. If you rented the most basic of tuxedos, you could actually rent it for pretty cheap and a couple of rentals would still be less than buying the most basic of tuxedos. And why would you want to own a not very nice tuxedo? Of course when we went to Jos. A. Banks, we got a bit tricked and didn't end up renting the cheapest of tuxedos, so maybe we should have bought? Who really knows? I just know that Kip looked dashing, it fit even better than his wedding tuxedo, and I totally approved of his winter break beard.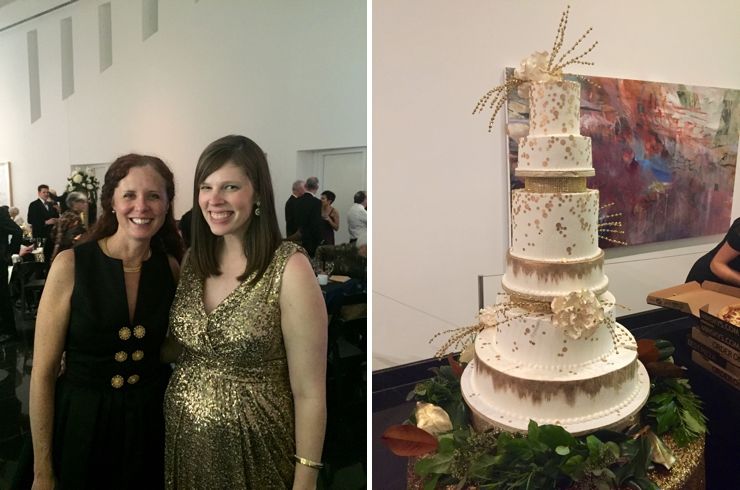 The museum is a fun place for a wedding because you can enjoy all the art at the same time as cake, champagne and a great band. We sat in one of the galleries close to the delicious buffet with a group of Amy's other friends from BOTAR, including my sixth grade math teacher, Kim and her husband. We had a blast visiting with them all night! The cake was amazing and delicious - we each had two slices. We couldn't let it go to waste!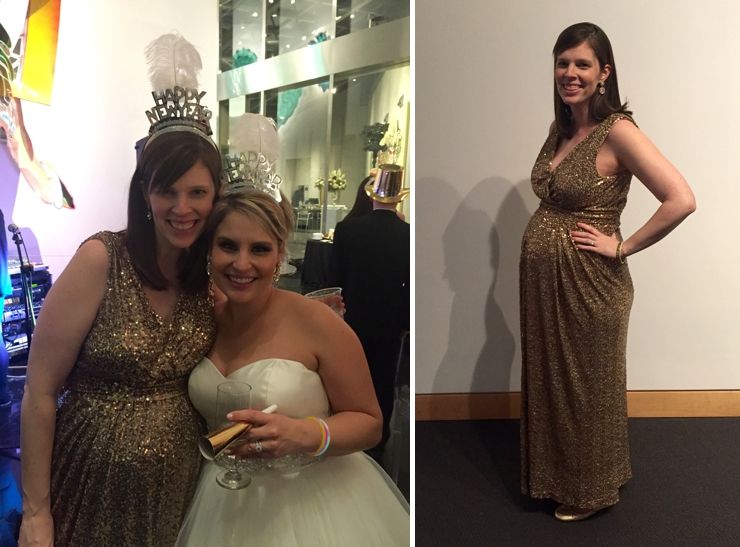 Amy and Matt planned for a reception that would last all night long and well into the new year! Minsky's pizzas were delivered to help sustain all the dancing to the band Lost Wax, there was a photo booth with a gold glitter background that matched my dress, and we loved picking out fun hats and noisemakers for the countdown. I think Kip would have left a bit earlier, but since we can't predict the next time we'll have a good excuse to get dressed up on New Year's Eve, I insisted we stay to ring it in proper. The start of the new year is a good reminder that each year keeps getting better for the Lynches, and we are totally blessed.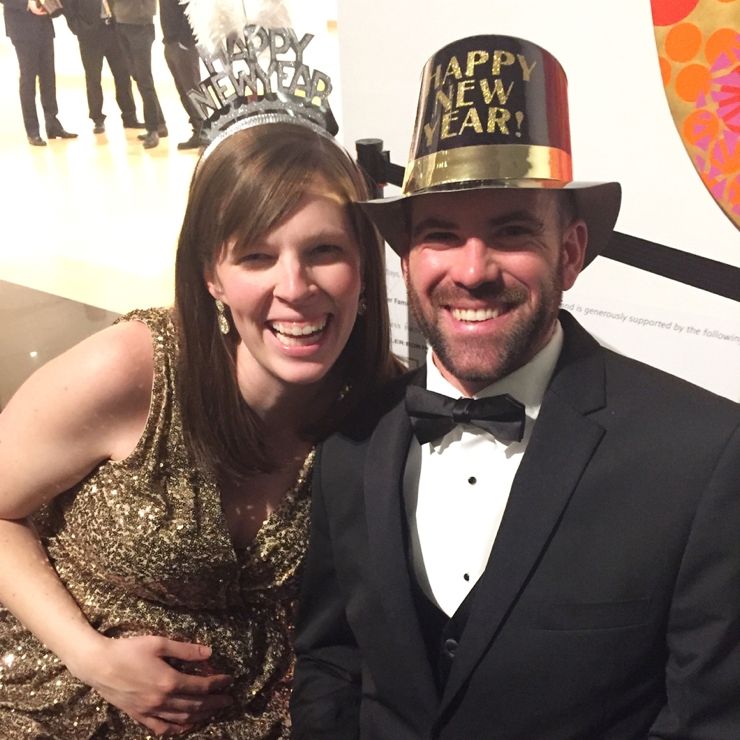 As we were getting ready to go into the wedding reception, I asked Kip if we should take the real camera. He wisely said to leave it in the car, and while I would have loved the quality the Canon Rebel provides, I felt pretty free to move around and dance with only my iPhone tucked in my clutch. I think we captured the fun we had even without the big camera, and I love all these snapshots of the night. Happy new year friends!